Countdown to Kickoff: 28 Days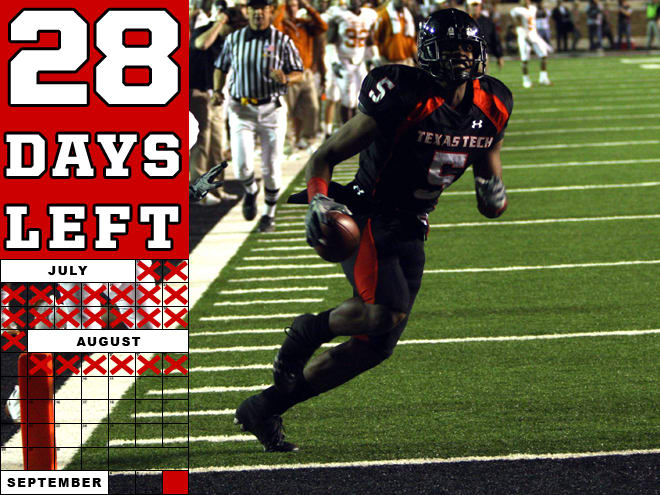 PREVIOUS COUNTDOWN TO KICKOFF ENTRIES: 50 | 49 | 48 | 47 | 46 | 45 | 44 | 43 | 42
41 | 40 | 39 | 38 | 37 | 36 | 35 | 34 | 33 | 32 | 31 | 30 | 29
Texas Tech's 2016 football season will begin in exactly 28 days with a Sept. 3 kickoff against Stephen F. Austin.
Today, we continue our Countdown to Kickoff series with a notable way the number 28 relates to Red Raider football.
28: Graham Harrell's 28-yard go-ahead touchdown pass to Michael Crabtree sealed Texas Tech's upset win over No. 1 Texas in 2008.
It is, quite simply, the most famous play in Texas Tech football history.
Trailing the top-ranked Texas Longhorns 33-32 with eight seconds left in the fourth quarter, the Red Raider offense lined up on the 28-yard line looking to continue the team's dream season.
Graham Harrell called for the snap, dropped back, reared back and threw a back-shoulder fade downfield to Michael Crabtree. With UT cornerback Curtis Brown draped all over him, Crabtree hauled Harrell's pass in, pulled free of Brown and raced into the endzone.
History.
That play catapulted Texas Tech to the No. 2 ranking in the rankings, and kept the Red Raiders' hopes - Big 12 title, a shot at a national championship, individual honors - alive.
Tomorrow: 27 - We look at The Natural.