Iowa State coach Matt Campbell a fan of Kliff Kingsbury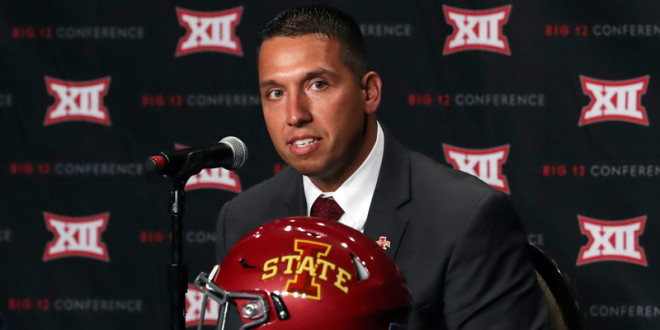 RELATED: Texas Tech takes stage at Big 12 Media Days | New Red Raider depth chart
DALLAS - Iowa State head coach Matt Campbell is the new kid on the Big 12 block this summer. He was the one coach on Monday at Big 12 Media Days that many in attendance were unfamiliar with as he tries to jump-start his brand of Cyclone football in Ames.
And while many in the media don't have much familiarity with Campbell, a number of coaches in the conferences certainly do, especially Texas Tech head coach Kliff Kingsbury. The two crossed paths when both were offensive coordinators: Campbell at Toledo and Kingsbury at Houston.
The new ISU head man made it down to U of H one spring to check out what the Cougars were doing offensively with Kingsbury at the helm. Campbell came to admire the fourth-year head coach of the Red Raiders, citing his enthusiasm and care for both his players and his offense.
"Number one, I'm excited. I think the world of Kliff," Campbell said. "He's a great football coach. When I was the offensive coordinator at Toledo and he was the offensive coordinator at Houston, I went down there to visit them and stayed a couple days during the spring. Kliff was great. It was fun to watch him coach his kids, see the energy and the passion that he coaches with. Obviously, from afar I've watched his teams and the passion he's got being the football coach there at Texas Tech is fun to watch. I've got a great deal of respect for him."
The same can be said across the aisle from Kingsbury's perspective.
"I followed (Campbell) at Toledo," he said. "When I was at Houston, I remember that he came and visited us, and I met him then. I've always been impressed with the way he carried himself, the way he called plays offensively. He does a good job. I thought Iowa State had some really good players last year offensively, had some really good skill at the quarterback position that came in, and he's a good player. They'll do good. He's a good coach, and I think he'll be a great fit there."
The thing that Kliff really loves about Campbell, though, is that there's no nonsense there. Campbell preaches transparency, and Kingsbury certainly appreciates that in a fellow coach.
"I just think his personality. He's a real guy. There's no fake, no character. What you see is what you get. I appreciate that."
It's not a stretch to call Kingsbury one of the best young offensive football minds of his generation. Both the stats and his history of developing quarterback backs that up pretty soundly. Campbell agrees, and he uses it as a driving point about himself, a way of proving that he's ready for his new post. The Cyclones' head coach is a man under 40, just like Kingsbury, and he believes the proof is in the pudding that age doesn't necessarily make you a good or bad coach. What you know and have experienced, however, does.
"Kliff defines that it's not about age," Campbell said. "It's about experience, about what you know, and it's about who you've been around, what you take, and what you make your own. Kliff has done that as well and had a tremendous amount of success."
And on that same note, Campbell has also enjoyed the process of seeing Kingsbury grow and evolve, just as he has, over the last half decade.
"It's great to be able to have a relationship, to be able to have conversations, cause soon enough we'll become the older guys in this profession, and I think you want to see this profession continue to grow and be successful. With the success Kliff has and the character he has, those are huge pieces for us to both continue to grow together."