Grassroots Elite CEO/Founder Ro Russell talks new TTU commit Elijah Fisher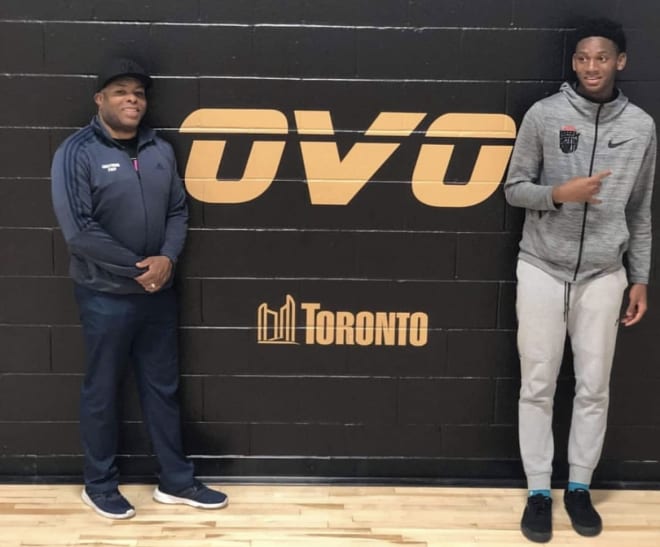 Elijah Fisher, one of the top basketball recruits in the world, has committed to Texas Tech and reclassified to the class of 2022.
In order to learn more about Fisher we spoke with Ro Russell, CEO and Founder of Grassroots Elite Canada and the Director of Basketball at Crestwood, which is the prep school Fisher has attended for the last several years.
Grassroots Elite Canada says they are "a non-profit sports-based youth-development and educational organization based in the Greater Toronto Area. Our organization uses basketball as a "hook" to engage young men and women in the program, help them access high quality educational opportunities, and instill in them the values and life skills that will prepare them for success in life beyond sports.
Our mission is to educate and empower promising inner-city youth to be leaders, champions and student-athletes by developing the skills necessary for success in high school, college and life!"
Russell, considered one of the best coaches in Canada, l has coached several NBA players and believes that like those former players, Fisher has what it takes to make it big at the next level.
How long has Elijah been in your program and how have you seen him develop throughout the years?
"He's been involved in our Grassroots Elite program since the 5th grade. The moment I saw him I saw the potential. I've been doing this 34 years and I've had a few other NBA players like Dwight Powell who plays for the Mavericks, Tristan Thompson who plays for the Chicago Bulls, Corey Joseph that plays for the Detroit Pistons and a bunch of other guys who've played in the NBA before. Nick Stauskas, who actually plays with Boston and so forth. I saw the potential in Elijah from the 5th grade in terms of his will to win, his activity in terms of playing hard and just being active all the time.
So I said let's start this process in the 5th grade so we can get to that level and when I had that conversation with him off the bat, that 'hey, I'm gonna get the best outta you and get you to the highest level but unfortunately you're gonna miss some of your childhood, you're gonna have to sacrifice a lot of the opportunities you wanna take care of with your friends and personal time, even family, but it's gonna be worth it in the long run' and even in the 5th grade, he agreed that's what he wanted to do because I told him it was gonna be a lot.
In the 7th grade I brought him to prep school at Crestwood Prep, where he's graduating from. In the 7th grade he was the first kid ever to play varsity. He started for my varsity team in the 7th grade so that kinda shows you the potential and the level he was at at a young age."
On the court, how do you think Fisher fits in the Big 12 which is known as one of the better basketball conferences?
"Well, his mentality is there so he'll be an impact freshman. You know, he'll step right in because that's what he's used to. When he was younger I'd play him 3, 4, 5 years older. I played him with some college guys, working out and being in the mix with them so he's used to playing with high-level guys and older guys. He's used to that so that's where he gets his mentality from and his aggressiveness. If he wants to be successful he's gonna have to be aggressive and play at the highest level he can. He's used to that competition so he'll be an impact freshman.
He's used to playing defense at all times. Intense, full-court defense. Really aggressive. I'm a defensive coach so I've always stressed defense with him so he'll be used to that emphasis on defense when he gets to Texas Tech and playing on that level.
When he was a 7th grader he played against Billy Preston who went to Kansas in the conference. So he's used to it, you know what I'm saying? From that age he was playing against a guy who was a McDonald's All-American, 6-foot-10, possible one-and-done. I think he's dabbling around in the NBA now so he got an early start at playing at a high-level."
With the Texas Tech coaches, Sean Sutton was big on him, Mark Adams and all those guys, have you had a chance to interact with them and what are your thoughts on Tech as a whole?
"I've known those guys for many years. I've known about coach Adams since he was in junior college and I knew coach Sutton when he was at Oklahoma State. Even the coach that came back, Al Pinkins, I've known him for years. I know one of the GA's that is from Canada and I know coach (Corey) Williams, I've known him for years as well.
So I know all the coaches and all that so that's good. It's good in terms of familiarity."
Looking at your Grassroots Elite program, who are some young guys that college basketball fans should keep an eye on for the future?
"In the 7th grade I have this kid, 6-foot-5 athletic wing kid, his name is Quinton Alexander. You gotta look out for him. There's another kid in the 7th grade, his name is Willy Kibowa. He's a 6-foot-3 guard and he's a 7th grader.
I recruit the parents right, I recruit the moms because if the mom is 5-foot-9 to 6-foot-2, then the kids are gonna be big.
Elijah's mom is like 6-foot, his father is 6-foot-4, 6-foot-5, so I knew he was gonna grow tall. His younger brother is like 6-foot-5, and he's a 6th grader. Him too, Elijah's little brother his name is Jordan Fisher. So I see those three kids that come to mind right away that are gonna be names to look out for in the future."