Curry is commit No. 4 for 2023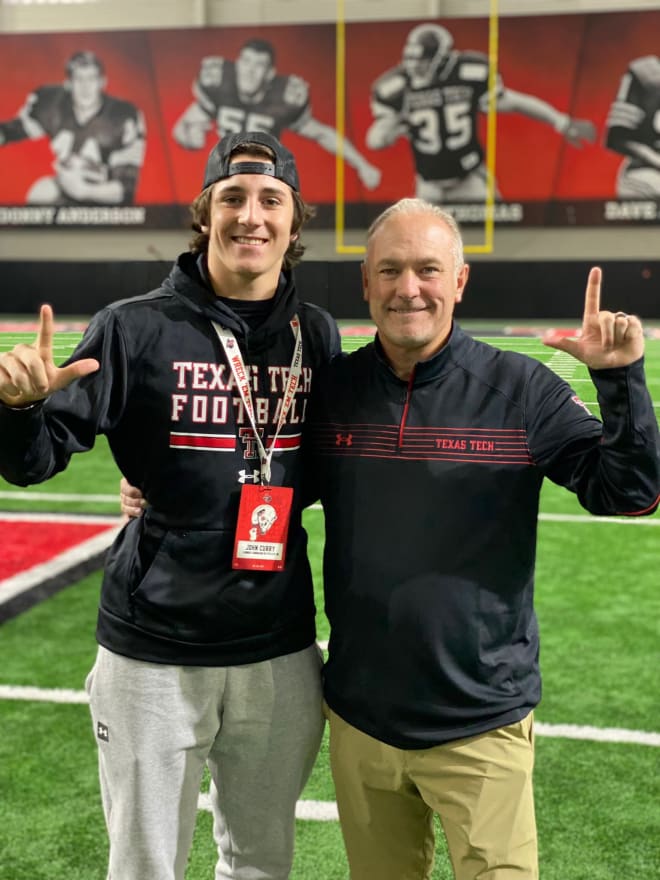 Earlier in the week, Joey McGuire and the Red Raiders continued their recruiting momentum in the 2023 class by adding a local prospect, Lubbock Coronado linebacker John Curry.
The local standout received his offer from the new Texas Tech coaching staff only three weeks ago, and it did not take long for Curry to make his decision to stay home in Lubbock.
"I have lived here all my life. I grew up going to Texas Tech games and always thought about how great it would be to get that offer, be a Red Raider and run out onto the field with the Masked Rider."
Curry just finished his junior season and has plenty of time remaining to go through the recruiting process, so why now and why Texas Tech?
"I talked with Coach (Joey) McGuire a couple of times now. He and I have really connected well and had some great conversations about my future with Texas Tech. My relationship and conversations with him is what ultimately led to my decision.
"It was over the Thanksgiving break, I was talking with my parents about it a lot. They want me there, and they both went to college at Texas Tech. I even talked with my head coach, D.J. Mann, and he suggested to focus on doing what is best for me."
Over the past few weeks, Curry and the Texas Tech coaches have been able to talk about his fit at the college level.
"The coaches have mainly talked with me about playing outside linebacker at the college level, but I'm flexible and really whatever fits me best is what I will play. I have talked with Coach McGuire about adding weight, but he also likes quick defensive players and they really like my long and lanky frame."
The 6-foot-4, 185-pound defender committed early with Texas Tech being his only scholarship offer, but he seems very confident in the decision.
"I had some recruiting interest from Northwestern, and my coaches told me there were other schools showing interest, but Texas Tech is where I want to be. I'm very happy with my decision and there are a couple of other Lubbock guys that I would like to help get to Tech, if possible."
Coronado head coach D.J. Mann provided a few thoughts about Curry as a player and prospect at the college level.
"John played more of an insider backer role for us this season, he is very versatile playing in coverage and blitzing. He is a very good tackler and runs very well. His best football is way ahead of him and he will grow a lot. Once he gets a few years in the weight room, John will be 225-230-pounds with speed. He also plays baseball for Coronado, so he has really good ball skills."
Currently unrated by Rivals, Curry finished his junior season with 102 total tackles, 56 solo tackles, three (3) sacks, two (2) quarterback hurries and three (3) interceptions through 11 games - earning District 2-5A All-District First Team Defense honors.