Coronado linebacker John Curry picks up first offer from TTU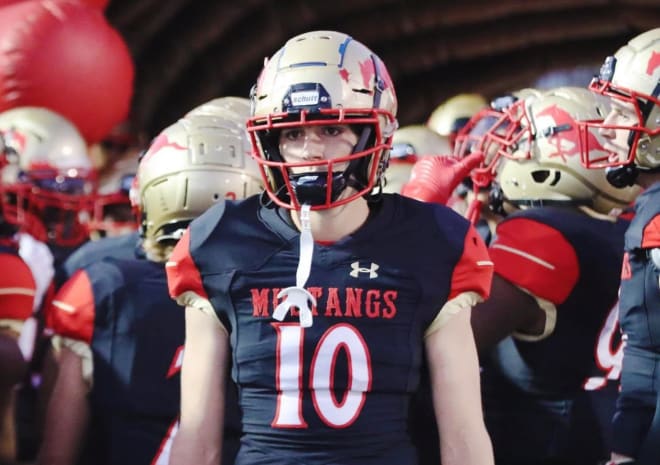 "One of the things we're going to do here at Texas Tech is we're going to get the West Texas players. We gotta keep the guys who were raised wearing red, black and white to stay in the red, black and white. That's going to be very important for this staff. We gotta keep them home."
Those were the words of Texas Tech head coach Joey McGuire at his introductory press conference on Tuesday afternoon. Less than an hour later, McGuire put his money where his mouth is and offered Lubbock Coronado linebacker John Curry.
Texas Tech became Curry's first scholarship offer.
"I've been talking to coach McGuire for a couple weeks now. He came over by Coronado a couple weeks ago and gave me his information. We talked a little bit. He's been really good at communicating, and then obviously me picking up the offer. It felt really good."
Curry who is listed at 6-foot-4, 185 pounds, hasn't been told what exact position McGuire wants him to play but he can't wait to find out.
"Not yet but I'm all ears when it comes to stuff like that. I'm ready for whatever he tells me.
I would say I'm a very aggressive linebacker in the run game. In the pass game I take up a bunch of space, I'm long so I can bat down balls, get interceptions, all the good stuff."
Curry was beyond excited to receive his first offer, and it coming from his hometown team made it extra special.
"My heart dropped to the ground. It was a great moment. I've lived in Lubbock all my life so my first offer being from Tech, it felt so good.
When coach McGuire got the job I didn't expect an offer so quickly, I just expected us to keep talking about Tech instead of Baylor."
Curry says now that he picked up a Power 5 offer, other schools are beginning to show interest including Northwestern. He previously had plans to check out Texas Tech's game next week vs. Oklahoma State and is looking forward to meeting the coaches.
"I got invited on a visit from Tech a couple weeks ago so I'm going to the Oklahoma State game."
Coronado is 6-4 on the season and plays a playoff game on Thursday vs. Bel Air.
"Our goals are DPS. District, Playoffs and State. We won district recently so now it's about the playoffs and then getting to our final goal, the state championship. We show up every morning at 6:30 and work hard. It's all about showing up to practice on time and doing what we have to do."
Per his MaxPreps page, Curry has been credited with 93 tackles, six tackles-for-loss, three sacks and three interceptions so far this season.