Chris Beard focused on winning right away for his six seniors
RELATED: Texas Tech offers five-star forward | Raiders make the cut for five-star
With just over three months left until he takes the court for the very first time as Texas Tech's head basketball coach, Chris Beard sat down with the local media to discuss how things have up to this point in the offseason.
The first task for Beard and his assistants was to put together the roster for this fall and the spring, which they focused on throughout the months of May and June. The end result is a near 50-50 split of returners and newcomers, a mix that Beard feels great about.
"We walk into a good situation," he said. "About half the team is returners, nine, and then seven newcomers. We certainly have some pieces with the nine returners. We return some scoring, some rebounding, some guard play. So [we're] just really excited about getting on the floor with those guys."

And before Beard and his staff were able to hit the road to recruit new players, they spent the first few weeks recruiting the current crop of returners to stay. They did so with great success, keeping the core group of juniors - Keenan Evans, Zach Smith, Justin Gray and Norense Odiase - in Lubbock along with senior Aaron Ross, all of whom played vital role in Texas Tech's NCAA tournament run last season.
Beard made sure he got the point across that he wanted them to stay Red Raiders.
"The first focus was our returning players, and we recruited all of those guys, as we should," he said. "It wasn't like the guys were being selfish or wanting to leave, but coaching changes are hard. They had a relationship with coach (Tubby) Smith and those guys, and it was our job to re-recruit them. So, within the first 10 days on the job, we got out around the country and met with every player's parents, met with each player individually and as a team. Absolutely our first focus was building relationships with our current players. I'm really proud that most of them decided to stay."
But, again, Beard wanted to add a few more attributes and talents to deepen the roster, and he certainly did that with three senior graduate transfers - forward Anthony Livingston, guard Gio McLean and forward Thomas Brandsma - and JUCO All-American guards Niem Stevenson and Shadell Millinghaus. All are expected to be immediate contributors - some as starters - right away.
"We had some areas we needed to address," Beard said. "We needed to add some size, some experience, and I think we had a good recruiting class, especially under the circumstances of getting started so late. I think we did that with the three grad transfers, the two JUCO All-Americans, a sit out guy, and a freshman."
The "sit out guy" that he's referring to is Florida forward transfer Brandone Francis. While he will sit out this year due to NCAA transfer rules, Francis will have three years to hit the ground running after that.
"We also added the first piece of the future: Brandone Francis. He's a top 50 player from high school a few years ago where he signed with Billy Donovan. When Billy went to the Thunder, Brandone was looking for a change, and we're fortunate to get him. He'll sit a year and have three to play. It's certainly going to be a big part of the future adding a guy as talented as Brandone."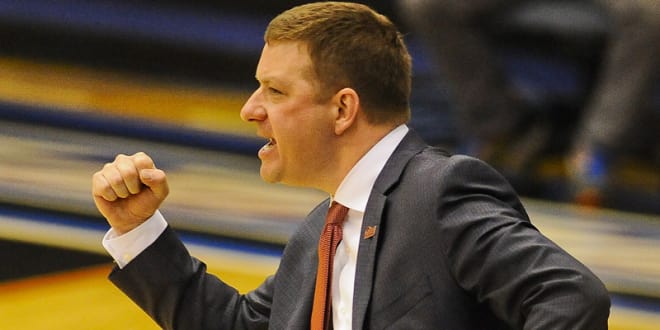 And seeing as he and his staff added so many newcomers, this team quickly went from a junior-heavy to senior-heavy squad. But, that's something that Beard is excited about and wants to make a focal point of this 2016-17 Texas Tech basketball team.
"What I hope ends up being the identity of our team is our seniors," he said. "We have six seniors on this team. To me, and I've said it before, but to me the most sacred thing in college basketball is the senior, the guy that's put up through the years, through the good times and the bad times, stuck with it, and now he finds himself in his senior moment. I've always felt a great responsibility for those seniors to compete for a championship."
The embodiment of that for Beard? Aaron Ross, who has had quite the journey during his time in Lubbock. And Beard couldn't be more impressed with Ross' perseverance.
"I think about Aaron Ross," he said. "Aaron should be one of the best stories in college basketball this year. In a lot of ways he's our captain, he's our most experienced senior. Aaron has been more loyal to this university than maybe anyone ever. I put Aaron right up there with coach (Marsha) Sharp and Gerald Myers. Here's a guy that's played for four coaches in his time at Texas Tech, but he's been loyal and stayed the course, he's been loyal to our community and our school. I think guys like Aaron should be able to compete for a championship their last year."
And now, with his roster in place, Beard and his program are focused on developing the team throughout the rest of the offseason, both on the court and off of it.
"This summer, the players made a huge commitment," he said. "We're becoming a team slowly but surely. Relationships are being formed every day, guys are working hard learning how to play together. We have a day to day process we believe in, and it's how we win. It combines a lot of things from nutrition to sleep to weight room to academics to film work to individual work to team practice to being unselfish and to also having a balance to where you're doing some things you enjoy off the floor, whether it be faith or family or social media or video games, whatever these guys do today. But, the guys are embracing the process, and I think it's been a great summer."
Texas Tech is scheduled to open its 2016-17 basketball season on Nov. 11.