Why hasnt Texas Tech extended in Leach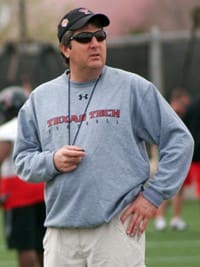 When college football mavens talk about an "arms race," they are usually referring to stadiums and facilities. And, of course, there is indeed an ongoing battle among college football programs to upstage one another with their shiny new pigskin palaces.
But the most important weapon any program can have in its armory is a superior head coach. One can have state-of-the-art and spectacular facilities yet still be mired in mediocrity because of a deficiency at the head coach position. Look no further than an adjacent state for confirmation of this.
Then there is Leach's bowl record (5-3), which is vastly superior to any coach in Texas Tech history, is identical to Mack Brown's in terms of winning percentage, and blows Bob Stoops' 4-5 mark out of the water.
And this is not even taking into consideration the program's 79% graduation rate, and the huge increase in attendance, which has further solidified the program's status as the Athletic Department's only real financial bellcow.
But citing evidence of Leach's coaching and managerial prowess is superfluous. It is akin to proving the sky is blue. Everybody knows it already. The questions are what are Gerald Myers and the Athletic Department going to do about it and when are they going to do it?
Leach is 65-37 overall (.637 winning percentage), so making him the Big 12's third or fourth highest paid coach makes sense and the time has arrived to hammer out that contract. This is imminently reasonable. It is entirely fair. So why wait for the situation to become acute before signaling Tech's cast-iron intent to present Leach with a contract that will pay him market value and keep him in Lubbock well into the future?
Leach probably does not want to be distracted by contract negotiations during the season. But, of course, that is not the issue. What is at issue is getting the ball rolling and creating a very public impression that the Athletic Department values Leach and will do everything in its capacity to ensure that he continues to helm the Red Raider football program.
The benefits of taking the initiative are manifold. First, doing so would undercut the recruiting trail mantra that Leach will bolt from Lubbock at the first opportunity. Attacking Leach's commitment to the Tech program, no matter how ludicrous, is a tactic employed by the opposition. Better to negate the ploy now rather than allow that particular card to remain in the deck.
Second, taking the initiative would create further goodwill between the Athletic Department and Leach, and would make the actual contract negotiations go more smoothly and amicably.
And third, this approach would go some length toward warding off all but the most brazen suitors for Leach's services after the 2008 season is complete. And if the Red Raiders are all they are currently cracked up to be, you can bet your sweet bippy that some of the heavyweights will come a-calling. They will recognize quality coaching when they see it.
Does Texas Tech?