White talks new role at fullback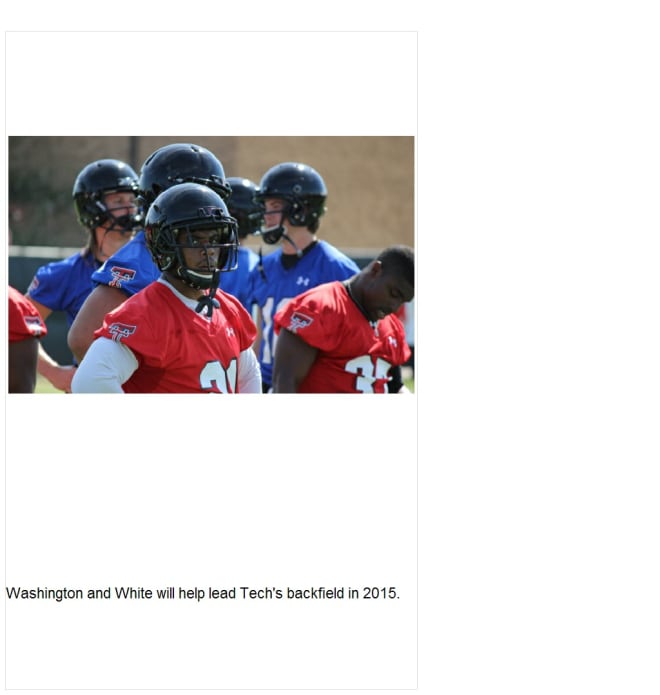 Some guys don't get the recognition they deserve for what they've done on the field. They sneak by, under-the-radar, making good plays and contributing without earning near the hubbub that they likely should. One such Red Raider is junior running back
Quinton White
. Coming out of high school, there wasn't much fanfare associated with the tailback. But, then Tech offensive coordinator made sure to tell everyone that White was the biggest gem of the 2012 class, and it's clear to see why as he heads into his fourth year on campus.
He was Tech's primary third down back in 2014, and he averaged 4.17 yards a carry and 8.2 yards per reception out of the backfield. And while his stat line as a whole isn't necessarily noteworthy, the plays he made with his opportunities certainly were, including those in pass protection.
In fact, the coaching staff sat around early on in the offseason trying to think up ways to get him the ball more and get him on the field, which isn't an easy task considering the talent at tailback that Tech currently has. So, the coaches came to one conclusion: Let's have White put on a little weight and move to fullback.
It's a role that's seen a resurgence in modern spread offenses, and White fits the mold for the position for the Red Raiders. So, White packed on the pounds, and he's been getting physical since the spring.
"I'm actually starting to get pretty good at it," White laughed. "Last year I liked it, but I wasn't physical enough to do it. I gained some weight, started picking boys up, and it's fun blocking for the boys behind me, opening up holes so they can see and get out on it. It's still essentially a running back, but it's body on body. You can't just make everyone miss. You've just got to put your body on them. Fullback is really a heart thing, man. If you don't have heart, you can't play fullback."
He'll still get his carries and catches when he's not a lead blocker, but the College Station native's new role has probably given him a better perspective for what the boys up front do.
"The O-line, they get us going. They're the best on the field. From quarterback, running back, receiver, DB, D-line, linebacker, they're the best on the field. A lot of veterans up there, and I love running behind them. They open up the holes, and we hit them, we go score."
In fact, White sees a lot of things differently now that he's a redshirt junior. He's done a lot of growing up since he stepped on campus, and he understands what he needs to do to be a bigger piece of Coach Kingsbury's offense moving forward.
"It's totally different. I see a lot of things I saw back then, and being a redshirt junior now, it's just like, dang man. I've only got two years left, and I better make the best of it. My first two years here were kind of like, 'I'm a young guy, I can sit back and chill.' But there ain't no more chilling now. I've got to make the best of my opportunity."
The junior running back's relationships with tailbacks coach
Mike Jinks
has evolved quite a bit, too.
"We're cool, man. When I first got here, we used to bump heads a lot, but growing up man, I've got to respect him as my elder and my coach first off. But, he speaks wisdom on the field and off the field, and he teaches us to be better men. That's what I really respect about him."
Competing for playing time in a backfield like Tech's certainly isn't easy. It's loaded with talent, and each RB has to campaign for carries with their day to day performance. While they certainly go at it and push each other, they're still friends and teammates when the work day ends.
"It's been pretty good. Everybody at the running back position loves each other. We're like a big brotherhood. At the end of the day, you've got to compete. You've got to compete, man. But at the end of the practice, at the end of the day, those guys are your brothers. They're on the same team, at the same position, and you don't want to see anybody fail. You want to see them prevail as well. You're going to compete. You want to get on the field. But, that's your friend. That's your brother. It's different, but everybody at the running back position loves each other, man."
And when you hear White describe the quintet at tailback, it's undeniably hard to deny just how talented a unit it is.
"Dre is our best running back in my eyes. He's a vet. He's going to do what he needs to do to make it to the next level. Then you've got Stockton, and you know what he did his freshman year. Then we've got somebody that nobody has seen in Felt(on). Felt - out of all of us and him - he probably has the best vision on the entire team in my opinion. Then you have myself, and I'm working hard and trying to compete every day. Then there's Corey (Dauphine), the freshman. He's a speed demon, man. He's too fast."
It's a team that White is eager to show off to Red Raider fans, as he believes they'll be in for a surprise this fall.
"I feel pretty confident about this team, honestly. This team is going to be great. I feel like a lot of people jumped off the bandwagon last year, but this year we'll open some eyes. Our offense is explosive. Our defense is great. It's just going to be a fun season."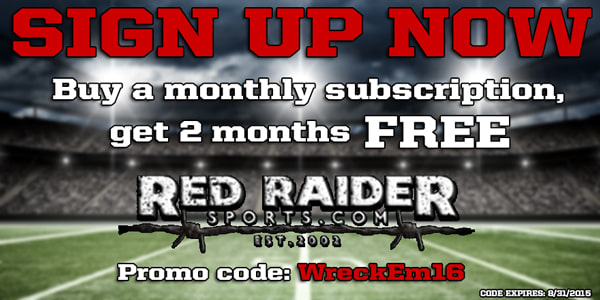 Click
Here
to view this Link.