Top 10 satellite camp performers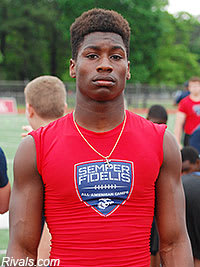 With Texas Tech's yearly satellite camp tour around the state of Texas now in the books, it's time to look at the top ten performers who showed off, stuck out, and dominated from the circuit over the last week.
Smith fits the mold perfectly for what David Gibbs wants in his defensive backs. He's long and rangy while still having the fluidity and athleticism to move well, and he was lock-down in his one-on-ones at his hometown camp in Spring last Wednesday. His performance culminated in an offer, and the H-town native was one of the best DBs I saw all week.
A relative unknown coming into the Mercer camp in Houston, Baylor showed out, and his speed wowed everyone in attendance at the camp. A youngster with some big upside as a blazer out of the backfield, the junior tailback will likely blow up down the road.
There were a handful of offensive linemen who stuck out throughout Tech's satellite camp circuit, but none were as good as McCollum, whose hard work obviously paid off in the form of an offer from the Red Raiders. He certainly held his own against a very solid group of defensive linemen in Spring.
Seeing as he's already committed to Louisiana Tech, Hannibal undoubtedly had some skills as a corner coming into the Longview camp last Tuesday. He showed off some fluidity and athleticism, too. One of the best defensive backs that camped with the Red Raiders throughout the satellite camp run this summer.
If it weren't for Tech already having Da'Leon Ward committed, I'd bet a few nickels that Nwangwu would've picked up an offer after his eye-popping performance at Lancaster last Monday. He has a great combination of size and speed, and the Frisco native is just a flat out athlete. The Red Raiders even tried him out as a cornerback at the camp. In my opinion, Nwangwu takes the cake as the best non-offered prospect from the week.
Jones camped with the Red Raiders last summer in Longview, and he came back for round two last week, where he was a standout once again. He moves well for a big man, has a nice frame, and was great in one-on-ones on Tuesday. This is certainly a prospect Tech could offer down the line.
With offers already in tow from the likes of Baylor, LSU, Mizzou, Texas, and Texas A&M, there was no doubt that Roy was a talented D-lineman. The Tech coaches wanted to confirm what they'd seen on tape, and they undoubtedly got to see that in spades in person at the Spring camp last Wednesday.
Waxahachie (Texas) 2017 WR Jalen Reagor
The son of former Red Raider great and defensive lineman Montae Reagor might not be playing the same position that his dad once dominated as at Tech, but Jalen Reagor sure has potential as a pass catcher. He's already picked up offers from Tech and SMU, and he certainly showed out at the Lancaster camp last week.
Despite already holding an offer from Texas Tech, Fields decided to work out anyway to prove to the coaches that they made the right decision, and boy did he prove them right. He ran a 4.4 forty at the New Braunfels camp and was dominant against wideouts. I'm sure the Red Raiders are glad they picked up a commitment from him later on in the day, as well.
Sanogo certainly looks the part of a Power Five linebacker, and he showed off his lateral athleticism in the drills and competitions at the Euless Trinity camp on Sunday. Maybe the best linebacker on the entire Tech camp tour, look for Sanogo to start picking up more attention sooner rather than later.
Honorable Mentions
Henderson (Texas) 2017 WR Tresten Ebner