Thompson offered today, committed today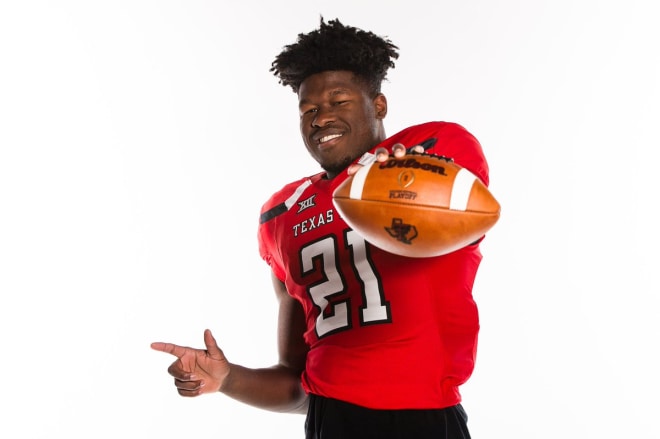 The coaches landed a commitment from Ranchview running back SaRodorick Thompson today, announced shortly after the newest Red Raider commit left from his official visit to Lubbock over the weekend.
"Coach (Emmett) Jones and I have been talking since my sophomore year in high school," Thompson said. "It's been a while, and coach just always told me that I was a D1 back. He actually brought Coach (Kliff) Kingsbury up to the school this past week and that was my first time meeting him.

"They were just stopping by to say hello before the visit this weekend, but it showed me how interested they were and I knew an offer would be possible this weekend."
Before the weekend, Thompson held 11 total offers and had just finished an official visit to SMU, but the offer from Tech was enough to end his recruitment.
"It was the last part of my visit really," Thompson said. "I was going over some of the offensive schemes with Coach Jones and some of the other coaches, then we went into Coach Kingsbury's office for a few minutes. We talked about the visit and he told me they wanted me to join the program, join the 2018 recruiting class.
"I knew an offer might be coming, so it didn't surprise me, but it was the moment and taking it all in. As everyone knows now, I accepted the offer and we all celebrated in Coach Kingsbury's office."

The 6-foot, 200-pound back was hosted by another Red Raider running back over the weekend, Tre King.
"Tre (King) was my host this weekend," Thompson said. "He introduced me to a lot of the other players. They had a ton of stuff for us to do this weekend, we had a lot of food and a lot of fun together. I got to see more of the campus and everything is very nice, everything seemed easy to get to. The city of Lubbock felt very calm and I liked it a lot."
Thompson mentioned spending time with the coaches looking at the scheme and shared more about how he could fit into the Tech offense.
"Everyone knows they have a pass heavy offense," Thompson said. "But to me that means a lot of open field, I have the size to run the ball and catch passes out of the backfield."
After announcing his commitment to Texas Tech this afternoon, Thompson feels confident in his decision and is ready to sign with the Red Raiders on National Signing Day.
"No, I'm not taking any other visits," Thompson said. "I am 100-percent committed to Texas Tech and I'm signing with them on signing day, that's it. This is a great opportunity and I cannot wait to get started at Tech."
Currently rated a 5.4 two-star prospect, Thompson finished with 1,370 yards on 164 attempts for an 8.4 yards per carry average and 20 touchdowns rushing along with 137 yards and two (2) touchdowns receiving this past season.
The 6-foot, 200-pound back earned the District 6-4A C0-Offensive MVP, an award he won outright as a junior, and First Team Offense honors.
In addition to the varsity football team, Thompson is a starter on the varsity basketball team and runs in several events on the varsity track and field team.
He chose the Red Raiders over offers from SMU, Stephen F. Austin, UTEP, Bowling Green, Fresno State and others.