Thomas believes offseason weight loss will make big difference in his play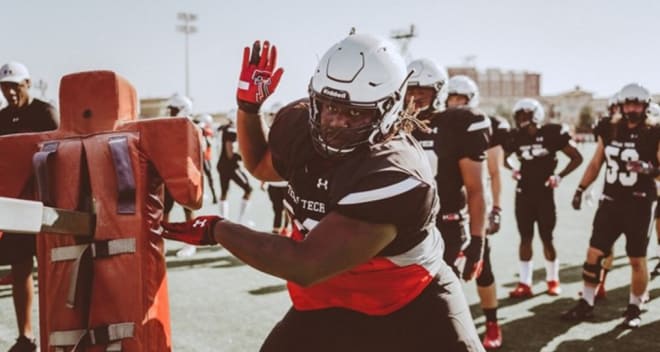 Nose tackle Mych Thomas, who will start his senior campaign on Saturday, is weighing in at around 315 pounds these days. When you see that number by itself, a number without context, you probably think "Yeah, that makes sense for a Big 12 nose tackle."
But what many likely don't know is that it's a sign of the work put in by Thomas throughout the offseason. As a junior, Thomas was listed at 325. Coming in from junior college, he was even heavier than that, listed in some places as weighing north of 330.
Last fall, Thomas spent most of the season as a backup to senior Ondre Pipkins, only coming in to spell the vet when called upon. The Dallas native started to see his play pick up late last fall, making more and more plays as the 2016 season came to a close, even starting the Baylor game with Pipkins injured and on the sideline.
But Thomas needed to shed some pounds if he was going to be an effective member of David Gibbs' year three defense, if he was going to make plays and spend prolonged time out on the field.
So, he did, and he's seen his play take a major jump as a result.
"The biggest difference for me is just losing weight," said Thomas. "It was about losing weight and getting to be more physical. I know I wasn't physical last year, and that played into how I played. A big key to that was just losing weight."
"Right now I feel as physical as I ever have. I know I can do things that I couldn't do last year. I'm doing good."
Thomas, who's currently slated to start at nose on Saturday, just feels like a different player. He's more agile, and he packs more of a punch than he did last season.
"Right now I feel very physical. It's crazy, because there are times when I feel like I'm not being physical, but I'll go look at it on film after, and it's a different story. Right now I feel as physical as I ever have. I know I can do things that I couldn't do last year. I'm doing good."
But the weight loss and strength gains didn't come easy. Strength and conditioning coach Rusty Whitt and his staff helped Thomas attack his offseason regimen, one that the former Butler C.C. prospect knew he'd have to dive in head first with to get the results he wanted.
"It was a lot. I know Coach Whitt just had me in there working my ass off, and I just tried to do the best I could. I trusted in their program, and they trusted in me. I used that to help my ability."
Typically, it takes most junior college players a full year to really get in a rhythm on the field. Headed into year two, Thomas feels like he's really grasping what D-line coach Terrence Jamison and DC David Gibbs want from him much more so than he did a year ago.
"It's getting great. Last year, it was my first time playing at the DI level, so you're always (all over the place). But this year I'm on the right page. I'm doing everything well."
Someone that's been running mates with Thomas throughout this experience is defensive tackle Broderick Washington. Both shared times as the backups on the interior of the D-line last year, and now they're ready to shine together.
"Me and Brod, it's been a heck of an experience. That's like my little brother. He'll get on my case if I'm doing something wrong, and I get on his case if he's doing something wrong, but we've just got each other's back. With the D-line, we've got each other's back. You have your brother's back, no matter what."
Thomas doesn't feel like he and Washington will be alone as brothers on the interior, either. With Joe Wallace, Quentin Yontz, Nick McCann, Jesse Brown, and other players in the rotation to provide depth, the senior feels confident in how this defensive line can play as a unit in 2017.
"We're very deep. Last year, we really didn't have that much depth. Last year, everybody was playing 100 plays, 90 plays, so this year the depth is really good. You can come in, go out, and you can stay a lot fresher."
His confidence extends to the rest of the defense, too. Thomas feels the unit is going about things with a different mentality this year, one rooted in competition.
"I think it's that everybody came in ready to compete. Everybody's been competing, being physical, and getting after it. We're not trying to be the last defense in the Big 12. We know what we need to do."
And now, just a few days out from the opener, he's ready to roll.
"Anxiety. I'm anxious to play. I've been going against our offense for all of fall camp, so I'm just ready to go get after it against somebody else."