The Lubbock Regional: How does Tech stack up with the rest?
Texas Tech, Arizona, Sam Houston State, and Delaware will face off this weekend in the Lubbock regional. So how do the Red Raiders stack up in what looks to be an offensive slugfest of a four-team competition?
Here's the most in-depth breakdown you'll find on what to expect this weekend.
1. TEXAS TECH RED RAIDERS
RECORD...
Overall- 43-15
Home-22-5
Away- 15-6
Neutral- 6-4
-
RPI: 5
SOS: 27
-
vs. RPI...
100-51- 14-4
Top 50- 16-11
-
PLAYERS TO WATCH...
1B Hunter Hargrove- Steady, patient, doubles machine. Fantastic defender at 1st.
SS Orlando Garcia- The lightning rod and RBI machine of the offense. Plus defender.
LHP Steven Gingery- Steady changeup, mixes in other pitches to be lethal. True ace.
CF Cody Farhat- Human highlight reel in centerfield. Gap knocker with real speed.
LHP Parker Mushinski- Hottest player down the stretch. Nasty offspeed pitches.
-
BIGGEST STRENGTH: No holes in the lineup. From 1 to 9, you can never relax as a pitcher or defense. Hitting is infectious with this team.
BIGGEST WEAKNESS: Bullpen walks. The relievers have improved as the year has gone on, but they still put too many free base runners on.
4. DELAWARE BLUE HENS
RECORD...
Overall- 34-21
Home- 21-4
Away- 6-13
Neutral- 7-4
-
RPI: 123
SOS: 211
-
vs. RPI...
100-51- 0-1
Top 50- 2-3
-
PLAYERS TO WATCH...
SS Jeremy Ake- Likely the team MVP. Can rake to the gaps. Patient at the plate.
OF Jordan Glover - Most power in the lineup. Been up and down. Getting hot.
1B Nick Patten - Team leading 14 homers. RBI monster. Strikes out too much.
C Brian Mayer - Biggest breakout player in 2017. Mashing with 11 homers.
RHP Ron Marinaccio - Ace starter in 2016, moved to pen to start 2017. Back in the ace role. Fastball hurler.
-
BIGGEST STRENGTH: Power all over the place throughout this lineup. It will be interesting to see how they do against much consistently tougher pitching this weekend.
BIGGEST WEAKNESS: Pitching in general, particularly the bullpen. This staff will be challenged by the firework stands that are Tech, Arizona, and Sam Houston at the plate.
2. ARIZONA WILDCATS
RECORD...
Overall- 37-19
Home- 24-7
Away- 11-11
Neutral- 2-1
-
RPI: 23
SOS: 41
-
vs. RPI...
100-51- 8-7
Top 50- 6-9
-
PLAYERS TO WATCH...
1B JJ Matijevic- Maybe most explosive hitter in college baseball. Hitting machine.
DH Alfonso Rivas- Another hitting machine. Matijevic-light.
OF Jared Oliva- Doubles machine. Would be best hitter on many teams.
LHP J.C. Cloney- Reliable, Consistent starter. Keeps hitters guessing.
LHP Cameron Ming- Transitioned from pen to starter. Has been a total workhorse since.
-
BIGGEST STRENGTH - The three headed monster of Matijevic, Rivas, and Oliva might be the best collective trio at the plate in college baseball. They stroke. Plain and simple.
BIGGEST WEAKNESS - While Ming and Cloney are studs, the rest of the pitching staff gives up way too many hits and doesn't strike out enough hitters. That can come back to bite you in a regional like this one.
3. SAM HOUSTON STATE BEARKATS
RECORD...
Overall - 40-20
Home - 25-9
Away - 10-11
Neutral - 5-0
-
RPI: 54
SOS: 107
-
vs. RPI...
100-51 - 3-2
Top 50 - 10-7
-
PLAYERS TO WATCH...
1B Blake Chisholm- An eye-popping .355 BA, .572 SLG, .481 OBP. Gap hitter.
C Robie Rojas- Power bat that gets on base. Doesn't walk a ton.
SS Andrew Fregia- Great speed and strength at the plate. Can be impatient.
RHP Heath Donica- Workhorse ace on the mound. Mixes fastball, nasty slider, changeup
LHP Riley Cooper- Lefty reliever with an impressive 3.3 K/BB ratio.
-
BIGGEST STRENGTH - The Bearkats biggest strength is that they have no glaring weaknesses. They're fast, hit the ball well, and they pitch very well out of the pen. SHSU will be a very tough out this weekend.
BIGGEST WEAKNESS - The starting pitching depth isn't spectacular. It's not bad by any means, but I wonder if SHSU has enough starters in the stable to win a regional. The Kats are also susceptible to striking out too much on offense.
COMPARING OFFENSES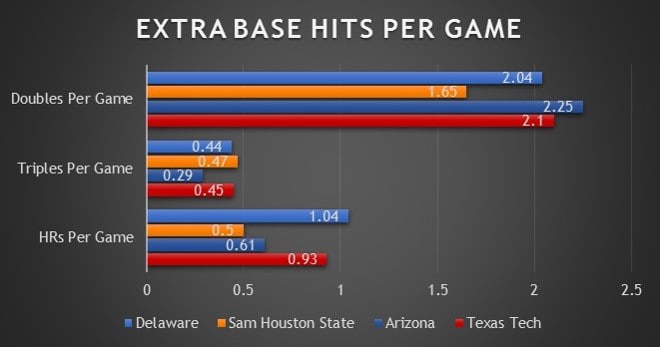 BIGGEST ADVANTAGE: Texas Tech
You have to take Delaware's stats with a bit of a grain of salt, as they simply haven't seen the same level of pitching as the rest of the teams in this regional. So, I think the Red Raiders are the best hitting team in Lubbock this weekend. They don't get on as much as Arizona, and they don't hit it quite as well for overall average, but they have no holes in the order and more power than any other lineup.
BIGGEST DISADVANTAGE: Sam Houston State
This is like losing the tallest giant contest. The Bearkats have a plenty potent offense. They just don't have quite as much oomph as the other teams in the regional. They have tons of speed and will slam balls for doubles and triples with ease, though.
COMPARING PITCHING STAFFS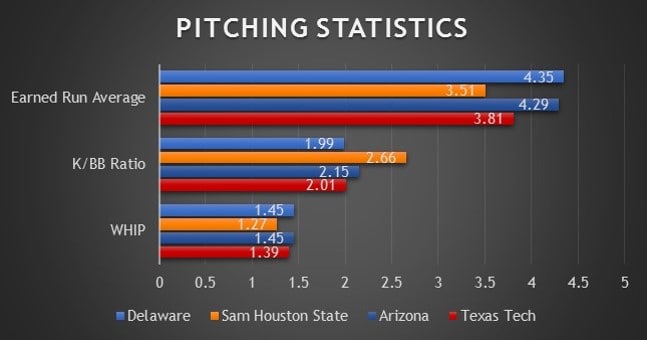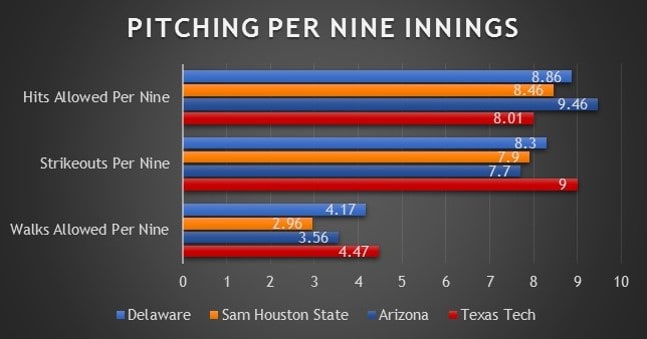 BIGGEST ADVANTAGE: Texas Tech
Again, you can make an argument here for Sam Houston over Tech, but the Red Raiders have seen so many darn good lineups this season, and much of that was without Davis Martin in the mix. Tech's bullpen has rounded into form late, and with Martin back on the mound, they have one of the deepest staffs in the postseason field.
BIGGEST DISADVANTAGE: Delaware
The Blue Hens simply aren't that good on the mound as a whole, and they'll undoubtedly face their toughest test on the mound in Lubbock this weekend. Their bats will have to keep them in games.
PREDICTION
Winner: Texas Tech
Runner-up: Sam Houston State
Third: Arizona
Fourth: Delaware
I believe Texas Tech will win this regional because they're the team with the fewest holes. They're deep in the lineup, starting rotation, and bullpen. That, and this team has repeatedly played their best baseball, both at the plate and on the mound, when the stakes have been highest and the challenges have been the biggest.
Sam Houston State will surprise as the runner-up. They're a sneaky good team that has loads of speed on the base paths, hits very well as a team, and has several studs on the pitching staff.