Texas Tech Basketball Preview: Cowboys are coming to town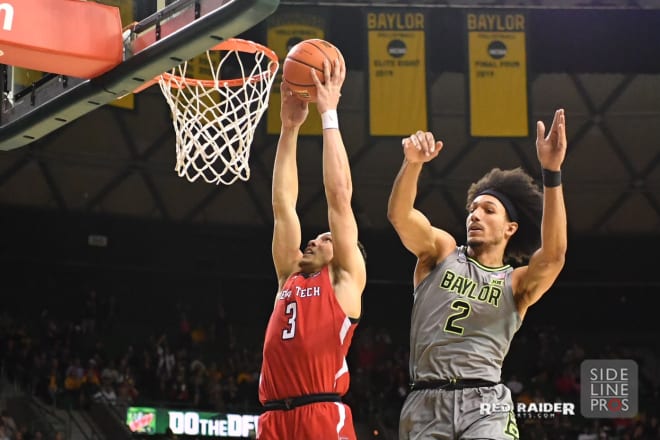 GAME DETAILS
WHERE: United Supermarkets Arena | Lubbock, TX
WHEN: 6:00 PM, Thursday | Jan. 13th
WATCH IT ON: ESPN +
SERIES HISTORY: Texas Tech is 22-37 all-time against Oklahoma State. The Red Raiders have lost three straight matchups against the Cowboys with their last win coming on January 4, 2020, in Lubbock.
OKLAHOMA STATE 2021-22 SCHEDULE 
WHAT SHOULD WE KNOW ABOUT THE COWBOYS?
Oklahoma State has an 8-6 record this season, and they're 1-2 in Big 12 Conference play. The Cowboys lost four out of five games before upsetting No. 14 Texas last Saturday. They were picked to finish fifth in the 2021 Big 12 Preseason Coaches Poll.
Oklahoma State head coach Mike Boynton is on his 5th season at the helm for the Cowboys and has a 79-62 overall record. He's led Oklahoma State to one appearance in the NCAA Tournament, and they advanced to the Round of 32 a season ago. Boynton is 4-4 against Texas Tech.
The Cowboys went 21-9 last year and were 11-7 in Big 12 Conference play. They beat the No. 13 seed Liberty Flames, 69-60, in the first round of the NCAA Tournament but would fall in the second round to Oregon State, 80-70. The 21 wins a season ago were tied for the highest total since the 2012-13 season when Oklahoma State won 24 games.
The Cowboys have been better as a team on the defensive end this season, and they excel at creating turnovers against the opposition. Oklahoma State has the 178th scoring offense in the country, and they're 189th in field goal percentage. They're ranked 115th in scoring defense, but they're 11th in turnovers forced and 8th in steals per game.
Oklahoma State is ranked 49th out of 358 Division-I schools in the KenPom college basketball ratings for adjusted efficiency margin. They're 149th in offensive efficiency and 12th in defensive efficiency. The Cowboys have one win over a team in the KenPom top 50 and one win over a team in the AP Top 25 (Texas).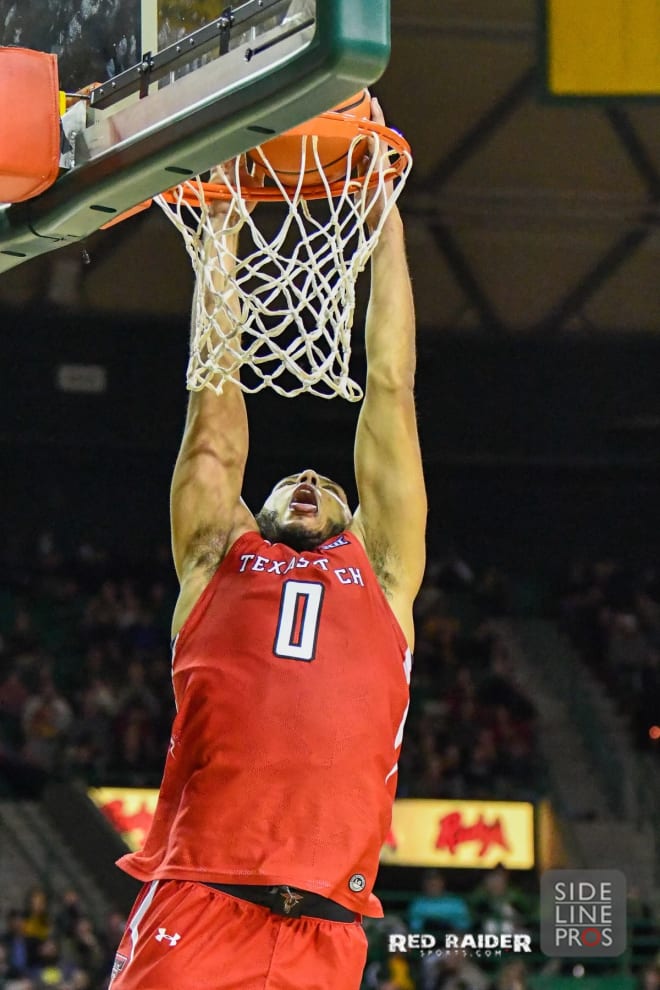 THREE POKES TO KEEP AN EYE ON:
AVERY ANDERSON III (6-FOOT-3, GUARD)
The junior combo guard trailed only Cade Cunningham and was second on the Cowboys in scoring last season with a 12.2 points per game average. Fast forward one year, and Anderson is second on the team in scoring again, averaging 11.4 points. He's a solid rebounder for a guard and is pulling down 3 boards a game and averages 1.9 assists for the offense. Anderson is a constant thorn in the side for opposing offenses, and he leads Oklahoma State with 2.15 steals per game. He's ranked 28th in college basketball in steals.
ISAAC LIKEKELE (6-FOOT-5, GUARD)
The senior point guard is a solid all-around basketball player who does a little bit of everything for the Cowboys. Likekele has earned honorable mention All-Big 12 honors the last two years and is looking to make it a third in 2022. He's fifth of the team in points with 7.5 per game. What he lacks in scoring prowess, he makes up for with his rebounding and passing abilities. Likekele leads Oklahoma State in rebounds and assists. He's hauling in 6 boards and dishing out 3.7 dimes per game and boasts an impressive 1.95 assist-to-turnover ratio this season.
BRYCE WILLIAMS (6-FOOT-2, GUARD)
The senior guard is on year two for the Cowboys after transferring from Ole Miss following the 2019-20 season. Williams leads Oklahoma State in scoring with 11.5 points per game, and he's second on the team in assists with a 3.1 average. He's a solid contributor on the defensive end and is known as a tenacious on-ball defender. Williams is second on the team and 41st in the nation in steals per game with a 2.08 average. He's the most reliable Cowboy from the free-throw line and is shooting 86.3 percent from the charity stripe.
TEXAS TECH OFFENSE VS. OKLAHOMA STATE DEFENSE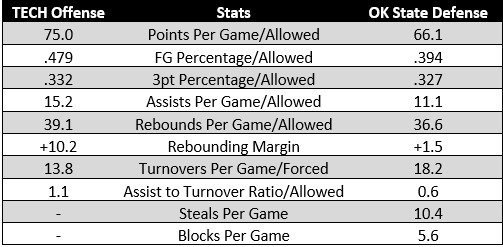 OKLAHOMA STATE OFFENSE VS. TEXAS TECH DEFENSE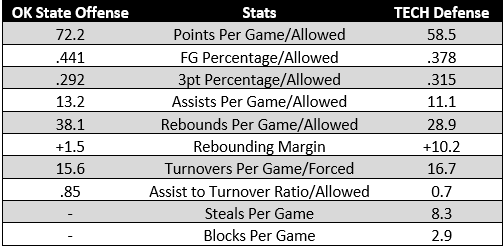 ANALYZING THE MATCHUP:
Oklahoma State has taken a slight step back in 2022. Replacing the production of Cade Cunningham, the NBA's number one overall draft pick, hasn't been an easy measure for the Cowboys. Oklahoma State had the 51st scoring offense last season and averaged 77.1 points per game, but they've fallen back to 178th with a 72.2 scoring average this year. They're a guard heavy team with four of their five starters standing 6-foot-5 or less. This makes for another matchup where the Red Raiders' length can really come into play. The Cowboys have averaged only 62 points in their last four games, and they're going to have to fix their offensive woes in a hurry if they plan on beating Texas Tech.
The Red Raiders are flying high coming off back-to-back wins over No. 6 Kansas and top-ranked Baylor. Texas Tech will need to come down quickly and put those wins behind them. Establishing that 'next team on the schedule' approach will be crucial for the Red Raiders before Oklahoma State gets to town. Mark Adams and Company proved on Tuesday night that they're more than capable of putting a big win to bed, and they'll need to do it again on Thursday. For Texas Tech in this matchup, it's all about maintaining the status quo. Being efficient on offense and playing lights out on defense continues to be the best recipe for success this season. The Red Raiders will need to pick up against the Cowboys, right where they left off against the Bears.