Carter jumps on opportunity to be a dual-sport athlete at Tech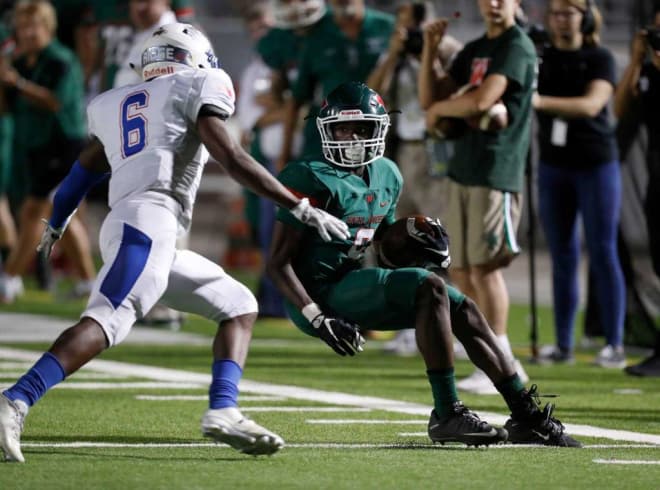 The Texas Tech coaching staff landed verbal commitment No. 14 for the 2018 class yesterday afternoon when The Woodlands wide receiver Kesean Carter announced his commitment to the Red Raiders.
Carter, the state's reigning Class 6A 100m Champion, also announced that he will run track for Texas Tech and head coach Wes Kittley.
"I have been running track all summer and recently had a pretty good meet," Carter said. "The Tech track coaches were there to watch and got in touch with me to show interest. At first, they didn't know I was being recruiting by the football coaches, but they got in touch with Coach (Eric) Morris and everything happened from there.
"Coach (Wes) Kittley was actually down at our house for an in-home visit last week and had offered me the opportunity to run track at Texas Tech. That made them the only school to offer me in both sports, and that made me feel a lot more comfortable about making my decision."
Things were already trending well with Carter and the Texas Tech football coaches, but his busy track schedule had kept him from visiting the South Plains and the standout athlete made his decision site unseen.
"No sir, I haven't visited yet," Carter said. "I had track and could never make it. I talked with the coaches and think that I'm going to wait until the fall for an official visit. Coach Morris and I were talking on a daily and weekly basis. I felt comfortable knowing that he had explained the offense and how it runs, how they have three (3) seniors graduating at the position and how there could be potential for early playing time.
"Texas Tech and Coach Morris just showed a lot of love during the recruiting process, ever since he came down to see me in the spring. We were always talking, texting and just getting to know one another. Either way, I know that Texas Tech is a really good school and having the opportunity to play football and run track was something that I always wanted."

Carter mentioned that he actually made the commitment nearly a week ago and made the announcement yesterday afternoon.
"I had already told the coaches about my commitment last weekend," Carter said. "I was really just thinking about how to announce everything. They were very happy and were just telling me they love me as a receiver for their offense. They were very excited to have me on board and we talked about getting me in touch with the quarterback commitment and some of the other 2018 commitments.
"The track coaches were just as excited and told me that I'm one of the fastest guys they have seen this year. I currently run the 100m, the 4x2 and the 4x1 for The Woodlands, but I'm going to change to the 4x4 instead of the 4x1 next year. Coach Kittley didn't mention any specific events, but I'm open to running in any event at the next level."
Carter is not only aware of the up-tempo spread offense deployed by the Red Raiders, but former Highlander and Texas Tech great Danny Amendola went on to do big things in the NFL.

"They pass the ball a lot, that's why I like Tech so much," Carter said. "Coach Morris talked to me and told me that former Woodlands and Texas Tech receiver Danny Amendola wanted to talk to me, so that's what really got me excited about them. Due to their offense I had to give them a closer look and with my speed, because it's a great fit and I can help them out a lot."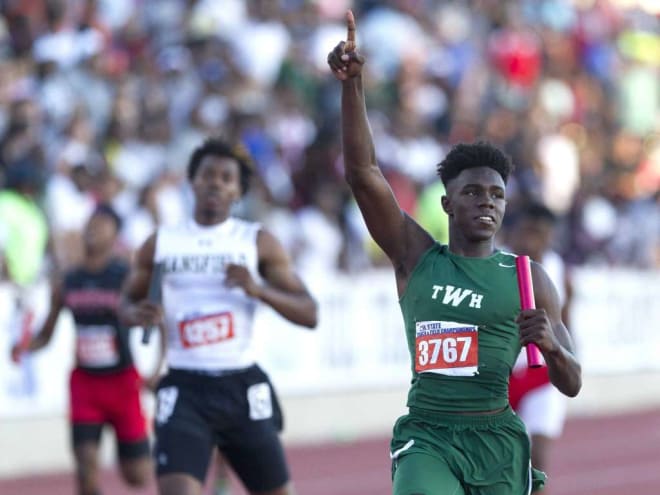 In terms of his commitment, Carter is confident in his decision with Texas Tech, but does plan on taking a few other visits later this fall.
"I'm very happy with my decision and believe that Texas Tech is the place for me," Carter said. "I just haven't been able to take any visits with my track schedule, so I will probably take a few other official visits this fall. Houston and Utah were the programs that I'm thinking about for official visits."
The 5-foot-11, 160-pound receiver becomes the No. 14 overall commitment for the Red Raiders and the forth commitment at wide receiver in the 2018 class, joining Gabriel Douglas, Myron Mitchell and Corey Fulcher.
Currently rated a 5.5 three-star prospect, Carter set a single season record at The Woodlands with 70 receptions, 1,314 yards receiving and 16 touchdowns - earning District 12-6A All-District First Team Offense, TSWA Class 6A All-State First Team Offense and APSE Class 6A All-State Honorable Mention on Offense this past season.
An all-around athlete, Carter also plays on the varsity basketball team at The Woodlands and earned District 12-6A All-District Second Team honors on the hardwood this past season.
Carter was a key member of The Woodlands' Class 6A State Championship Track & Field team this past season, anchoring the 800-meter relay with a state record time of 1:23.81 and he won the 100-meter dash with a time of 10.32 seconds.
The standout athlete chose the Red Raiders over 10 other offers from Arizona, West Virginia, Utah, UConn, Houston and others.