Takeaways: Shimonek back in driver's seat, Jones ready to help pass rush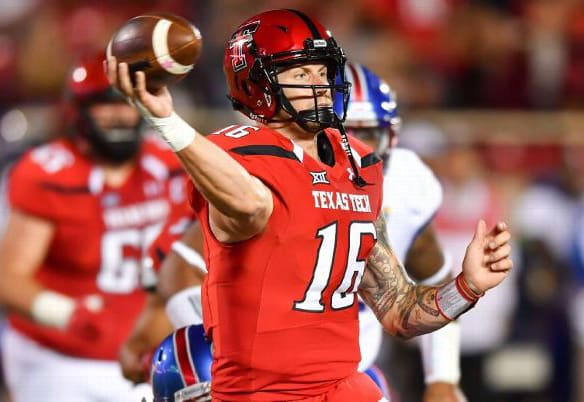 LB Tony Jones, DL Lonzell Gilmore and QB Nic Shimonek addressed the media Tuesday evening for the final session before Saturday's kickoff against Eastern Washington. Here are a few notes from what each had to say.
- Jones arrived at Texas Tech from Butler C.C. as a linebacker but has found himself being utilized as a pass rusher.
- Jones said the coaches discussed moving him to defensive end and that about a couple of months ago he found himself there.
- "I'm going to bring my all every game," Jones said. "I think most people are going to sleep on my speed off the edge. I mean I've played safety, running back, and pretty much everywhere on the field throughout my career so I'm pretty much a skill player."
- Jones said the toughest transition from linebacker to end is going up against the big tackles. So far he has only competed against OL Terence Steele and OL Travis Bruffy but he said their hands will lock you up.
- "I like going up against Terence," Jones said. "He's a physical, quick tackle and has taught me a lot from the opposite side. It's different but I think I'm going to be able to do just fine."
- Gilmore spoke about Eastern Washington QB Gage Gubrud and how he is able to make plays for the Eagles.
- Gilmore said Gubrud can make plays on his feet as well and not only with his arm. However, he said Jones' speed can help with Gubrud's elusiveness.
- "I bet all the money on Tony Jones," Gilmore said. "You know his 40 time is probably like a 4.3 so I'm putting it all Tony to go ahead and catch up to him."
- Gilmore said he can see Jones becoming a very good rush with his speed and athleticism. He said he is picking up the system and transition quite nicely.
- Although a position change can be difficult, Jones is not the only one facing a different challenge this year. In fact, one of the main changes will be Shimonek's move from backup to starter, captain and leader of the Red Raiders.
- As far as that goes, Shimonek will be going into Saturday's game with the same mentality as always.
- "You know, that's what I was my entire life until I got to college," Shimonek said. "So all through high school in basketball, baseball and football, everybody looked at me to lead the way. I guess I took a three or four-year hiatus, but now I'm back in the driver's seat so I'm glad to be here."
- Shimonek said last year that former QB Patrick Mahomes' words held up a little more than his. He says he feels like everyone has bought into his new leadership role.
- Shimonek's first challenge will be up against the Eagles which he has spent time on learning and watching film on.
- He feels as though he really doesn't have a reason to be nervous because he's always prepared.
- He added that the captains have a chip on their shoulders and that flows down onto the rest of the team.
- He stated, as a whole, that the team is ready with as much time as they've had to prepare.
- Shimonek complimented offensive line coach Brandon Jones on how much he helps his guys prepare. Shimonek added that he's going to help them throughout the year too, though.
- With the depth chart released this week, it was noticeable that freshman OL Jack Anderson won a starting spot at right guard.
- Shimonek said Anderson is extremely talented, but it comes down to when the lights come on.
- Gilmore agreed with Shimonek, but praised the young, physical guard a little bit more.
- "The man got talent," Gilmore said. "Whenever he's a senior, I'm telling you man, Jack might mess around and go first round. He's a very good player. He's kind of quick for his size so I feel like as a fast-paced offense it helps our offense a lot with that."