Takeaways: Red Raiders reflect on TCU win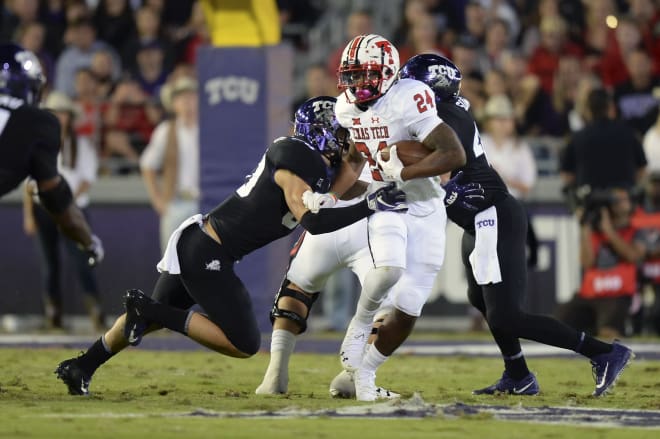 With the freezing temperatures outside, Texas Tech head coach Kliff Kingsbury, senior Tre King and senior defensive back Vaughnte Dorsey talked with media and reflected on the win against TCU last Thursday.
Kliff Kingsbury
- Starting off, Kingsbury said the thing that impressed him most about the win was the effort his team gave. "I didn't think it was a very clean game, particularly offensively, and then a lot of that has to do with their defense and how well coached they are, but we didn't execute at a very high level for having two weeks to prepare."
- Still, he felt there is progress being made on the team. "From the start of the season, obviously, started slow in that first game and have gotten better, developed a little more depth and guys that can come in and execute, two and three deep which is encouraging."
- Defensively, Kingsbury said the success of the defense was carried over from the second half of the West Virginia game when the Red Raiders allowed just seven points. "Those guys have been practicing well and getting better each week and that's what you hope for."
- On McLane Carter, Kingsbury said he felt like he was going to be able to go against TCU, but after the few plays he was in for, he did not feel good. Kingsbury also did not update on any injuries and said most are game-time decisions. When talking about the receiving core, he did say it was important to get T.J. Vasher back in, which he said is pretty much just comfort level at this point with him.
- For the rest of the receiving core, Kingsbury praised Antoine Wesley. "Antoine's playing at a really high level, (Ja'Deion) High continues to make plays, Seth is getting a feel for our offense, Kesean, Zach Austin, so there's some guys stepping up but we've got to continue to work at that depth."
- This week, Kingsbury said they will be working who they could put in at the Z position as he said there has not been a lot of productivity at that position when Vasher is not playing.
- For the running backs, Kingsbury just thinks they need to continue to get better as a group. "Tre King, I thought played really tough, ran tough. Ta'Zhawn, I think is a guy who can make something out of nothing which is encouraging, Felton is always steady you know what you're going to get with him, SaRodorick plays well when he's had the chance, so it's a good group, they do everything right."
Tre King
- King compared the running back group this year to last but said this year, there are running backs who can do different things. "Ta'Zhawn, for example, smaller guy, we didn't have that last year, so that helps out in the pass game and then me, Felton and Ward also be able to do different things at running back."
- He described the running back room as always being competitive. "The day you let up is the day you might get passed up."
- He also talked about how he felt to be able to get some game reps after coming back from injury. "Feels good, it's a blessing able to have my body back and able to play the game that I love, so it's a good thing."
- To separate himself from the running backs, King said he can do everything including running the ball, catching the ball and understanding the concept of the plays.
- Ta'Zhawn has not missed a practice so far this season and King also gave Henry gave this advice at the presser. "I tell him to keep going."
Vaughnte Dorsey
- Dorsey said the Thursday night game felt a little bit different for the defense. "We shot our guns first and that made a big difference for us for sure."
- The Texas Tech defense allowed 28 points against West Virginia in the first quarter and then zero against TCU and Dorsey credited to starting fast in their routine during the bye and the days building up to TCU. "We started on the Sunday we got back from the West Virginia game, started with the weight room, start fast in the weight room, then we come to walkthroughs, start fast in walkthroughs."
- He then talked about TCU's final offensive play when Shawn Robinson scrambled around the field. "He was running really hard was definitely running for his life. We showed great pursuit and there was a lot on the line and we understood that as a team, as a unit."
- Dorsey said the defense bases their schemes off turnovers. The Red Raiders forced three turnovers against TCU, so he said it was a big momentum shift for the defense.
- Dorsey gave a shout out to the defensive line for getting pressure on Robinson. "For us, on the backend that really helps a lot because the quicker you can put pressure on the quarterback less time the DB's have to cover."
On Adrian Frye, Dorsey described as a great player and a great guy. "There's a lot more to come for him for sure."