Takeaways: Red Raiders, alumni prepare for Saturday night in coliseum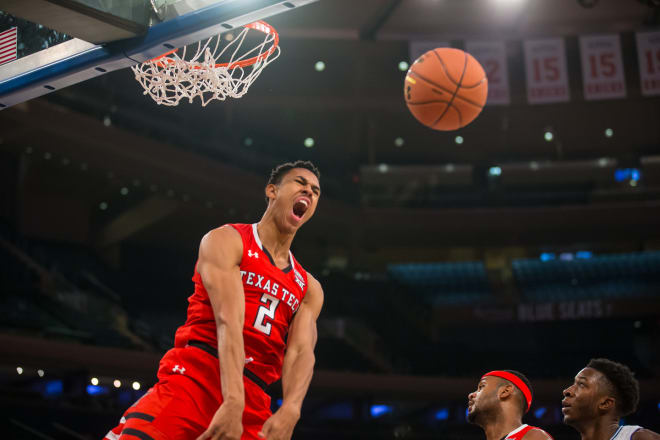 The No. 24 Texas Tech Red Raider men's basketball program will cap off the week inside the Lubbock Municipal Coliseum, the former home of Red Raider basketball from 1956-1999 until the United Supermarkets Arena opened.
On Monday, Texas Tech coach Chris Beard, former Athletic Director and basketball player/head coach Gerald Myers, along with former player/coach Bubba Jennings and former Red Raider baller Andy Ellis met with the media inside the coliseum to discuss Saturday night's contest and pregame events.
- Beard opened the presser with an opening statement as usual, which follows:
- "This is a week we've been looking forward to a long time," Beard said. "We always go one game at a time and Wednesday we have a great opponent in Kennesaw State coached by a hall of fame coach in coach (Al) Skinner. So we normally never really go ahead to the next game, but in this special situation we wanted to start talking about Saturday as well because it's such a big day for Tech basketball. A day where we're really going to honor the past and the tradition, both coaching and players, something a lot of work has gone into and we're really looking forward to. So kind of the logistics of this week, we obviously have a home game at 8 o'clock on Wednesday in the United Supermarkets Arena and then on Saturday we play the throwback game here at 7 p.m. against old Southwest Conference foe Rice University. On that day, there will be an alumni game with past players including Andy Ellis will play in the game and coach Jennings will be a coach. That'll be at 5 o'clock ... so just a special day that we're looking forward to."
- Beard added that following the alumni game and between the Red Raiders match, the former coaches and players will be signing autographs for the fans.
- Another quick note was that tickets for the game will be half-price for the next 48 hours (Monday and Tuesday) and will get you into the non-televised throwback contest along with a free ticket to Wednesday's game against Kennesaw State in the USA. So in short, buy one half-priced throwback game ticket and receive a free voucher for the midweek contest.
- Parking for the event will be open, meaning that fans can park in any of the surrounding lots and in between Jones AT&T Stadium and the coliseum.
- As for season ticket holders, this game was excluded from this year's season ticket package. Beard said he is thankful for those ticket holders and hopes this wont deter them from purchasing a discounted ticket within the next two days.
- Beard said the idea of the game came to him when her first took the job when former coach Tubby Smith left. He added that there is a lot going on behind the scenes that made him excited for Saturday's game.
- Beard emphasized respecting the years past including coach Myers, coach Myers and former coach James Dickey, who led the 1995-96 Red Raiders to the NCAA Sweet Sixteen that year along with a 30-2 overall record and 14-0 conference record.
- Beard's favorite memory inside the coliseum was when he was at Texas and traveled to Lubbock twice over that span. He remembered attending coach Myers' basketball camps as well when he was a kid.
- Beard mentioned that the team did a lot of work in the coliseum over the summer. He thanked the administration and crew for keeping the court maintained with a throwback Double T at center court.
- "I know a lot about the tradition here," Beard said. "Certainly my friendship with Bubba ... and certainly with Andy's time. Andy played with coach Dickey one year in this building then three years in the USA. More than anything – I'm a Texas Tech fan. I understand all the great basketball and great coaching that took place in this building. Saturday is going to be a special way to honor that."
- Beard, however, knows he and his team will be challenged by the Rice Owls, who the Red Raiders took down last year at home, 85-84.
- "We're really appreciative of Rice University and coach (Scott) Pera scheduling this game," Beard said. "We thought it would be really special to have an old Southwest Conference opponent and they were gracious enough to play this game. But, it's also a great game for us competition wise. Last year, I thought one of the best games we played all year was against a really good Rice team. Rice is talented again this year so it's going to be another early season game for us that we're fortunate enough to be in because we have so much respect for their team and talent."
- Rodney Allison, director of the Double T Varsity Club, said coach Beard is an advocate for events like the throwback game. Beard then thanked Allison for being able to contact the participants and bringing them under one umbrella.
- One name mentioned by Beard to watch out for his former power forward/center Tony Battie, who played from 1995-97. Beard joked with Jennings and Co. to see a lot of offense from Battie but little defense.
- Myers said the main reason he loved coaching at Texas Tech to begin with was the coliseum, which he ranked in the top-3 facilities back in the day.
- Jennings said it means a lot not only to him but to former members of the Red Raider program to get the chance to come back to Lubbock to participate.
- Beard stated that during coaching changes that a lot of the players during those times are forgotten. Allison said it was important to reach out to those players to reunite everyone.
- The roster for this year will be a mixture of past and recent players. Allison said it's hard to find 'a lot of those older guys' to play so look for Clark Lammert and Kader Tapsoba to play.
- Allison mentioned Rick Bullock and Richard Little as two guys featured on the tab. Bullock will not play, but Little will see a few minutes of playing time. However, the two are very excited to step foot in the coliseum for another game day.