Takeaways: Parker's impact, Red Raiders trying to bounce back and more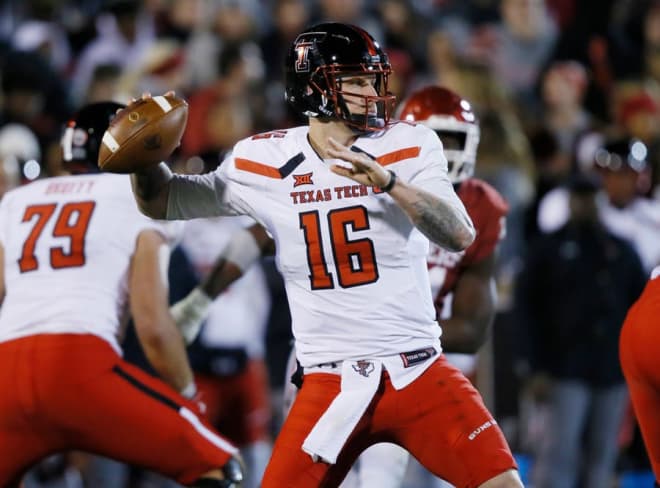 On Sunday, Texas Tech coach Kliff Kingsbury, DB Justus Parker and WR T.J. Vasher spoke with the media following a loss to Oklahoma on Saturday. Here are the notes and quotes from the session.
Kingsbury opened up the meeting by addressing the fact that Texas Tech has failed to score over seven points in the second half of the past two games.
In the fourth quarter against the Sooners, neither team scored.
"I just think it's game-to-game, each of those games," Kingsbury said. "Squandered some opportunities that we got to take advantage of. Gotta do a better job in the second half. There's no other answer to it."
QB Nic Shimonek went 22 of 36 for 322 passing yards and four touchdowns to one interception.
Kingsbury mentioned that he thought Shimonek played well, but has to work on the details to get him in the groove. The Red Raider offense started off fast, however, Shimonek did over throw his receivers on some passes.
"I felt like he was in a good rhythm early and then I think just trying too hard at times," Kingsbury said. "Trying to put too much on it not just doing what he does. You know as a QB you gotta keep it together, stay composed, stay in a rhythm the entire game and that's what separates the great ones from the good ones."
As for Vasher, he said it's a matter of execution as to why the team has struggled in the second half the past two games.
Vasher did not get targeted a lot during the beginning of the game, but did have chances later. He said that's not a worry of his because he's ready to go whenever he's thrown at.
He added that the chemistry between him and Shimonek is there. However, he feels like the gameplan sometimes just doesn't go as they plan which is why some of their connections have failed.
"I don't think there's any problem as far as me and Nic," Vasher said. "As far as the gameplan was being called, I feel like we're on the same page. It's just sometimes everything doesn't go as planned as you want it to so I think that's all that is."
The trend this year for Texas Tech is struggling in conference play once again. Kingsbury and Co. have fallen in four of their five Big 12 matchups with a win over Kansas being the lone win.
The other trend is not capitalizing on drives or finishing off teams. In nonconference play, though, Texas Tech held up down in Houston to get the win on the road. That has since been absent.
"We've had moments where we look like a really good team and then fall off in crucial moments, when crucial plays need to be made," Kingsbury said. "That's my biggest deal. When we're playing together well we have a really good football team, but we haven't put together many complete games yet."
More on personnel, the Red Raiders were missing three guys on the trip to Norman because of coaching decisions.
Those three were WR Derrick Willies, DB D.J. Polite-Bray and DL Nick McCann.
"Every year you have some issues you gotta handle – just handle it internally," Kingsbury said.
There was no reasoning behind the decisions. When asked if they were at practice Kingsbury responded by jokingly asking a media member if he saw the three leaving practice.
The other guy missing from the Sooner-Red Raider game was RB Justin Stockton who was dealing with a head injury.
In his starting spot was RB Tre King who rushed for 113 yards on 22 carries.
"He runs really tough," Kingsbury said. "He loves to play. He's competitive. That's some big time defensive players he was going against and I feel like he handled himself well. It's a tough environment for your first start. Just really proud with how far he's come. Hopefully we can get Justin back this week. It's been a really good 1-2 punch."
One positive thing that Kingsbury took away from the game was the energy and mindset the team had going into the game.
One player in particular that puts 100 percent of effort on the field is Parker. Parker hauled in another turnover for the Red Raiders.
Kingsbury said Parker is a gamer, but Parker said he is just playing his game.
"For me, I grew up playing in front of a thousand people. The first college I went to I didn't play in front of more than two thousand," Parker said. "But I mean at the end of the day it's football. They have to get across the line that we gotta stop them."
Parker said he's been blitzing more often but the last couple of games he's seen that diminish. DB Jah'Shawn Johnson was ejected the second half of the game for targeting so he will miss the first half of Saturday's game against Kansas State.
Parker is one of those guys ready to step up to fill that void the first portion of the game.
Kingsbury was asked about how much pressure he feels at the moment knowing his team is on a three game losing streak.
He said he feels good and likes the team's mentality knowing they'll have to snap that streak down the stretch.
"I'm good. Like I said we're 4-4. I like this team – I like where we're at," Kingsbury said. "We need to play better down the stretch – we understand that, but nothing's changed as far when it comes to me."
Kingsbury was then asked if he feels like he is coaching for his job over the remainder of the season.
"I always feel like that," Kingsbury said. "Nothing's really changed. I think every coach in America feels like that this time of year."