Takeaways: Kingsbury provides injury updates and more after win in Houston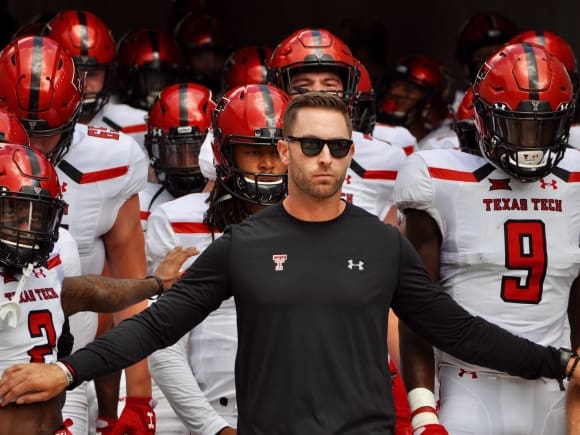 Texas Tech coach Kliff Kingsbury along with WR Keke Coutee, OL Paul Stawarz and DB Desmon Smith met with the media on Sunday following a win on Saturday against Houston.
The Red Raiders received 40 votes in this week's AP Top 25 poll and 11 votes in the Coaches Poll.
Here are the quotes and notes from this evening's session.
Kingsbury said he was pleased with the performance of OL Travis Bruffy after he missed the first two games this season. OL Madison Akamnonu was the filler at tackle, but stayed in the starting lineup, taking the spot of OL Jacob Hines at guard.
He didn't reveal which o-lineman rated out the highest but did say the play was decent and not the best game upfront
"You'd like to build that chemistry a little bit more and that was a good front they were going against," Kingsbury said. "I can see that I think down the road it can grow into something we really like, but we have a ways to go there."
Kingsbury said Bruffy didn't have many practices before being back at his usual spot.
Injury wise, Kingsbury gave updates on LB Jordyn Brooks, DB Vaughnte Dorsey and K Clayton Hatfield. Kingsbury said Hatfield and Brooks are going to be day-to-day.
Kingsbury said there was a plan set for field goal attempts when it came down to distance, but assured that that has indeed changed.
"There was. No longer," Kingsbury said. "So we'll see where that goes."
He added that he has confidence in both kickers Michael Ewton and Michael Barden. but, Barden has a shot at being the main guy until Hatfield recovers.
Dorsey left the game after suffering a head injury that required him to be placed on a stretcher and transported to the hospital.
However, Kingsbury said the hospital visit was just precautionary and that Dorsey felt great today. He added he doesn't know the exact terminology of his injury but it was a head injury and not anything worse.
When asked about DB Trevor Walker, who transferred to Texas Tech this year after being at Washington, Kingsbury said 'he's on the team' and that they're just 'going from there.'
However, it's unclear what the situation is with him.
DL Talor Nuñez didn't travel with the team this week as his father's funeral was on the same day. Nuñez's dad passed away Monday and was also a Texas Tech alumnus.
"He's just sorting things out on that end," Kingsbury said. "We told him to take as much time as he needs and we'll get him going again whenever he has everything settled back home."
When it comes to the Houston game, Kingsbury said there wasn't any new game plan once Houston's DL Ed Oliver left the game with an injury in the third quarter. Oliver was more less contained a majority of the game, but Kingsbury jokingly said he still sees Oliver in his head.
Stawarz said as a unit he believes they held there own pretty well.
"It's a great defense we played. I thought we brought it to them," Stawarz said. "We respected them. They have a history of having a really good defense so just going into their house and being able to do what we did, I thought, was really good."
Coutee said the offense has been thankful for the defense this season so far after starting off slowly in games.
He added that the defense is responsible for keeping them in games, but the big thing to do now is to turn the defensive takeaways into points.
But for Smith, he said the defense has yet to reach the level of play they want. He added that they haven't played their best game yet despite improving. How close is the defense to being where it wants? "Not close at all."
This Saturday, the Red Raiders will be hosting the No. 15 Oklahoma State Cowboys who are coming off of a loss by the way of No. 9 TCU.
Kingsbury said he hopes the defense is growing more and more confident after three nonconference games. However, he said they will be tested on Saturday night with one of the nation's top offenses coming into town.
"I hope so. That's what you want. You want to develop that culture, that mindset and they've come a long way," Kingsbury said. "It's a prideful group. Bunch of those guys have been on some defenses that had some tough games and they don't want to feel that anymore. So they worked really hard this offseason. Coach (David) Gibbs and his staff have done a tremendous job this far and we'll be tested this week; there's no doubt. One of the top offenses in the country with senior skill players, a great QB and probably the best receiver in the country so we'll find out exactly where we're at this week."