Takeaways: Hocutt addresses recent uniform issue and more on radio show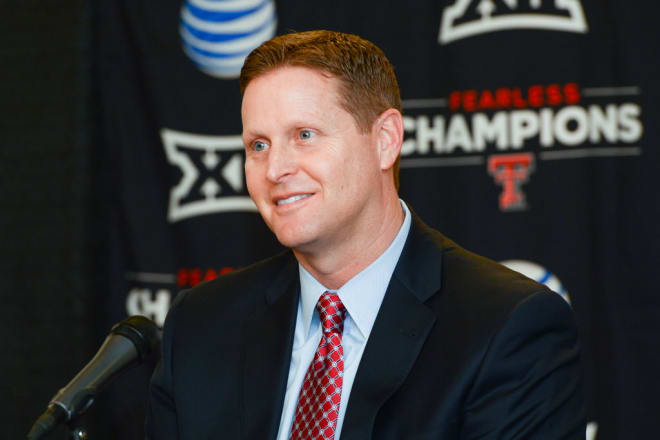 The Kirby Hocutt show continues to be must-listen to radio. This week continued the trend. Below are the notes and some quotes from Texas Tech Athletic Director Kirby Hocutt during Wednesday's one-hour show.
- The special guest on today's show was Texas Tech President Lawrence Schovanec. He gave an update on the student body size, athletics and his views on Texas Tech Athletics ranking on the Forbes list for most valuable football programs.
- Schovanec said the number of enrollees this year has "increased three percent from last year with a total of 38,300. Out of that number, about 415 are student-athletes. Hocutt's goals for these student-athletes is to get them into the workforce or as players in this nation to make it more successful and better, which is much needed now.
- The Forbes List has Texas Tech at No. 25, the third-Texas school on the list behind Texas A&M and Texas, who are No. 1 and No. 2, respectively.
- Hocutt said he sees the Houston game as a "big game." He's looking for this team to be smart and fundamentally sound in order to gain the win on Saturday.
- This week's top headline has been uniform related. The Red Raiders will be wearing red jerseys despite the game's theme being Celebrate Cotton. Houston has denied an agreement to allow the home team, Texas Tech, to wear the usual white that the away team wears. Kirby said this is "very unfortunate," but wants the West Texas fans to welcome Houston with a traditional West Texas welcome when they come out onto the field for play.
- This issue even went to as far as Kliff Kingsbury speaking with Major Applewhite, Houston head coach, to try and come up with an agreement but ended up with no deal.
- When asked about scheduling games, Hocutt said he would have every September game in the evening but television rights are simply the full controllers of game times.
- Kirby had some fun reminiscing on today's show and talked about his time as the College Football Playoff chair. He once met with Condoleezza Rice with some others to play golf. He got off the bus and Rice told him, 'Kirby, you can't wear shorts,' and made him buy a pair of pants in Pebble Beach. The choice of pants – a $300 pair od Adidas pants, which he says he'll 'never wear again' because he doesn't wear Adidas.
- In town early for the game? Check out Kirby's son Drew play for Frenship when the tigers meet up with Lubbock Cooper in a rivalry game. Kirby will be there but don't expect to see him as the loud, vocal dad in the stands.