Takeaways: High feeling comfortable in return, Coleman to start at nickel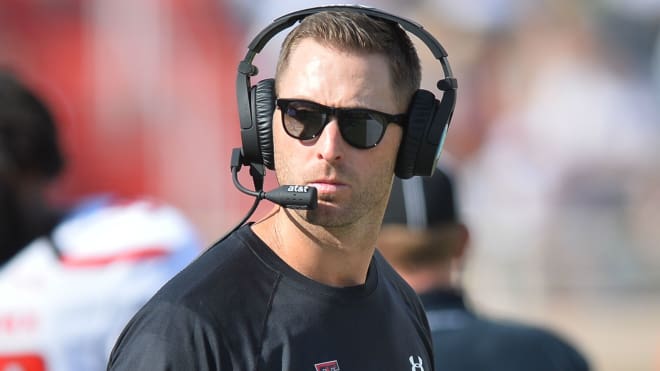 Texas Tech coach Kliff Kingsbury and select members of the football team met with the media on Thursday. Kingsbury addressed some more insight on the offensive line and more. Here are some of the notes and quotes from Thursday morning's presser.
- Senior WR Ja'Deion High says he is feeling better going into the season after missing the majority of last year with a right foot injury that required surgery.
- High said he is working on both inside positions at the Y and H spots once again after being moved to the outside in the spring. He added that blocking is a difference and that route running can be different too.
- Kingsbury said High is a jack-of-all-trades and can play the outside if needed.
- Meanwhile, WR JoJo Robinson has been the guy that's been standing out to both High and Kingsbury when it comes to the inside receiving unit.
- "JoJo Robinson has been competing," Kingsbury said. "There on the inside, Xavier (Martin) and we moved Antoine Wesley inside to that Y position and he's done a nice job there. We have six guys all working inside and we'll figure out who the top two are and go from there."
- Looking at the offense as a whole, High said it's not quite there yet, but that it will be come the first game of the season.
- "I would say that we're not where we want to be yet, but by the time the game comes around we will be where we want to be," High said. "We just got to be working towards it and get everything firing on all cylinders then we'll be good."
- Moving to the defensive side of the ball, Kingsbury said DE Eli Howard was a full go today. He brings leadership and toughness to the defensive line, Kingsbury said.
- Kingsbury named DL Kolin Hill, Lonzell Gilmore and Tony Jones that can go on the strong-side to help out in the trenches.
- However, Kingsbury said it's still to be decided on who would run with the ones if there was a game today. The rotations and groups, Kingsbury said, are looking good and he's comfortable with what he has at the position.
- DB Octavious Morgan is still receiving praise from his head coach. It's sounding like he has a shot at seeing the field for multiple plays. Kingsbury said DB Desmon Smith has grown a lot and so has DB Douglas Coleman, who he named as the starting nickel.
- DB Trevor Walker is used to being in a Division I defense after transferring over from Washington. Kingsbury said he is an experienced guy and that he's rotating in at the two-deep safety position, opposite of DB Jah'Shawn Johnson.
- "He's a guy who will nail both positions," Kingsbury said. "He was coached really well at Washington. He came here understanding defense, understanding what we're trying to do. He's really transitioned pretty seamlessly."
- Gilmore rounded out the media availability with some more insight on how the defensive line is progressing as well as some tips on how to eat your oatmeal – seriously.
- Gilmore said there's a lot more competition and more of a bond on the defense this offseason.
- He said OL Terence Steele is the toughest to go against due to his strength but that OL Travis Bruffy's right arm is like a club that throws you off.
- He said the entire defensive line has improved in front of his eyes. Having Kingsbury on the defensive side of things now makes them feel more comfortable too, Gilmore added.
- Gilmore went on to talk about how "live" the new facility is and how much of a better dancer DL Mychealon Thomas is than him.
- Gilmore said he is sticking around the same weight which has helped him out at practice. The key – a bowl of oatmeal before bed every night.
- "If you make oatmeal, you need butter, sugar and cream. You need those three ingredients. The cream is optional, but butter and sugar is for sure. That's the only way you'll get good quality oatmeal."