Takeaways: Giovannetti discusses new additions to fan experience, stadium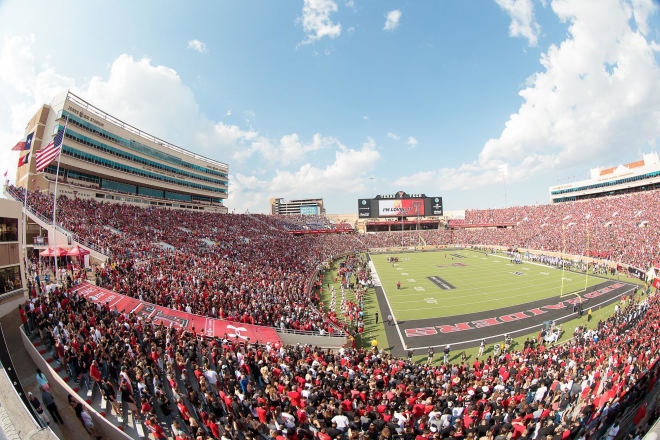 Robert Giovannetti, senior associate athletics director for external operations and strategic communications at Texas Tech, spoke with the media at Jones AT&T Stadium on Tuesday afternoon about the upgrades that can be seen around the venue.
Here are some quick notes and quotes from Giovannetti's media session.
Giovannetti opened up with a statement about the new turf that was installed at the Jones including the renovation of the 'double T' logo at midfield and the font in both end zones.
The new logo at midfield was scaled in size to reach both hash marks. Meanwhile, the new font was selected and agreed upon as a group, Giovannetti said, and is called "UA Rugged."
Eventually, Giovannetti said, all sports venues at Texas Tech will sport the Under Armour font that will be seen on the field.
On the topic of venues, Giovannetti said the $48 million Sports Performance Center is now in use by the football team and that a ribbon cutting ceremony is expected some time in October. The next couple of weeks will be spent applying the finishing touches on the center.
The concourse area of the Jones has also been updated with concession stands receiving an upgrade to their look.
When it comes to ticket sales, Giovannetti said season tickets are around 30,000 which is the amount Texas Tech sees whenever Oklahoma and Texas are not on the home schedule.
Section 109 will be a family area this season where fans can buy tickets in a bundle and have access to the family-friendly area. Included in the section will be stations for kids to spend their time at doing activities such as coloring, Giovannetti said.
The newest addition on the policy side of things will be the heat management plan. Included in this plan is an option for fans to bring in an unopened 20-ounce bottle of water to any outdoor event beginning with the Eastern Washington game.
There are refilling stations throughout the stadium which saves money for fans. Texas Tech reduced the price of its water bottles at concessions stands last year. The previous amount of $5 was reduced to $4 and will be the same this season, Giovannetti said.
Fans will also notice the addition of cooling stations set up around the entrance gates to the stadium.
In regards to sportsmanship, Giovannetti said there is no specific campaign set to encourage or enforce good sportsmanship, However, he said fans can be respectful when cheering on the Red Raiders without crossing any lines.
"We want this place to be intimidating, we want it to be loud, we want it to be a hard place to play, and you can do all those things without using words that you don't want your parents or kids to hear, and we hope that our fans will respond accordingly."
Raider Village is another new area fans can enjoy with Texas Tech utilizing the engineering key for groups that don't have a parking spot for tailgating to join.
Food can be purchased at the area or fans can bring their own food into Raider Village if they please. Giovannetti said some alumni groups have already requested to be placed at Raider Village.
The big question of the day came towards the end of the availability. That question being alcohol sales in the Jones.
"That is currently not being discussed," Giovannetti said. "At this time, it's not an active topic with our board of regents. Obviously, any decision like that, that we would pursue, would have to go through that step first to go to the board of regent's approval and currently that is not something that is not on the agenda or something planned to be discussed at this time with our board of regents."
Giovannetti said any late-notice statements to change of policy or a specific item needing attention on a game day can and will be found on texastech.com or on any of Texas Tech Athletics' social media accounts.