Takeaways: Duffey, Howard return to practice, Willies showing improvement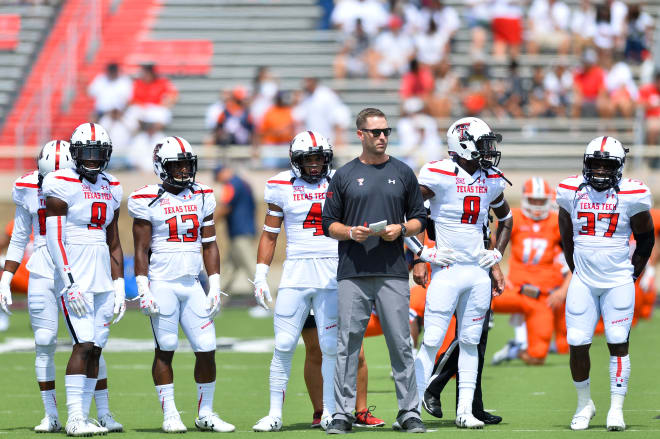 On Wednesday, Texas Tech coach Kliff Kingsbury and select student athletes spoke with the media. Here are a few notes and quotes from the session.
- Kliff Kingsbury said the defensive line is helping when it comes to how the offensive line is developing.
- He said the unit has a way to go but guys like OL Jack Anderson are sticking out from the group with their physical play upfront.
- "Terence Steele is one of the stronger players on our team. He's been doing a good job. Jack Anderson for a freshman. We've been working on his conditioning but he's a powerful, physical guy. That's exciting to see for young guys to be firing off the football. I guess the d-line has really helped our toughness so hopefully that continues through camp.
- Kingsbury said you can't really teach the type of play Anderson has in being a big mauler. Having those types of players is crucial in the run game, which Kingsbury wants to have this season.
- Rotating at guard with the ones is OL Jacob Hines, OL Madison Akamnonu and Anderson.
- Kingsbury said he is comfortable with seven or eight of his guys maintaining the job at offensive line.
- Now when it comes to the run game, RB Da'Leon Ward is still not back as he is dealing with an academic issue. Kingsbury said if Ward get's everything sorted then he hopes to see him the first day of class, but he is still unsure if he will be back this season.
- Moving forward, RB Justin Stockton looks to be the leading man with RB Desmond Nisby, RB DeMarcus Felton, RB Caleb Woodward and RB Tre King following.
- Kingsbury said Stockton has shown a lot of improvement and has had a good fall camp.
- "He battled this offseason. Its four solid guys you can depend on."
- Kingsbury added that WR Derrick Willies and LB Brayden Stringer have stepped up in his eyes and are considered his most improved this offseason.
- Willies said things are constantly improving for him and the receiving unit.
- He added that being healthy has helped in where he sits right now. His favorite route to run, "any route that gets me the ball."
- On the returning side of things, LB D'Vonta Hinton and DE Eli Howard are back. Hinton will return and be eased back into the system. Howard, according to Kingsbury, has been practicing.
- QB Jett Duffey is also officially back with the team. Kingsbury said he has been "fairly limited."
- However, when it comes to the recent closed scrimmage and practice, QB McLane Carter has jumped out to Kingsbury.
- "I like the progress that McLane Carter's made. He's really come a long way since the spring. He's getting comfortable with the system, protecting the football so hopefully that continues."