Takeaways: Dorsey, Bruffy, Coutee talk injuries, Iowa State and more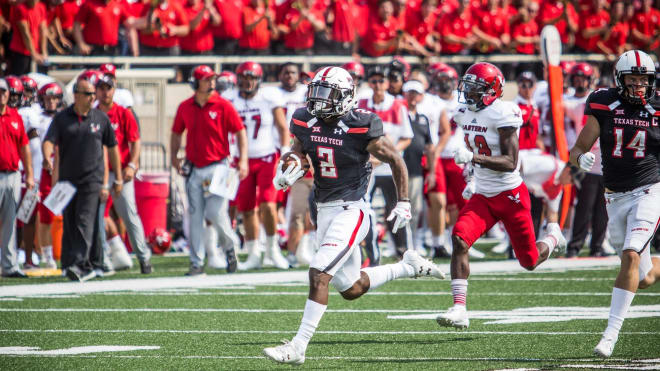 DB Desmon Smith, DB Vaughnte Dorsey, WR Keke Coutee and OL Travis Bruffy addressed the media Tuesday evening following practice. All four have had run ins with injuries at a certain point in their careers in Lubbock, but three of them have occurred this season.
Here is what they each had to say about moving on to Iowa State and how they feel health wise.
Dorsey spoke about his role on the team and the physicality he brings to the table.
He suffered a bad looking head injury during the Houston game on a special teams play that sent him to the hospital.
He said it doesn't change the way he plays since 'things happen on the field' and that he has never had a concussion before.
"I really don't know. I wasn't conscious until I got back in the ambulance," Dorsey said. "Everything that was going on I don't really remember. My mother was definitely scared."
He added that when he woke up it felt like 'the best sleep of his life.'
Although he feels better, he has been pulled from the special teams unit until further notice. He threw in that he's trying to make his way back on that side of the ball.
Back to his job as a defender, the approach on defense this year has been to stop the opposing team's run game. Dorsey said that can get a little difficult defending passes when it comes to guys knowing when it's a pass or run play coming.
With Iowa State up next, Dorsey said Cyclone QB Kyle Kempt has the momentum moving into the game with how he's been able to operate the system and guide the team.
"He's definitely a good QB," Dorsey said. "He has heart. As of now, he's a good QB. We're going to have to do a good job with keeping him contained."
Last season, QB Joel Lanning was the operator for the Cyclones but has since taken on the roll at linebacker on defense.
When asked earlier in the day, DB Jah'Shawn Johnson said Dorsey is one of the Red Raiders who could play both sides – specifically for Dorsey, the QB position, which he played in high school at Cleveland High School in Cleveland, Miss., but ran a triple option set on offense.
"Yeah, I can play QB," Dorsey said with laughter. "I got a 70-yarder in me. Only JUCO colleges recruited me out high school, (though)."
For his fellow defender, Smith said this game means a lot more than a conference win. Last year, Smith was a rookie on the team and was facing injury, but he still doesn't forget the day Iowa State trampled the Red Raiders.
This year will be different, according to the Odessa native, who recorded his first interception last week against West Virginia. He said the defense as a whole has improved. They haven't played their best game but will definitely mesh together on Saturday to make sure the Cyclones don't repeat last season all over again.
"Defense doesn't sell tickets," Smith said. "Everybody comes out to see the offense. It's an offensive minded game for the most part, depending on how you approach it. I just go out and play my snaps. It's tough at times. Like I said, it's unlike any other position. You have to have a really tough mentality to play the next play. Just forget anything good or bad that (previously happened.)"
Smith said this defense isn't the same because of the guys on the team and where they each sit when it comes to their mind.
Each player has hopes and dreams for playing in the NFL. This makes everybody on the defense play harder and work together to put the team in a place to succeed, Smith said.
On the offensive side of the ball, Coutee is one of the most explosive talents that could have a chance at making an NFL roster.
Coutee, who was banged up against Oklahoma State, said he feels 100 percent again and went into the Kansas game with that same feeling.
The game against the Mountaineers came down to finishing, Coutee said. The big focus this week is to do just that.
"We know we should've won that game, but we can't change it," Coutee said. "Starting fast is key like we did in Kansas and West Virginia as well. That has to happen against Iowa State."
This will be the first home game for the Red Raiders after two weeks on the road.
Coutee said the home atmosphere is unmatched and will be a force for the Red Raiders more than it is for a team like West Virginia.
"Once they got that momentum that stadium was rocking," Coutee said. "The younger guys on our team kinda of get the feel of the atmosphere. The Jones is even better than that so it'll help them out a lot. Sometimes, they leave at halftime, but this season they stay for the whole four quarters. So just to see our fans staying is important. It really means a lot to us."
One Red Raider who certainly appreciates the home crowd is Travis Bruffy.
However, the offensive tackle fell ill and was forced to miss some time, including the season opener at home in front of the Red Raider nation he loves dearly.
The sickness was enough to force him to not travel to the stadium, sidelining him at home. When asked if contagious, Bruffy said he wasn't too sure but supposed it was through sweat and saliva. For precaution, he was limited to staying at home the games he missed.
Bruffy also admitted to crying when he found out he had to miss the first few games of the season he worked so hard for in throughout the spring and summer.
"It's something you look forward to," Bruffy said. "It's not a personal goal of yours, but you spent countless months ... Having all that ripped away from you because of something you can't control is just devastating. But, it's a lot better. I bounced back a lot faster than I thought I would. I'm just ready to keep attacking the season."
Bruffy stated that he was around 300 pounds when the illness occurred but is currently 292 pounds, which is much improved from where Bruffy said he fell to – 268 pounds.
"In a week, I lost about 27-30 pounds," Bruffy said. "It was a rough time, but adversity only makes for a better comeback."
Bruffy's first game back was during the Houston road trip where temperatures affected the players. However, Bruffy said it didn't hurt him all that much and that he didn't notice because he felt like he was 'tweaking on adrenaline.'
Following the game though, he said he took off his jersey, which was drenched, and realized he lost around 16 pounds during the game.
"Honestly, you put it past you. You learn from it," Bruffy said. "If you watch the film, physically, we won that game. They're a great team – don't want to discredit them at all. They came back with a fire in their gut in the second half and took it to us. Physically, we won the game for three quarters. Offensively, defensively, we won the game for three quarters. But, you take that, and take a step back, and you say, 'What can I do to finish the game strong?'
Bruffy said the Cyclones will pose a challenge coming off of two straight wins including an upset over Oklahoma.
To him, the entire team has a chip on its shoulder. The Red Raiders are looking to bring it to them this Saturday, he remarked.
"They have some pretty good players," Bruffy said. "We need to bring it. We need to outmatch them physically. It's going to be a challenge but I think we can do it."
The defense the Cyclones run is similar to the one that West Virginia utilizes. Going off of last season though, Bruffy mentioned the fact that everything the Cyclones did gave them fits.
To him, the difference will be the fire that has built up inside the Red Raiders from last season.
"We have a chip on our shoulder and we're going to take it to them," Bruffy said. "We're going to come out guns blazing. I think Iowa State is a great team. They've played every team tough. They beat a heck of an OU team so we're not taking them lightly by any means – we can't take anyone lightly. I think this one's a little more special because what they did last year."