Stawarz pleased with early season progress along the O-line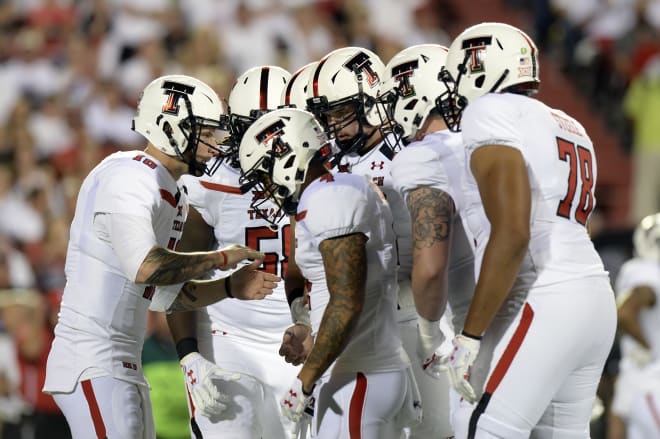 It's hard to find much to complain about when your offense comes screaming out of the gates like Texas Tech's has through the first two contests this season.
The Red Raiders - ranked fourth in scoring offense and tops in passing offense in college football - have essentially moved the ball at will early on in 2017, and much of that success has come at the unheralded hands of Brandon Jones' first year offensive line.
The young unit has had a few bumps and bruises as they learn to play with each other, all of them at new positions and/or starting for the very first time at the Power Five level.
So far, they've given up five sacks through two games, but the pure stats don't tell the whole story. Eastern Washington and Arizona State have gotten after quarterbacks as well as any teams in the country at their level, as EWU currently ranks seventh in sacks in all of FCS while the Sun Devils come in at fourth in FBS.
Paul Stawarz, now with two starts at center under his belt, felt things went pretty well for the unit as a whole against Arizona State, though they have plenty of room to continue to grow as an O-line and offense overall.
"It was a really good game. There were some mistakes in the second half that we've got to clean up as an offensive line, as an offense, some things I need to work on personally. We could've put up more points, but it was good to get a win against a good team."
And while he wasn't pleased with the second half overall, Stawarz was happy with the performance of the big boys up front on the final drive of the game.
Tied at 45-45, with just over six minutes left to play, the Red Raider offensive line stepped up for their best individual drive performance of the young season, stonewalling the Arizona State pass rush and opening up holes in the ground game for crucial yardage.
The center and his four compadres came through in the clutch.
"We knew what was on the line. We knew we had to get it done. We practice for moments like that, so we just went out there and we handled business."
So far, it seems the offensive line has played their best football when under pressure to perform. Stawarz believes it's because the collective group syncs up well together in the trenches, their chemistry working as one of the biggest strengths of this O-line.
"I think we're good. We work really well together. There are just some little things here and there that can make a difference that we're trying to clean up, but overall as a unit, I think we're playing really well together as a unit. We have some guys that can roll in at anytime that practice with us, so I think we're solid right now."
The youngest member of the unit has had to hit the ground running, too. True freshman right guard Jack Anderson is getting some major interior tests right out of the gate, including the veteran Eastern Washington D-line, Arizona State's Jojo Wicker, and All-American Ed Oliver waiting up next with the Houston Cougars.
Stawarz knows these early challenges will pay off in a major way for the freshman down the road, though.
"He's definitely come along. Playing a team like Arizona State can definitely boost your confidence. You can hang with a lot teams after that. It's good for him. He's handling things really well, he's a good player, and it's really good to get to play next to him."
So, two games in, what is the center's overall assessment of where things are at and what needs to improve?
"I think just starting fast and continuing the momentum, bringing the momentum that we've had in the previous half. That's been the trend in the past few games, and it seemed to be the trend against Arizona State. It's about continuing that momentum, and we know we can't let teams hang around and stuff like that."
"I think it's just about cleaning up the little things. There aren't any huge, drastic changes we need to make. We just need to continue to improve our game, know what we can do, just be perfect at what we do."