Starts commits to Texas Tech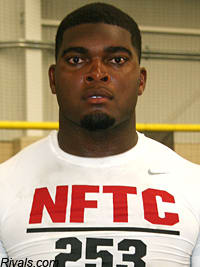 Waco (Texas) La Vega standout and 2012 U.S. Army All-American
Michael Starts
announced his verbal commitment to Texas Tech on Thursday. The 6-foot-4, 282-pound prospect made his decision public during a morning ceremony at his high school.
Starts, the No. 148 player in the country according to Rivals.com, chose the Red Raiders out of a group of finalists that included Baylor, Oklahoma, Texas and Texas A&M.
Robert Prunty
spearheaded Tech's recruitment of Starts and was a big factor in Starts' decision.
"Whenever we talked, he wasn't talking to me about football," Starts said. "He was talking to me about grades and if I do come to Tech, my grades are going to be the main deal. I thought that was big because after football, what else can you do?"
According to Starts, the opportunity to play defensive end was also a big plus in the Red Raiders' favor. Baylor, Oklahoma and Texas recruited him as an offensive tackle, while Texas A&M and Tech wanted him on defense.
"I love to play defense and, hopefully, this coming season I get to play some defense like I did last year," Starts said. "I think it's a big step for me and I think I made a great decision."
Starts began to trim his list in May after a conversation with La Vega head coach Willie Williams.
"I was talking to coach and he asked me where I wanted to go and I was like I didn't know and he said to narrow it down to five schools and choose from there. So I went home and thought about it and thought about the five schools I visited and thought about the schools that said I could play defense because I wanted to play defense. Tech happened to be one of those schools.
"I just thought back to when I visited Baylor, A&M, Texas Tech, the University of Texas -- I just thought back to when I visited them and when I went to Texas Tech I just felt comfortable and when I speak to the coach I could tell him how I was feeling and what was on my mind and everything."
Starts also holds offers from Auburn, Michigan, Notre Dame, Stanford, TCU and others.
Jason Howell contributed to this report.