Smith recaps recent Lubbock trip, official visit date in the works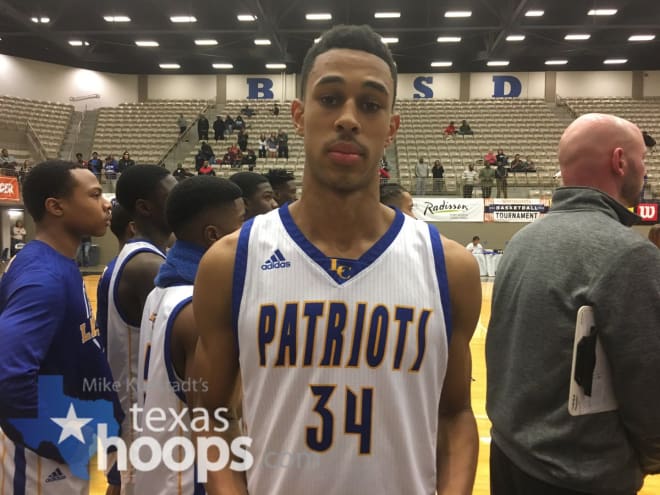 One of Texas Tech's top basketball targets – Lakeview Centennial's Zhaire Smith – made a quick unofficial visit to Lubbock this past weekend to watch Texas Tech take on a top-five ranked Kansas Jayhawk team in Lubbock.
Smith, one of Tech's most recent offers, has been building a strong relationship with the Texas Tech coaches over the past month and didn't want to pass up the opportunity to see a big-time basketball game in Tech's home arena.
"I just wanted to check out how the atmosphere was with Tech because it was Tech vs. Kansas, and I knew it would be a good game. It was a good game even though they lost by one point. It was a good game to go to. I had never been down to Lubbock, so I wanted to see how it is down there."
Everything about the quick trip to Lubbock checked all the boxes for Smith as his original concepts of Texas Tech were changed when he stepped into the arena on Saturday.
"I wasn't expecting what I saw in Lubbock at all. They have a great student section. I loved how much they got involved like that. I had never seen anything like it before. It was a great arena, great size. Everything about it was great. Locker rooms were awesome and they are still building."
"I look forward to going back and taking my official soon."
Smith didn't get to observe a win on Saturday as Tech fell to the Jayhawks 80-79, but he did see what areas Tech needs help in and where he could come in and make an impact.
"Yeah I feel like I can continue to contribute with my jump shot and ability to drive the lane. I can bring the highlights just like Zach Smith does."
When Tech first offered, Smith only at a few small-school offers at the time and has since blown up on the recruiting trail. The forward prospect now holds 17 offers, including recent offers from Kansas State and Memphis and increased interest from schools like Texas and Oregon.
While Smith's status continues to rise, his interest in Texas Tech continues to rise as well. Smith is going to have visited Lubbock on his own dime for an unofficial and then again for an official visit just a few weeks later. Credit Chris Beard and assistant coach Chris Ogden for the relationship they have established with Smith that has made him want to make frequent stops in Lubbock.
"I hear from coach Oggie a lot, and then coach Beard hits me up every now and then. They tell me not necessarily how much they want me, but how much they need me. They say I could come in there and get good playing time as a freshman."
"I just like how much they have shown me that they care because they've driven all the way out to Lakeview a few times to see me play. That shows a lot to me and is one of the many reasons that I like them."