Signee QA: Patrick Mahomes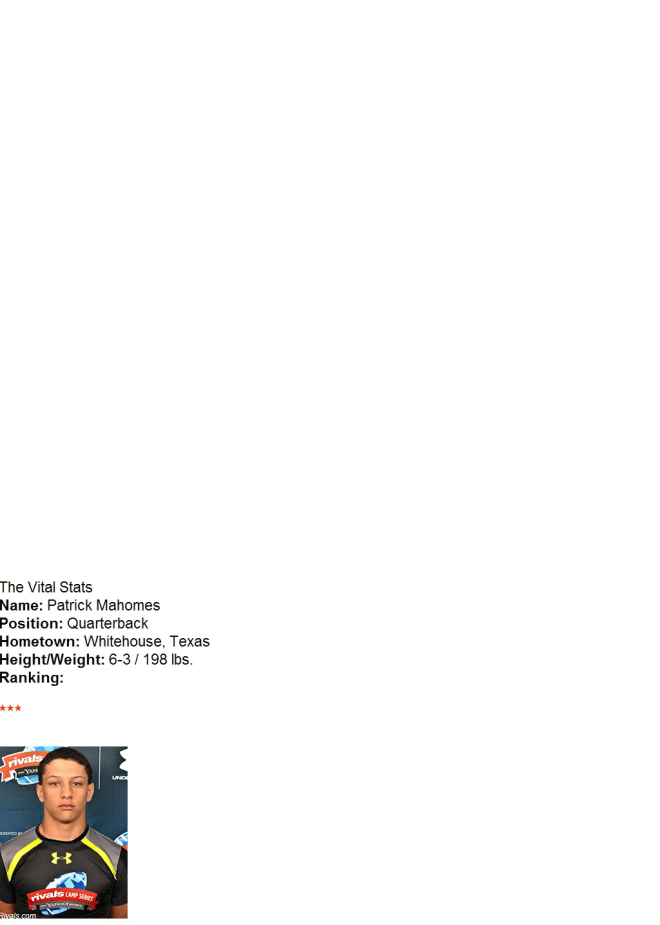 important signee in Texas Tech's 2014 signing class. The 6-foot-3, 198-pound
prospect won't get to campus until June, but there's a good chance that the
incoming freshman will be the Red Raiders' backup quarterback this fall.
Mahomes is profiled below in the latest installment of our signee Q&A feature which we are running on all of the members of
the Red Raiders' 2014 signing
class.
Thoughts and opinions:
WHO IS YOUR FAVORITE FOOTBALL PLAYER OF ALL TIME?
"Randy Moss just because when I was growing up my dad used to talk about him a
lot and how exciting he was."
WHAT IS THE BEST FOOTBALL TEAM THAT YOU'VE EVER SEEN, IN PERSON OR ON
TELEVISION?
"On television it would probably be the 49ers back in the day with Joe Montana
and Jerry Rice. I remember watching the classic games with my dad and just
watching them play. It wasn't really during my lifetime, but watching them play,
you could just tell they were dominant over other teams."
An up-close and personal look:
YOUR MOST MEMORABLE MOMENT FROM YOUR FOOTBALL CAREER?
"When we beat our rival John Tyler last year on Senior night. A game that
actually came down to the very end to win a district championship. We hadn't
beat them before so getting that win kinda just set the precedent on what
Whitehouse football is now. We can beat the big teams and we can win district
championships and make playoff runs."
DID YOU EVER HAVE AN EMBARASSING MOMENT PLAYING FOOTBALL?
"Off the top of my head I can't think of one. There have been some runs where I
fell down and stuff like that. You look at the film and laugh at them but
nothing particularly embarrassing."
DO YOU HAVE A PREGAME RITUAL?
"For me, I just try and do the same thing every game. It kinda comes with
playing baseball with the superstition of doing everything the same and it kinda
gives you that confidence that you'll have a good game."
WHEN DID YOU FIRST REALIZE THAT YOU HAD THE POTENTIAL TO BE A DIVISION I
FOOTBALL PLAYER?
"For me, I first realized it during the middle of my junior season when I
started getting letters from Division 1 colleges. I had always been a baseball
player growing up and basketball, and I played football just for fun and then as
I started playing quarterback and really understanding the game and getting
better and better and it just became a love for me of playing football. And when
I started receiving those letters I realized there was potential for me to go
play Division 1 football."
Thoughts on Texas Tech:
WHAT POSITION WILL YOU BE PLAYING AT TECH?
"Quarterback."
ARE YOU EXPECTING TO REDSHIRT YOUR FIRST SEASON ON-CAMPUS?
"No just because there is only one other quarterback there. I know for sure Ill
be the back up unless there is a walk-on or something. As of right now I am back
up and Ill be one mistake away from being the quarterback. If something happens
and Webb does get injured or if anything happens. I can always be playing. I
don't think Ill be redshirting this next year."
WHAT IS A PERSONAL STRENGTH THAT YOU WILL BRING TO THE TABLE AT TECH?
"It's gotta be leadership. Just for me I'm young and Ive always been the leader.
The kinda guy who just does what he's supposed to do and I think that will
transcend well going to Tech. Getting up there before and getting to build a
better relationship with all the football players and become great friends with
them and that's how you win games."
WHAT IS ONE THING THAT YOU NEED TO WORK IN ORDER TO PLAY AT THE NEXT
LEVEL?
"I just gotta be more understanding of the game. I've played so many sports and
I've never just focused on one and I believe when I do just focus on one sport
and get to really work on it, work on my footwork and work on my release I
believe I can really take off in this sport."
HOW OFTEN DO YOU WORK OUT AND WHAT IS YOUR ROUTINE?
"I workout two days a week. I workout not overly hard weight wise. I just try to
maintain because I play basketball and baseball, and I can't just kill myself
because I have games on Tuesday and Thursday."
Personal preferences:
WHAT DO YOU DO IN YOUR SPARE TIME?
"My spare time, there's not a lot of it. I mean I play lots of sports but I
normally just hang out with my friends, or I will watch TV or play video games I
guess."
WHAT IS YOUR FAVORITE FOOD?
"I'll have to say steak. I love steak."
DO YOU HAVE A NICKNAME?
"Not necessarily. My godfather calls me Showtime but other than that no one has
really given me a nickname. Some people call me Little Pat because my dad's name
is Pat."
HAVE YOU DECIDED ON WHAT YOU WANT TO MAJOR IN AT TECH?
"Probably going to major in business. Financing is the way to go and I've talked
to my mom and some of the older adults in my life they think its best for me and
what I'm strong at."
HAVE YOU MET ALL OF THE ACADEMIC REQUIREMENTS TO ENROLL AT TECH?
"Yes sir. I've met those a long time ago and it was good to get those out of the
way. I took my SAT my junior year and it was high enough so that was good."
A look at the recruiting process:
WHAT ONE THING WAS THE DETERMINING FACTOR IN YOUR DECISION?
"The love the city, the fans, and the coaching staff all have for Texas Tech. I
mean that's it. I mean everybody loves Tech. It's family out there. It's more
than just a football team. When visiting other schools in super huge cities
where there are all kinds of different pro teams and stuff like that. It's not
the same atmosphere that Lubbock has."
IS THERE A TECH COACH THAT YOU FEEL ESPECIALLY CLOSE TO?
"It's gotta be my man Coach Haverty. He's been with me since the beginning of my
junior year. He was at TCU first and he talked to me a lot there and then he
went over to Tech, and he has been on me all the time. Hes a great guy. He has a
great relationship with my family. I look forward to him being a coach of mine
and getting to play for him."
WHAT WAS YOUR FAVORITE MOMENT DURING THE PROCESS?
"My favorite moment had to be when I finally committed. I mean the feeling that
you get, it's amazing. When you get to commit to a college and your dream comes
true. When you know you get to play for a D-1 college in football."
WHAT WAS THE WORST PART ABOUT THE PROCESS?
"The decision making and just having to travel every weekend. Every weekend
youre going somewhere else trying to make sure you make the right decision."
DID YOU MAKE FRIENDS WITH ANY CURRENT PLAYERS AT TECH OR INCOMING
FRESHMEN DURING THE PROCESS?
"When I visited I made friends with Bradley Marquez and Davis Webb and Kenny
Williams. I mean those are great guys and are really cool. I got to talk with
them and make friends with them. Then the incoming freshman, Ian Sadler, Cameron
Batson. I mean those are two guys I've got to hang out with a lot. Along with
some of the lineman like Robert Casteneda, Justin Murphy. We got to hang out a
lot on our official visit. I've talked to all the other ones. Whether it be
Jahshawn Johnson. Ive texted him. Trying to build that relationship. We will be
together for the next four years."
WHAT WAS YOUR FAVORITE PART ABOUT YOUR OFFICIAL VISIT TO TECH?
"Just when I got to spend time and hang out with those guys like Ian (Sadler)
and Cameron (Batson). All those offensive people. That's a big unit and we're
all gonna be working out together, practicing together and basically spend our
whole college life together and getting to build that relationship with them was
a big part."
WHAT SCHOOL WOULD YOU HAVE CHOSEN IF YOU HADN'T SIGNED WITH THE RED
RAIDERS?
"Early on I was considering A&M and Houston and as time went down and that kinda
faded off, I was considering going to Oklahoma State and then Tech and, Tech
just blew me away and I knew right after I visited the first time that was gonna
be the choice for me and other than that all the other offers were just baseball
and I was looking forward to playing football."
The future and goals:
WHAT NUMBER WOULD YOU LIKE TO WEAR AT TECH?
"I wanna wear No. 5, and I've worn five for every sport since the seventh grade.
When I was younger I used to be a fan of A-Rod because he was a baseball player
but as I got older I kinda wanted a number that would define me, by myself and I
just chose five because it was good for all three sports that I played."
WHAT IS YOUR PERSONAL GOAL FOR THIS SEASON?
"My personal goal is to get better and hopefully get to contribute to the team a
little bit. I mean I'm gonna work hard everyday and hopefully get some
opportunities to contribute and maybe get in to play a little bit."
WHEN WILL YOU ARRIVE IN LUBBOCK FOR GOOD?
"I'll arrive right after baseball season is over. I mean we have a chance to
make a state run. And that goes into the first week of June, and they (the
coaches) said that if that does happen whenever that finishes, I'll just be up
there."