Signee QA: Ian Sadler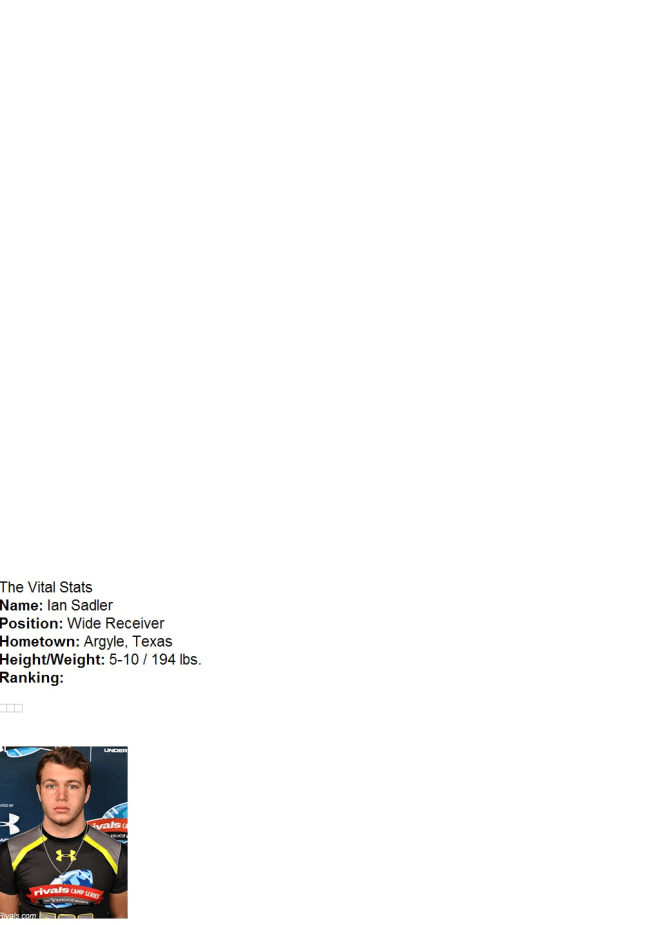 Texas Tech
loaded up on wideouts in its 2014 class in hopes of replenishing its receiving
corps. One of those prospects that the Red Raiders added at that position is
Argyle (Texas) standout
Ian Sadler
. The 5-foot-10, 194-pound athlete will arrive in
Lubbock during the summer and expects to compete for immediate playing time.
Sadler is profiled below in the latest installment of our signee Q&A feature which we are running on all of the members of Texas Tech's 2014 signing
class.
Thoughts and opinions:
WHO IS YOUR FAVORITE FOOTBALL PLAYER OF ALL TIME?
"Right now I'd probably say Johnny Manziel is my favorite player to watch."
WHAT IS THE BEST FOOTBALL TEAM THAT YOU'VE EVER SEEN, IN PERSON OR ON
TELEVISION?
"On television I would have to go with this year's Seattle (Team) or Denver."
An up-close and personal look:
YOUR MOST MEMORABLE MOMENT FROM YOUR FOOTBALL CAREER?
"Winning State."
DID YOU EVER HAVE AN EMBARASSING MOMENT PLAYING FOOTBALL?
"I actually can't think of one."
DO YOU HAVE A PREGAME RITUAL?
"No."
WHEN DID YOU FIRST REALIZE THAT YOU HAD THE POTENTIAL TO BE A DIVISION I
FOOTBALL PLAYER?
"Probably my sophomore year whenever we had the playoff run and we went to state
and coach (Sonny) Cumbie actually told me that he could see me committing there
(Tech) in two years."
Thoughts on Texas Tech:
WHAT POSITION WILL YOU BE PLAYING AT TECH?
"Slot receiver. I'll be playing H."
ARE YOU EXPECTING TO REDSHIRT YOUR FIRST SEASON ON-CAMPUS?
"No."
WHAT IS A PERSONAL STRENGTH THAT YOU WILL BRING TO THE TABLE AT TECH?
"Field awareness."
WHAT IS ONE THING THAT YOU NEED TO WORK IN ORDER TO PLAY AT THE NEXT
LEVEL?
"Running routes."
HOW OFTEN DO YOU WORK OUT AND WHAT IS YOUR ROUTINE?
"Right now I workout usually Monday through Thursday, and I lift for about an
hour and a half, and then I go to physical therapy for about an hour and a
half."
Personal preferences:
WHAT DO YOU DO IN YOUR SPARE TIME?
"Usually I play Xbox, ride my dirtbikes, watch TV."
WHAT IS YOUR FAVORITE FOOD?
"Pasta."
DO YOU HAVE A NICKNAME?
"No."
HAVE YOU DECIDED ON WHAT YOU WANT TO MAJOR IN AT TECH?
"Right now I think I'm going to major probably in business and probably minor in
some sort of physical therapy."
HAVE YOU MET ALL OF THE ACADEMIC REQUIREMENTS TO ENROLL AT TECH?
"Yes."
A look at the recruiting process:
WHAT ONE THING WAS THE DETERMINING FACTOR IN YOUR DECISION?
"The coaching staff."
IS THERE A TECH COACH THAT YOU FEEL ESPECIALLY CLOSE TO?
"I'd
probably say coach Morris."
WHAT WAS YOUR FAVORITE MOMENT DURING THE PROCESS?
"Just getting to know all the recruits for the first time."
WHAT WAS THE WORST PART ABOUT THE PROCESS?
"Going on visits to random schools that I was not interested in."
DID YOU MAKE FRIENDS WITH ANY CURRENT PLAYERS AT TECH OR INCOMING
FRESHMEN DURING THE PROCESS?
"I'm pretty close with Patrick (Mahomes), Cameron Batson, Jakari (Dillard),
Justin (Murphy), Rob (Casteneda), and I got to know Davis (Webb) on my
official."
WHAT WAS YOUR FAVORITE PART ABOUT YOUR OFFICIAL VISIT TO TECH?
"Watching the little games that they had. Watched them play dodgeball."
WHAT SCHOOL WOULD YOU HAVE CHOSEN IF YOU HADN'T SIGNED WITH THE RED
RAIDERS?
"I would have probably gone somewhere in California."
The future and goals:
WHAT NUMBER WOULD YOU LIKE TO WEAR AT TECH?
"Twelve, and because it was my soccer number."
WHAT IS YOUR PERSONAL GOAL FOR THIS SEASON?
"Just playing a decent part within the team. Having a role."
WHEN WILL YOU ARRIVE IN LUBBOCK FOR GOOD?
"May 31 is whenever I move in."