Signee QA: Dominique Wheeler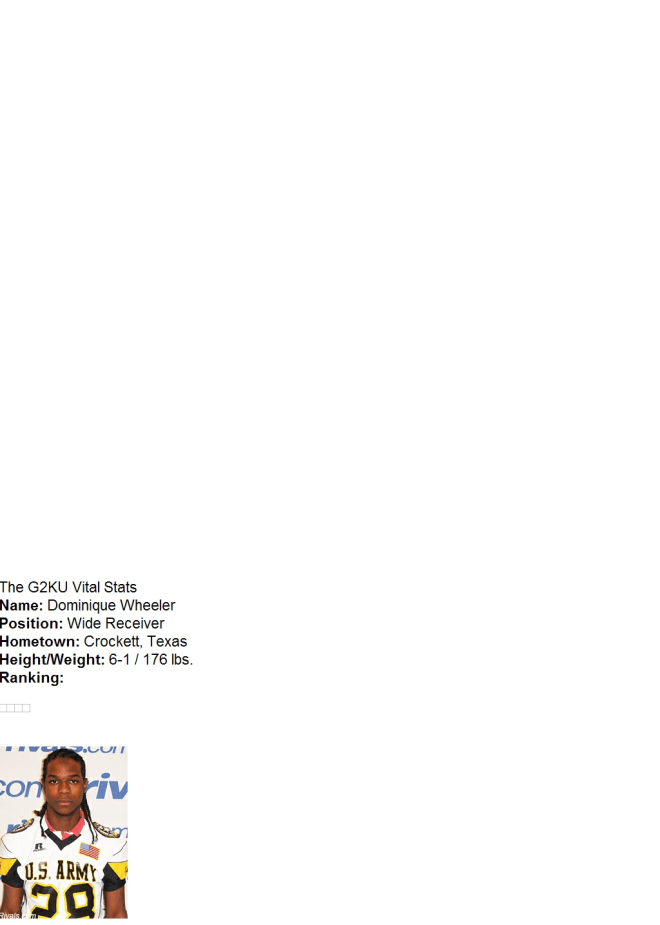 highly touted players in the Texas Tech 2012 recruiting class with his blazing
speed, great manueberability and strong hands.
But will that translate to immediate playing time?
Wheeler is profiled below in the latest installment of our signee Q&A feature which we are running on all of the members of Texas Tech's 2012 signing
class.
Thoughts and opinions:
WHO IS YOUR FAVORITE FOOTBALL PLAYER OF ALL TIME?
"I don't really have one. I have a lot that I look up to but I can't pick just
one."
WHAT IS THE BEST FOOTBALL TEAM THAT YOU'VE EVER SEEN, IN PERSON OR ON
TELEVISION?
"This year's New York Giants. Or those late New Orleans Saints."
An up-close and personal look:
DID YOU EVER HAVE AN EMBARASSING MOMENT PLAYING FOOTBALL?
"I never really wore my belt in high school and some dude dived and grabbed the
back of my pants. He tried to tackle me and I ran the ball in for a touchdown
showing my boxers to everyone in the stadium."
WHAT WAS THE MOST MEMORABLE MOMENT OF YOUR HIGH SCHOOL CAREER?
"I think it's the first play on my highlight video. I ran six yards up, 10 yards
back and cut across the field anddodged six or seven tackles. It was crazy."
DO YOU HAVE A PRE-GAME RITUAL?
"I'd just put on my headphones and listen to music before we went out."
WHEN DID YOU FIRST REALIZE THAT YOU HAD THE POTENTIAL TO BE A DIVISION I
FOOTBALL PLAYER?
"My sophomore year when I started playing offense. I had success early at
receiver."
Thoughts on Texas Tech:
WHAT POSITION WILL YOU BE PLAYING AT TECH?
"Receiver."
ARE YOU EXPECTING TO REDSHIRT YOUR FIRST SEASON ON-CAMPUS?
"I don't know. I don't really have an answer for that. Everyone asks me that and
I'm not sure. I'm just going to go out there and work has hard as everyone else.
Redshirting wouldn't be a bad thing."
WHAT IS A PERSONAL STRENGTH THAT YOU WILL BRING TO THE TABLE AT TECH?
"On the field, speed and agility and the way I move on the field and how I can
make people miss tackles."
WHAT IS ONE THING THAT YOU NEED TO WORK IN ORDER TO PLAY AT THE NEXT
LEVEL?
"Route running. Getting more crisp with my routes."
HOW OFTEN DO YOU WORK OUT AND WHAT IS YOUR ROUTINE?
"I play like every sport so I just work out on their routines. I just got out of
track about a month ago and since that's been over I went back to the football
team to play seven-on-seven and lift weights with them."
Personal preferences:
WHAT DO YOU DO IN YOUR SPARE TIME?
"Hang around some friends. We like to ride around town. But nothing special."
WHAT IS YOUR FAVORITE FOOD?
"Pizza or Chinese food."
WHAT IS ON YOUR IPOD RIGHT NOW?
Country, rap, R&B and hip-hop. That's about it."
WHAT DO YOU PLAN ON MAJORING IN AT TECH?
"Kinesiology or sports medicine."
HAVE YOU MET ALL OF THE ACADEMIC REQUIREMENTS TO ENROLL AT TECH?
"Yes I have."
A look at the recruiting process:
WHAT ONE THING WAS THE DETERMINING FACTOR IN YOUR DECISION?
"They made it feel like home. The coaches, and how they play football. How they
like the throw the ball around appeals to me."
IS THERE A TECH COACH THAT YOU FEEL ESPECIALLY CLOSE TO?
"Coach Neal Brown."
WHAT WAS YOUR FAVORITE MOMENT DURING THE PROCESS?
"The official visit."
WHAT WAS THE WORST PART ABOUT THE PROCESS?
"All the phone calls. Everyone is hitting you up all the time. Just too much
stuff."
DID YOU MAKE FRIENDS WITH ANY CURRENT PLAYERS AT TECH OR INCOMING
FRESHMEN DURING THE PROCESS?
"I'm close with the entire recruiting class. Of the current player, Bradley
Marquez, Derek Edwards, the Morales twins, Darrin Moore, Eric Ward and Michael
Brewer."
WHAT WAS YOUR FAVORITE PART OF YOUR OFFICIAL VISIT TO TECH?
"Hanging out with the players, seeing campus, learning more about Tech. It was
really nice getting to know my future teammates."
WHAT SCHOOL WOULD YOU HAVE CHOSEN IF YOU HADN'T SIGNED WITH THE RED
RAIDERS?
"Probably Baylor or Oklahoma State."
The future and goals:
WHAT NUMBER WOULD YOU LIKE TO WEAR AT TECH?
"No. 28."
WHAT IS YOUR PERSONAL GOAL FOR THIS SEASON?
"Get out there and get some playing time I'm not expecting much as a freshman,
but I'd like to have some. Give it my all."
WHEN WILL YOU ARRIVE IN LUBBOCK FOR GOOD?
"Some time the second week of June."