Shenault is No. 4 for TTU in 2019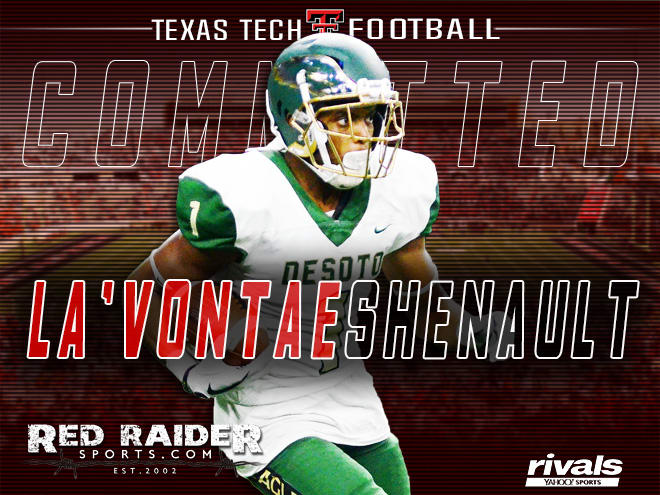 The coaching staff has landed their second commitment of the week and the fourth overall commitment for the 2019 class today.
DeSoto wide receiver La'Vontae Shenault announced his commitment to the Red Raiders this afternoon and will be on the South Plains this week.
"I really like the coaching staff at Texas Tech and they have beeen really good to me," Shenault said. "I feel like it's the place that I belong. Coach (Emmett) Jones and I have a really good relationship.
"I know that he is a good coach and they have a lot of recent success with receivers going to the NFL from Texas Tech. I know it is possible from there, plus Coach Jones is a great person and I know that we will get along."
As a receiver, Shenault also shared his thoughts on joining the high powered Texas Tech offense.
"Yes, that is exactly what I wanted," Shenault said. "I can get the ball in my hands and have the chance to show my talents. They throw the ball a lot and I can have the opportunity to make a lot of plays in that offense."
The 6-foot-1, 186-pound receiver has been to Lubbock previously, but will spend a few days in town this week for an unofficial visit.
"It won't be my first time to visit," Shenault said. "I was out there for a camp last year, but we only camped and worked out. It wasn't a full visit or anything. I'm going to take an unofficial visit starting tomorrow or Friday.

"I want to tour the facilities and look into my major, Business and Entrepeneurship. Of course, I want to spend a lot of time with the coaches and get to know them a lot more moving forward. I mostly talk with Coach Jones now, but he told me that I'm going to spend time with the whole coaching staff."
Now that the standout prospect is verbally committed to the Red Raiders, does he plan on recruiting others to Texas Tech in this 2019 class?
"I really want my quarterback to come with me," Shenault said. "Shundarion (Ward) is DeLeon's little brother, the running back at Tech. He is going to be our starter at quarterback this year and I want him to join us."
Currently rated a 5.6 three-star prospect, he is the No. 60 overall rated receiver in the nation and the No. 66 overall prospect on the Rivals.com Texas Top 75 for the 2019 class.
Shenault finished with 60 receptions for 791 yards and six touchdowns - earning District 7-6A All-District First Team Offense honors as a junior.
He chose the Red Raiders over 15 other offers, including offers from Oklahoma State, TCU, Colorado, West Virginia, Illinois and SMU.