Redshirt Report: Donta Thompson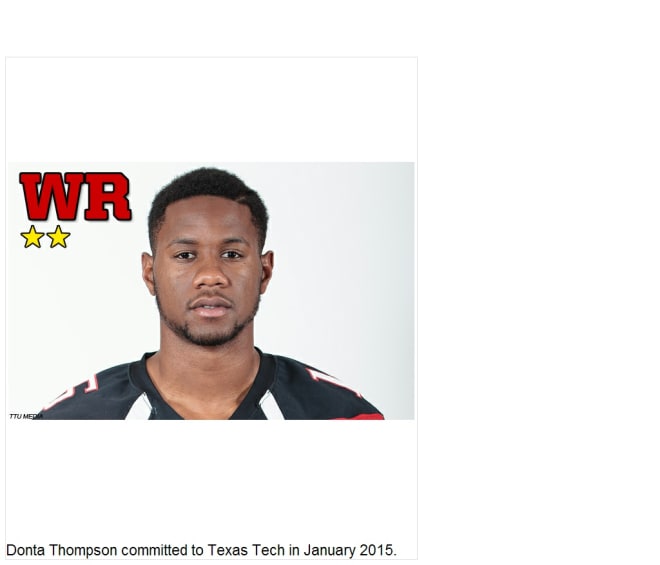 Texas Tech still has one more game left in its 2015 football season, but soon
the Red Raiders' focus will shift to the future. The program redshirted 15
newcomers this fall, and all of them should factor into Texas Tech's 2016
campaign.
Today, we continue our series profiling those redshirting newcomers with a look
AS A RECRUIT:
Texas Tech was a relatively late entry into Thompson's recruitment, extending an
offer to the two-star prospect during his extremely productive senior season. He
had racked up a number of out-of-state Power Five offers at that point --
Kansas, Colorado, Illinois, Purdue -- and ended up taking official visits to
check out the Illini and Red Raiders. Ultimately, Thompson committed to Texas
Tech two weeks before National Signing Day.
QUOTABLE: "Well we've moved him back inside to Y, try to give
us a big body option on the inside there, sort of a smaller version of (Jace)
Amaro. But, he's developing, he's working hard. We've been spending time with he
and (Quan Shorts) after practice. They're both going to have really good
offseasons. I see good things from both guys, and they both need to continue to
work."
WHAT TO EXPECT IN 2016:
I've asked Eric Morris throughout the season about Thompson's progress and they
like what they've got with him. He's been moved to Y-receiver and they envision
a role for him as a pass catcher and someone that can put his hand on the ground
and help block too. He's easily the biggest receiver Texas Tech currently has on
campus and that won't change once this next class gets inked. Right now,
Thompson is about 6-foot-5, 220 pounds right now but I think the expectation is
that he'll weigh around 235 pounds by the time next season starts. He'll be a
matchup problem for defenses in the red zone for sure but he's still learning
the nuances of what it takes to be a wide receiver at this level. -- Chris Level