CB Dadrion Taylor feels blessed to be a Red Raider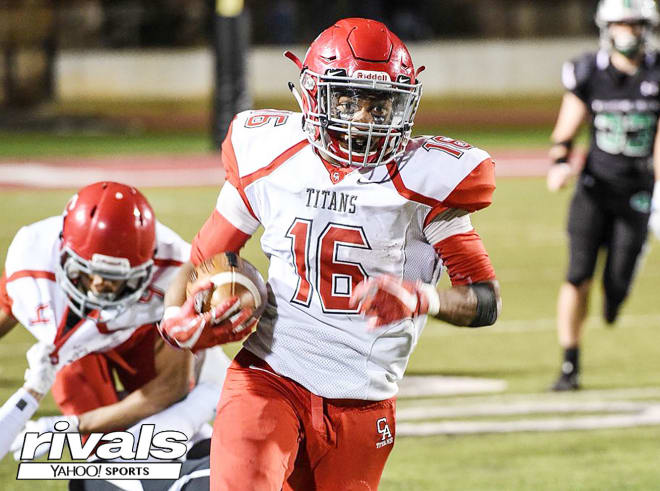 With Texas Tech still looking for prospects to close out the 2019 class, the coaches got some good news on Sunday when Carl Albert (Okla.) cornerback Dadrion Taylor pulled the trigger for the Red Raiders. Taylor was previously a long time commitment of coach Matt Wells and staff back at Utah State and says his relationship with the coaches was a big factor in his choice of Texas Tech.
"Yeah so they're (Matt and Luke Wells) from Oklahoma like I am, my brother was recruited by coach (Keith) Patterson, my uncle was recruited by coach Patterson and all those guys on staff so there's a lot of familiarity there."
After the coaches had left to their new home at Texas Tech and the new Utah State staff had other plans, Taylor began looking for a new school. A quick call from coach Wells, an official visit to Lubbock and a scholarship offer later, Taylor is now glad to be a Red Raider.
"I was committed to Utah State as a running back but then the new staff came in and said they were looking for a JUCO running back instead, so I ended up decommitting. One day coach Wells texted me and he was like 'Hey what are you doing for college?' and really I was just trying to find a home, where I could go to school and get a good education too. The whole staff came down and watched me practice basketball, I talked to coach Brown, coach Cooks, coach Patterson and then coach Wells and coach Smith also came for a home visit. They set up my official and this morning offered me a scholarship."
Taylor, who was hosted by linebacker Riko Jeffers for his official visit, really liked what he saw this weekend from the team, the school, the campus and the academic support staff.
"My host was Riko Jeffers and we just hung out with the boys, they showed me around campus and the cool spots they go to hangout. I got to meet with an academic adviser and she really helped me with all of my questions. I got to talk to the president about the university and ask him some questions. And just hanging out with the players they got to show me what it would be like to be a Red Raider, and they're a really tight-knit team, they're all in and so it was just really nice down there."
Taylor had an idea an offer might be coming since he was on his official visit, but was still surprised and speechless when it came.
"I was mind blown honestly. I kind of figured that they would offer because I was on my official and I don't think they would pay all that money for no reason. I know I can play any level ball if I put my mind to it but I was still surprised, I really didn't have any words to say when they gave me a full scholarship to play at Tech."
At the end of the day, the opportunity to play Power Five football at Texas Tech was too much to pass up for the 5-foot-11, 170 pound corner.
"The players are all bought into what the coaches have to say, it's a really good school academically, Tre' Porter went to the same high school as me and he also played at Tech so I was chopping it up with him, and then one of my best friends Cameron Warren plays on the baseball team and I've just heard about Tech all my life being from Oklahoma. It's a really good school and they really set you up for a good future."
Taylor, who was the Oklahoma 5A player of the year and All-State running back among other accolades, chose Texas Tech over offers from Air Force, Army, Utah State and others.