Picone set to enroll early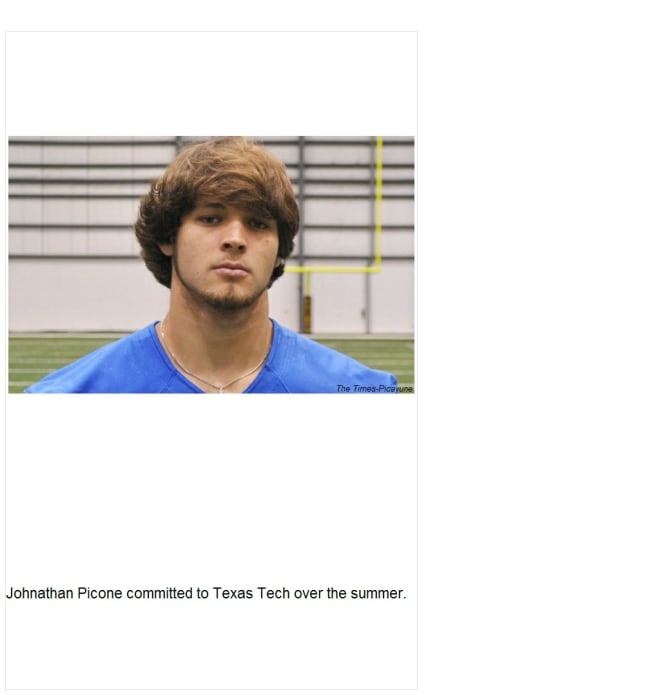 linebackers currently committed to play for the Red Raiders. Unlike many of his
peers, he'll be graduating this December and enrolling early to begin taking
classes at Texas Tech on Jan. 14. Picone is excited about enrolling early, and
is looking forward to taking advantage the opportunities that will bring.
WHAT'S NEXT?:
Picone has one more mission to complete before leaving school, which is making a
deep playoff run. This year, he's had to take a serious leadership role due to
the team's youth. The 6-foot-1, 216-pound linebacker said the toughest thing he
had to help his team with is being complacent, which he also said comes with a
young team. He is cautiously optimistic that he team can bounce back for its
latest two game losing streak, and refocus on taking things at a daily pace.
Mandeville's first crack at a playoff opponent will come this Friday against
Thibodeaux.
IN HIS WORDS:
"The whole thought process behind graduating early is going to be so that I'll
be able to get acclimated with my classes and start getting used to things with
balancing my academics and athletics at the same time. Also, getting a little
bit of a head start on learning the defense, getting in the playbook and change
of game speed at the next level. It just seems likes there's a lot to benefit
from coming up early."
OUR REACTION:
Texas Tech needs all sorts of help on defense, and Picone getting a head start
on the college experience can only be a good thing for the Red Raiders. -- Aaron Dickens