Picone ready to join Tech in the spring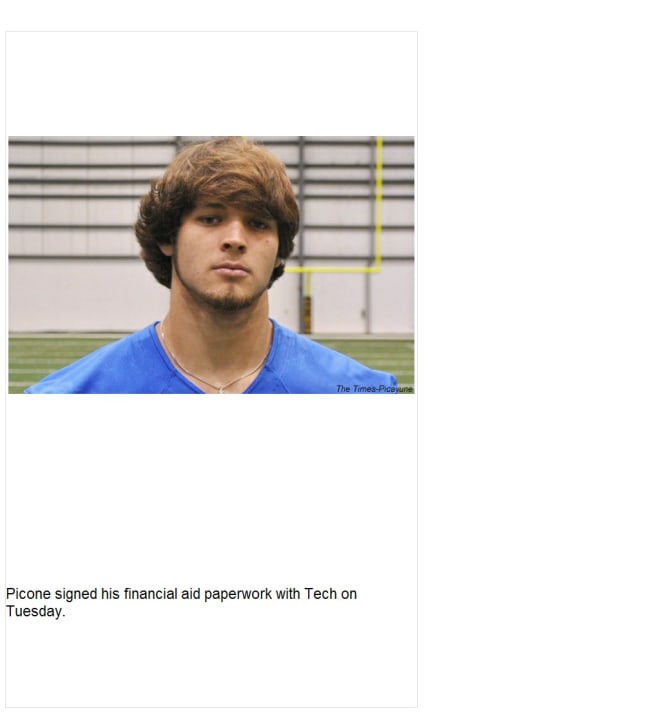 Mansfield (Texas) Lake Ridge QB and Texas Tech commit
Jett Duffey
made things official last week when he signed his financial aid paperwork with the Red Raiders, setting him up to be ready to enroll in January. Another high school prospect did the same on Tuesday afternoon, as Mandeville (Louisiana) linebacker
Johnathan Picone
put pen to paper to prepare himself for the move to Lubbock in a few weeks.
Picone has been committed to the Red Raiders since June and has been solid to the program ever since. Now, he's ready to play football on the South Plains officially.
WHAT'S NEXT?:
The three-star linebacker commit had an up and down final few weeks to his high school career. He was the key cog in his team's march through the Louisiana state playoffs only to have his playoff run cut short when he suffered an MCL sprain in the team's second-to-last game.
Picone watched from the sidelines as his team lost 7-6 to John Ehret in the state semi-finals. He finished the year with 96 stops, 14 behind the line and six sacks from his inside 'backer position. In the final few weeks, Picone also had to deal with the fact that three Tech defensive coaches, including primary recruiter Kevin Curtis, would no longer be back for the Red Raiders.
The LB received an in-home visit from defensive coordinator David Gibbs, head coach Kliff Kingsbury, and coaches Zac Spavital and Emmett Jones. The visit from the coaches definitely helped smooth things over with the recruit, and now Picone is ready to make the trek out to Lubbock on January 15th, just in time for the start of the spring semester on January 21st.
The six-foot-two, 220-pound linebacker is looking to major in mechanical engineering, sports management, or clinical kinesiology and is excited to come in an make an early impact.
IN HIS WORDS:
On the coaching changes: "Coach Gibbs gave me a call and let me know that there was going to be some change. They've stuck with me, so I'm going to stick with them. When I injured my knee, we didn't know what the injury was. Luckily it was only a sprain, so it was pretty minor. They gave me a call and told me not to worry about it. Whether my entire knee was blown out or not, they told me not to worry and I was still their guy. Throughout the entire process they have always been there for me."
On getting out to Lubbock: "I'm ready to be yelled at by some different guys and get my butt chewed out by some different faces. I'm ready to put some new colors on and make a big change in that Tech defense. I've never had a true linebacker coach, so I know that I'm still very raw, but competitively and mentally I am ready."
OUR REACTION:
The I's have been dotted and T's crossed for Picone. He's made things essentially official by signing his financial aid paperwork, and it looks like he's definitely Lubbock-bound. Getting a head start in the spring will be huge for Picone to get ahead of schedule, and it will only increase his chances of playing early and possibly earning a spot as one of Tech's young starting linebackers next fall. -Will McKay