Notebook: Raiders offer OL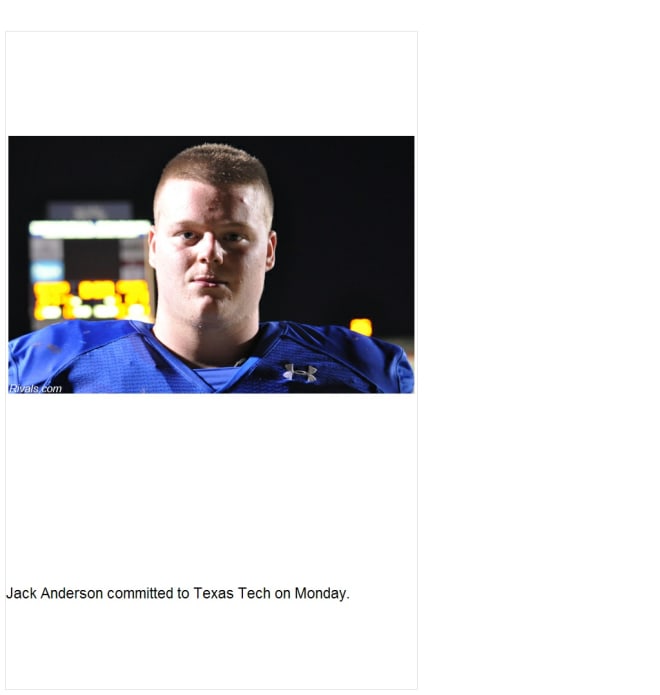 RedRaiderSports.com's Drew Kohnle.
RED RAIDERS LAND
HUGE COMMIT
While Texas Tech seemed to be the front-runner for Frisco (Texas) offensive lineman
announce his commitment on Monday. The top-ranked center in the 2017 class,
Anderson's commitment to the Red Raiders sent a shock
through the national recruiting scene. Anderson has over 40 FBS offers to his credit
from some of the nation's top programs and is rated the No. 60 overall player in
the Rivals100. The pancake-machine Anderson didn't have to commit when he did, but
he felt now was the right time to make his decision.
"I was there on my last visit and when I walked into the Tech locker room, got
about 10 hugs from every offensive lineman, every quarterback and most of the
defense," Anderson said. "It was probably about 20 different guys going out of
their way to make me feel welcomed and it just feels like home there.
"It is considered early for a 2017 recruit to make a commitment and my parents
did want me to wait, but they also knew it was weighing down on me and that I
really wanted to choose Texas Tech. It feels great to have my decision made
though, and now I cannot wait to build the best recruiting class that Tech has
ever had in 2017."
Anderson's commit brings Tech's 2017 class to three total commits as Anderson joins
own right as he is rated as the No. 9 offensive guard in the country; Anderson
and Castaneda provide quite the building blocks for the 2017 offensive line
class.
TECH OFFERS DEFENSIVE BACK
The Texas Tech coaches did their homework over the past few months and decided
is very excited about the offer from the Red Raiders.
"It was crazy. I'm really excited about it. I've been waiting on it for a while,
so I'm really glad the offer came my way," he said. "I've been hearing from
Coach Curtis. He's been talking to me a whole lot, and we really talked about
what they can do with my size and my speed. He called and told me what he has in
mind for me, what he likes about me, and what they want to do with me."
COACHING STAFF STARTING EARLY
The Red Raiders have extended offers to 2018 Brownfield
quarterback Jaelyn Nolan and 2019 Helotes O'Connor offensive tackle
The 6-foot-2, 170-pound Nolan is located right down the road in Brownfield and
has led the Cubs to a 5-0 record on the year and has accounted for 1,348 yards
through the air and 608 yards on the ground and 27 total touchdowns through five
games. Nolan is Tech's eighth offer to a 2018 recruit.
Brown is the brother of current starting right tackle Baylen Brown, and
Texas Tech is his first offer. O'Connor is 4-2 on the season and is averaging
230 yards on the ground. Brown is the first 2019 prospect to receive an offer
from the Red Raiders.
FROM THE HARDWOOD
Texas Tech extended an offer to 2017 Central (South Carolina) DW Daniel shooting
prospect by Rivals.com.
JUNIOR TO WATCH
Tech coaches extended an offer to the New Mexico running back on June 3 and have
kept up with the recruit since the offer. Quiroz shared his thoughts on why he
thinks Texas Tech offered when they did and what he likes about the Red Raider
offense.
"I feel like my catching out of the backfield was a big thing and my blocking. I
played slot before I played running back because at my school we run the ball a
lot, and I had to show I could block before I could show off my running skills.
I think those were the biggest factors," he said. "I really like the way they
spread the ball around on offense. They have two shorter running backs in
De'Andre Washington and Quinton White, and I like how they use them."
AROUND THE BIG 12

The
Oklahoma Sooners received a big boost to their 2016 class when they received a
is rated as the No. 108 player in the country and is commit No. 11 for the
Sooners. Parker chose Oklahoma over offers from Arizona State, California,
Tennessee, UCLA, and USC among others.
 [rl]