Newcomers expected to contribute, start for Texas Tech this fall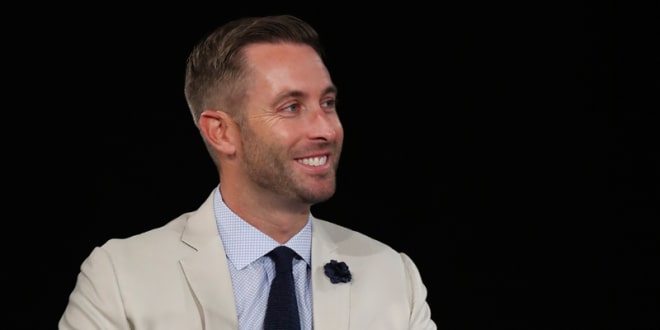 DALLAS - College football rosters are in a constant state of flux. Turnover and attrition, whether expected or unexpected, is just the nature of college athletics. Every season, on every team, key contributors leave and newcomers are expected to expected to take their place.
Texas Tech is in position to have an unusually large crop of new faces step onto the field this fall, some of which are JUCO or FBS transfers while others are true freshmen coming in as part of the program's most recent recruiting class.
Defensive end Kolin Hill (Notre Dame) and nose tackle Ondre Pipkens (Michigan) are two of those FBS transfers expected to play big roles for the Red Raiders.
Head coach Kliff Kingsbury sees both as vital cogs on the defensive line, turning a group full of newcomers into an older, more experienced unit as a result.
"Yeah, those are two guys we're depending on to step in and have a major impact," he said. "They redshirted for us last year, had to step out because of the transfer, bigger players than we have had, strong, physical, big-time players, which will help that defensive line. You throw Breiden Fehoko in there with them and Gary Moore and Zach Barnes, now you've got an experienced defensive line."
They aren't the only transfers expected to contribute, though. When asked on Monday afternoon at Big 12 Media Days, all three of Texas Tech's player representatives - Pat Mahomes, Baylen Brown and Justis Nelson - said there was one newcomer that no one seemed to be talking about, but should: Houston transfer linebacker Luke Stice.
"I wouldn't sleep on Luke Stice," Brown said. "That's the hardest working guy in our building. He's there before we're there, hours after we leave, and he might be the hardest working guy on our team. That guy will get after it till he passes out. That guy, I think he's going to surprise everybody at linebacker."
Nelson noted the same about Stice's work ethic.
"He works harder than anybody. He's a walk-on, and people don't know much about him. He's a big voice, and he's going to be a great and passionate part of this defense."
The three transfers won't be the only newcomers to contribute to David Gibbs' second-year defense. It appears they'll be joined by a number of true freshmen, many of whom will be counted on as key depth pieces for this team.
"I think defensively we're going to play them all," said Kingsbury. "We're going to throw them in the mix, provide some depth. In our league, when you play so many plays, you have to have some depth. So, they'll probably all play. They've all worked hard."
Many wonder where the true freshmen will make the most impact defensively, and you might make an argument for the secondary. Kingsbury noted that the group of true freshmen defensive backs, including cornerbacks Desmon Smith and DaMarcus Fields and safeties Kevin Moore and Douglas Coleman, have all come in and rolled up their sleeves early.
"They're gonna play," Kingsbury said. "I really like their work ethic They're guys you see out there on the foot ladder by themselves in the afternoons just getting the extra work in. Very athletic, very fast, and we brought them in for a reason. They knew they were going to play right away and push these older guys."
Nelson has loved the way those greenhorns in the secondary have gotten after it from day one. That will likely result in some of them making a significant contribution this fall.

"They're all real talented, I think," he said. "One thing I like about them is that they're always asking about what else they can do. They're always asking about what extra drills they can do. We love that about them, so they're going to have a big impact and a really bright future.
"They definitely have a lot of hard workers. In workouts, they're sometimes the guys finishing first or second in a run, which is so awesome to see. They're ready to work, ready to learn, and a lot of them are going to have a big part as true freshmen."
But, there is one freshman he really thinks could jump out early: linebacker John Picone.
"He's right up there with Stice," Nelson said. "He works hard, and you wouldn't even know he was a freshman if you walked into the locker room. He's working harder than anybody out there, and he's kind of a crazy guy. He's going to make a lot of plays, so people need to get excited about him."
And while most of the newcomer contributions will come from the defensive side of the ball, a few guys on offense, such as JUCO All-American receiver Derrick Willies, have come in and impressed Kingbsury already.
"Offensively, (quarterback) Jett (Duffey) was there in the spring, and he's had a nice offseason," Kingsbury said. "(Receiver) T.J. Vasher is a guy that can do it. We'll see if he can do it. We're going to play the best players, and I've seen him do some pretty incredible athletic things. It's just whether he can pick up the system, the speed, and the physicality. We'll go from there."
Mahomes is on board with his head coach's thoughts on Vasher. He's a true-blue 6-foot-5 receiver with a reported 6-foot-11 wing span.
Mahomes knew about the buzz surrounding Vasher after he signed with Texas Tech in February, and the junior signal caller believes it's justified from what he's seen so far.
"He had a lot of hype coming in, but he has shown that he really exceeds that hype," Mahomes said. "You only have to throw it to him one time to know that he can go.
"You definitely see it. He's like Dylan (Cantrell) where you just throw the ball up and he goes and gets it. He goes up and gets it like a rebound or a dunk. It's something you really like to see in a receiver."
But like many freshmen, Vasher will need to have a great summer in the strength program for his body to hold up against a Big 12 schedule, which may or may not happen between now and the season opener.
"It's definitely going to be about him putting weight on," Mahomes said. "He's a guy that has all the athletic ability, has all the talent, runs all the routes the right way. He's just going to have to put some weight on to take some big hits, and it's a huge, deep receiver group. I don't know if he has a chance this year, but he's a guy that will be able to play. If we need him this year, he'll be ready."
As a whole, though, Mahomes has been thrilled with the way this freshman class has come in, put their heads down, and gotten after it from day one.
"They've really come in here ready to work," he said. "That's one thing I can say more about them than how we were. They came in, and they're getting extra work in every single day. There are some guys out here trying to get some playing time immediately, and we'll see. We have a lot of depth, especially on the offensive side of the ball, but there are some guys that can play out there."