Nelson feels offseason changes will translate to better DB play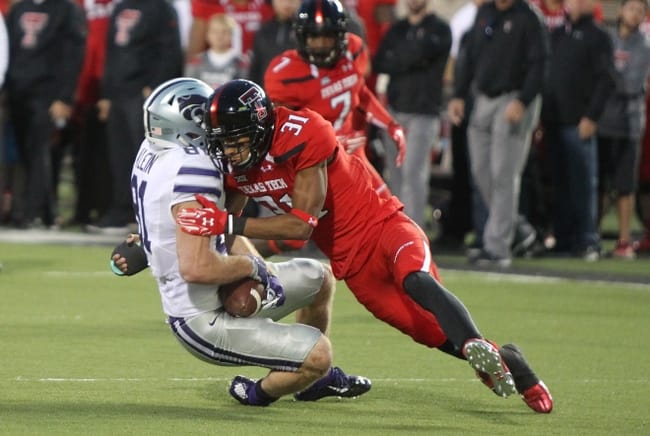 This Texas Tech secondary has been through a lot in the last half decade, and senior defensive back Justis Nelson has been there through most of the thick and thin of it.No matter the ups and downs, he's been a constant at corner since he was called into action late in his true freshman season back in 2013.
He's had his own ups and downs in his career as well, but the Dallas native feels like he, and the rest of this defense for that matter, has had the best offseason of his college career.
"This has been the best summer I've ever been a part of by far. Guys are buying into what we're trying to accomplish, which is a Big 12 Championship and National Championship. We're working hard, the hardest I've worked since I've been here, and It's going to pay off."
There's seemingly been a big mentality shift within the program, and it's not just apparent when you speak with Nelson. Every player at Big 12 Media Days, when asked about the last few months, noted just how different the team chemistry has become. Nelson thinks there has simply, and bluntly, been a shift away from individual needs to the needs of the team as a greater whole.
"There's no individuals anymore, people that think they're above what we're trying to accomplish," he said. "Guys are picking each other up, encouraging each other, and that's what a team is. That's what we need."
The catalyst for all this change? Rusty Whitt's new strength and conditioning program in addition to the new group of defensive assistants.

"I think it has to do with the people being brought in. The strength staff has done such an awesome job, just instilling discipline. The coaching staff are all great guys, talk to us both on and off the field. We're just surrounded by good people."
And speaking of that coaching staff, Nelson has a new position coach in Karl Scott. The first-year cornerbacks assistant has been here for roughly seven months now, and according to Nelson, the two clicked from day one.
"I love coach Scott, man. He's a great guy. I think we had a real connection from day one. He hangs out with us outside the football facility, takes time to get to know us. He'll hit us up and just be like, 'Hey man, can I come over?' He's an awesome guy. He absolutely knows what he's talking about. He's very technical. He's very sound, which is what coach (David) Gibbs really loves about him. He's getting us to where we need to be."
But, the ultimate test of all this change will start in just over a month when the season kicks off. Nelson feels good about the progress this summer, and he thinks it will be the jumping off point for improved play from the secondary as a whole.
"I think we're making a lot of strides. We've got all kinds of playmakers in the secondary, so it's just a matter of making those plays. The spring was a good start, and this summer was what we really needed to take that leap."
For Nelson, it looks like the senior will be taking on a new role as a nickel, meaning he'll be on the field as the third corner covering the slot against teams with talented players at inside receiver. It's a challenge he seems to be ready for, and he's ready to do whatever Scott and Gibbs ask of him.
That likely means that Paul Banks and D.J. Polite-Bray will be the two starting corners on the outside, and Nelson likes how both have come along in recent months.
"Paul has been showing up in the workouts. He's been running hard and really working hard. D.J., he's really strong and big. I think a lot of people will be surprised. He's really aggressive. I think they're both going to have a big role in what this defense does."
But, there's also an influx of new talent joining the roster in the form of a few true freshmen, including Kevin Moore and Douglas Coleman, who look to be playing safety, and Desmon Smith and DaMarcus Fields, who will be at corner. Nelson feels all four have come in and gotten after it right away, and they'll be a part of whether this unit has an improved year this fall.
"One thing I really like about them is they're always asking to do more. They're always asking the upperclassmen about giving them some drills, working some more with them. We love that about them, and they're going to have a big impact and a bright future."