Mom's school on Mother's Day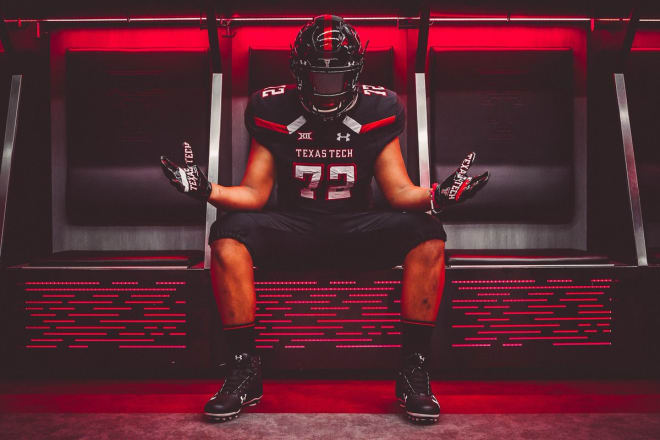 Timing is everything in recruiting and Mansfield Lake Ridge offensive tackle Caleb Rogers made yesterday a very special Mother's Day for his mother by announcing his commitment to the Red Raiders.
"It is my mom's school, she graduated from Texas Tech," Rogers said. "I actually had a shirt made for her with the picture of us from the unofficial visit, and I surprised her for Mother's Day today. Texas Tech has always been a school that I liked, it was where I wanted to go.

"I was thinking about it and considering my options, and I thought about who really wanted me. I knew the Texas Tech coaches wanted me there and I knew they had the education. I want to major in Education and eventually become a coach.

"The location is perfect, because my family can come see me from the Dallas area and my Grandmother lives in Amarillo. Everyone is close and they can call come see my games at the college level. Plus, my Grandmother says that I look good in red."
While the plan was to surprise mom on Mother's Day, Rogers was able to speak with Texas Tech offensive line coach Steve Farmer and tell him about his commitment the day before.
"I texted coach Farmer yesterday, and I told him that I was ready to make a decision," Rogers said. "I was grabbing lunch and he asked me to call him. That's when I told him that I was ready to commit. Coach Farmer was fired up and talked about how excited he is for me to join the program."
The 6-foot-5, 275-pound prospect first started hearing from the Texas Tech coaching staff earlier this spring.
"Coach Farmer followed me on social media, then it all started from there," Rogers said. "For me, it was Texas Tech reaching out to me and that was a big deal. I talked with my coaches, and they told me about the interest from Tech. They had taken a picture of me standing in the door frame and shared it with Coach Farmer.
"Once we started talking, coach Farmer invited us out for the unofficial visit in March. I had been to Lubbock before for my mom's graduation but I had not looked around or anything. When we were on campus, I got to see the campus and get a tour of what the player dorms were like. I really fell in love during my visit and everything just kept coming up Texas Tech for me."
Rogers was able to spend a lot of time with the coaching staff while on campus and shared more from his conversations with the new Tech coaches.
"I probably talked with every single coach during my visit," Rogers said. "Coach (Matt) Wells asked me to come in early and I talked with him, coach Farmer and my mom. That is when they offered me a scholarship and I was with them the whole day.
"That is what really sold me, because there were other recruits there, but the coaches were with us the entire time. The coaches are there to win games, that is really all they are at Tech to accomplish. Coach Farmer wants to start me off at tackle, but I will slide into playing guard or center as well. It doesn't matter to me, I'm willing to play anything to help the team."
The three-star prospect added that his commitment is solid with the Red Raiders.
"I'm done with recruitment. I plan on signing with Texas Tech," Rogers said. "I will be going up there for my official visit on June 21."
Rogers was named to the District's All-Academic team and is a member on the Captain's Counsel, something he would like to continue as a student athlete at Texas Tech.
Currently rated a 5.5 three-star prospect, Rogers chose the Red Raiders over offers from Arkansas State, Louisiana-Monroe, New Mexico and William & Mary. He also mentioned that coaches from Kansas, Vanderbilt, Baylor, TCU and Oklahoma State have reached out with interest recently.