McKinley talks his time at Tech, his sons recruitment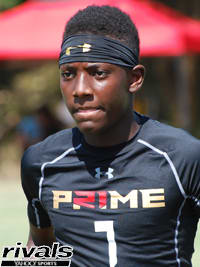 Many former college football players will get a chance to see their sons blossom into college athletes as a junior or senior in high school, when recruiting really begins to heat up. But, former Texas Tech defensive back Verone McKinley is getting to experience that much sooner.
His son, Plano (Texas) Prestonwood Christian Academy 2018 cornerback
Verone McKinley III
, is only just about to be a sophomore, and he's already earned five FBS offers, including ones from Oklahoma, LSU, and his alma mater, Texas Tech. The son of the former Red Raider is one of the most talented DBs in the country at 15, and his father couldn't be more proud.
"It's a blessing just to see him put in his work and pave the way for himself, just to see his hard work starting to pay off."
And while it's certainly special to see your son develop into a highly touted prospect, it's something else entirely when you get to be his position coach in high school and see it all front and center. And while the elder McKinley coaches him throughout the week, he's letting his son make the decisions with recruiting.
"Actually, people think I'm involved since I was played, but actually I'm hands off. As you know, I coach him, so I'm blessed, like my wife said, to have a front row seat every Friday night. But, as far as football, you have to have that passion for yourself, and for him, he has it more than I probably ever had, and he goes out and is always pushing. 'I've got to be here, I've got to be there.' So, as long as he's going to put in the work, I'm going to support him."
Like many former Red Raider players, the former Tech DB tries to make it out to Lubbock at least one time a fall for a game. There's family out in Lubbock, so it's a place that his son grew up around quite a bit.
"I try to watch Tech games as much as I can, and I make a point to make it back out there at least for one game a year, but it's kind of difficult with me also coaching on Friday nights, having meetings on Saturdays, but I always make it a point to make it out to at least one game, and like you said, he's been there. Tech was a great place for me, met my wife there, and my wife is from Lubbock, so her family is there. He did - literally - grow up there by going to visit his grandparents every summer, basically hanging out at the Texas Tech football offices."
And seeing as he's a coach in DFW, McKinley is extremely familiar with former South Oak Cliff coach and current Director of Player Personal at Tech, Emmett Jones. For those that may not know, however, Jones was also a walk-on for the Red Raiders around the same time McKinley was in a uniform. The Prestonwood coach believes Jones was a fantastic hire for the Red Raiders, both because of his ties to the Metroplex and his understanding of Lubbock and Tech's culture.
"Emmett has done a great job basically implementing himself on the high school level here in the Metroplex, and what he did over at Skyline and moving over to South Oak Cliff was just phenomenal. To take a program, turn them around, basically get them to compete for state championships. With him going up to Tech, it's going to be a great benefit. He's someone that understands Tech, but he also has the ties to his community here in the Dallas and Fort Worth Metroplex. I think that's really going to help, not only from a recruiting standpoint, knowing that we can get kids from the metroplex with someone that can relate to them and understand where they're coming from, but also the mentorship that he can provide once they're there, helping them in an off the field capacity for the next four to five years in Lubbock."
McKinley was also in town for Jennie Bailey's funeral several weeks ago, and the Red Raider alum shared his thoughts on her impact on Texas Tech football and its players.
"Mama Bailey was a mother away from home. I mean, she was kind of the first face you would see when you walked into the football office, always had a smile on her face, and she was short in stature, but she was stern and full of energy in everything she did, and she was always there for the players, both through the good and the bad, and she was always that mother figure that was going to help you stand in line and keep you on the straight and narrow."
As the former Red Raider DB said earlier, he tries to make it back out to Lubbock as often as he can. He fell in love with the city and the school for several reasons, and he believes that many high school prospects do the same once they fall on campus for the first time.
"First and foremost is the atmosphere. Like we always say, it's hard to get people there, but I think once you get there, you fall in love with the city. I mean, the city of Lubbock and the way they support Texas Tech, I mean, literally, when I first got there, within ten minutes, once I got to campus I felt like I was a Dallas Cowboy. I mean, there's so much love in the air, just the way that they treat not only athletes, but the students as well. It's just a great town with the way that they support the Red Raiders. It's just unbelievable, and I think for a college town, you won't find a better place."