Mbanasor is commit No. 15 for Texas Tech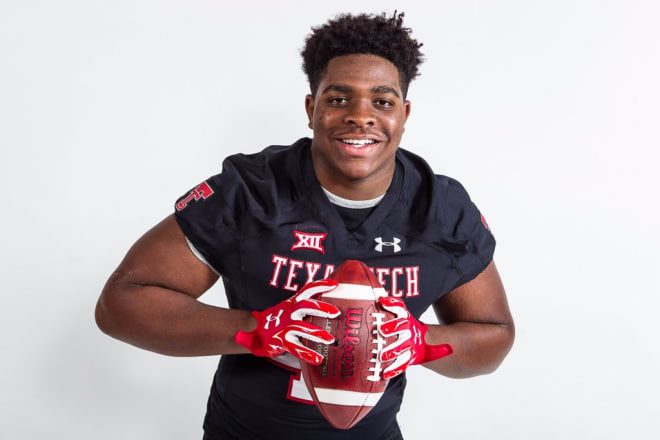 The Texas Tech coaches have landed the first defensive lineman commitment for this 2017 recruiting class. Pflugerville Hendrickson defensive end Nelson Mbanasor announced his commitment to the Red Raiders this evening.
A former Oklahoma State pledge, Mbanasor felt he made the original commitment too early and decided to take a second look at his options.
"With Oklahoma State, I just felt like I committed too early," Mbanasor said. "I had received several offers around that time and some schools kept recruiting me. I had cut off everyone except for Oklahoma State after my commitment, but I started to rethink my decision and ended up getting back in touch with Coach (Kevin) Patrick."
Mbanasor eventually reopened his recruitment and setup an official visit to see the South Plains last month.
"My official visit really stood out for me," Mbanasor said. "I took some other visits and it was easily the most fun at Texas Tech. The game environment with the crowd, the stadium and everybody going wild was a great experience.
"The campus is so big, and really everything you need is right there in one place. It's one of the largest campuses in the nation and that was another thing that really stood out to me."
Texas Tech defensive line coach Kevin Patrick played a big role in Mbanasor's recruitment and helped the Red Raiders land the standout lineman.

"Coach Patrick and I formed a great relationship over these past 5-6 months," Mbanasor said. "It's like a brotherly relationship, we talk and joke around all of the time. I feel like he's a great coach and can help make me better at the next level.
"He played for Miami and won the championship, so coach is always telling me that he's the best defensive end in the room. That was another big part of my decision and trusting him as a coach. Plus, I spent time with Coach (David) Gibbs and Coach (Kliff) Kingsbury during my visit. Coach Gibbs feels that I'm a great fit for their defense and Coach Kingsbury is a great coach."

The 6-foot-3, 270-pound prospect also sees an opportunity to quickly see the field and help turn around the Texas Tech defense.
"Coach Patrick says that Texas Tech is not very deep at defensive end," Mbanasor said. "He needs talent that can come in right away and compete for playing time. Coach told me that he sees me becoming one of his starting ends. We actually talked about playing multiple positions on the defensive line except the nose, even some 3-technique if necessary."
Several of the longtime Texas Tech 2017 commitments alluded to the "Boom" coming this evening and Mbanasor has already formed relationships with many of the current commitments.
"Yes, I talk with Jack (Anderson) and Bronson (Boyd) a lot," Mbanasor said. "Bronson was actually texting me earlier and congratulating me on the big announcement. I have also been talking with Riko (Jeffers) who recently committed. We were talking about changing the tradition on defense at Texas Tech and getting things turned around.
"I'm going to start recruiting now. I'm going to try and recruit David (Anenih), get another defensive end on the other side of me."
Mbanasor is very happy with his decision and feels the recruiting process is over at this point.
"I'm very comfortable with Texas Tech," Mbanasor said. "I plan on shutting down my recruitment for good, I'm done."
Rated a 5.5 three-star prospect, Mbanasor chose the Red Raiders over 22 other scholarship offers including Arkansas, Colorado, Illinois, and Oklahoma State. As a junior, Mbanasor earned District 13-6A All-District First Team Defense honors.