Martin fighting through injury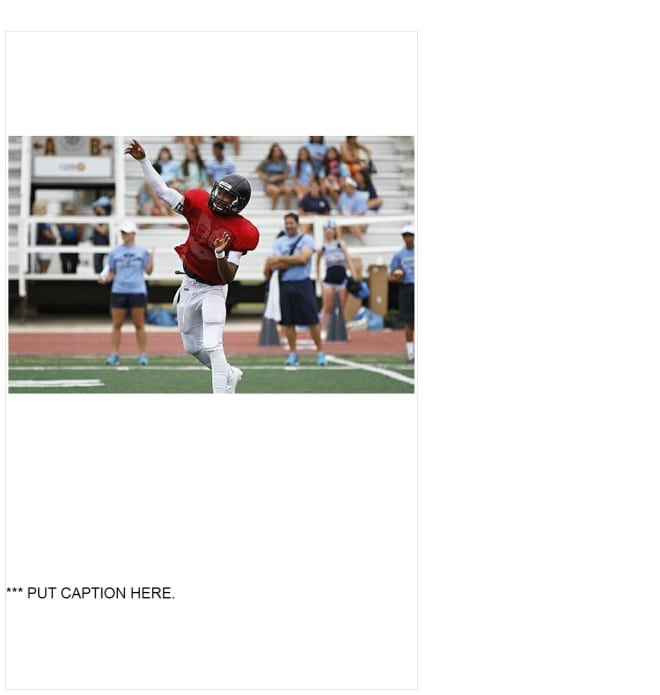 Cibolo Steele quarterback
Xavier Martin
was injured during the Knights' 28-10 regional round victory over Del Rio in the Texas High School Football playoffs.
Martin was unable to finish the game and was seen standing on crutches in the closing minutes.
Steele junior QB Xavier Martin (
#GunsUp
) exits the locker room with crutches and is wearing a letter jacket. He's done for the night.- Ben Baby (@Ben_Baby)
November 28, 2015
The Texas Tech commitment does not plan on being sidelined for long and anticipates suiting up
for Steele's upcoming quarterfinal game against Clemens.
Martin is a 2017 pledge and sees a lot of similarities from his game when watching sophomore quarterback Patrick Mahomes, including Mahomes' knack for staying patient in the pocket.
What's next: Cibolo Steele returns to the gridiron for the quarterfinal round of Texas High School Football playoff action against Clemens at 4 p.m. Saturday. Martin said he does not plan on testing his ankle on the field until Friday at the earliest.
In his words: "I sprained my ankle and with the right rehab I should be able to go and be fine. I'm not going to start or anything but it's going to depend on how the game goes whether I play or not."
"I've always been a pass-first quarterback. I don't run if I don't have to. [Mahomes] is always looking down the field for receivers who are open and I always do the same."
"Being able to run -- it just adds on to being a very dynamic quarterback. If you can run and throw - you can't be stopped."
Our reaction: Martin has been excellent for Steele this fall and was a big reason they've scored so many points and been so dominant. The Knights are one of several favorites to win a state title in the next few weeks, but they'll need Martin in the fold to reach their full potential.
-- Will McKay