Manning has big day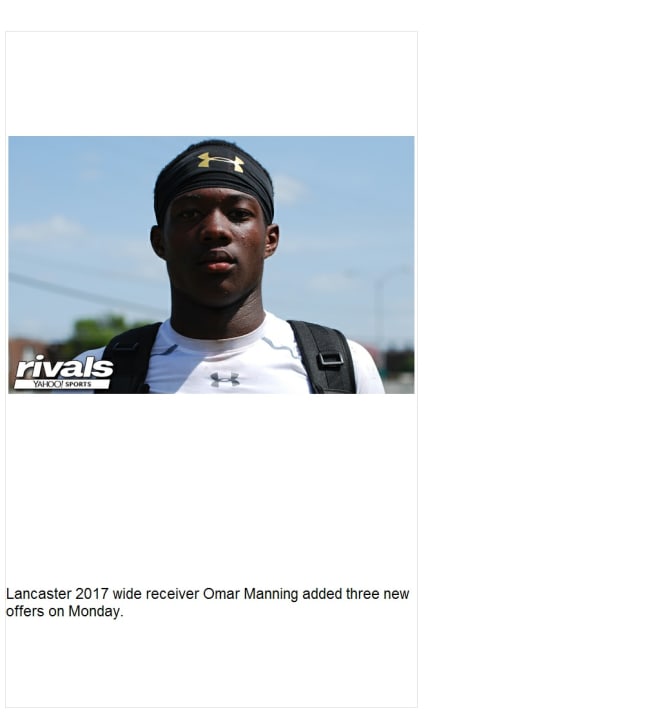 Monday was a big day for Lancaster (Texas) 2017 wide receiver
Omar Manning
as he added three new offers from TCU, Arizona State and Texas Tech.
WHAT'S NEXT?:
Manning and his Lancaster teammates will face Frisco (Texas) Lone Star in the fourth round of the playoffs this Friday evening. Until the end of the season, the junior receiver plans to focus on his team's playoff run and continue to speak with college coaches in the meantime. Manning does not have any visit plans at the moment, but knows that he will attend the Rivals Camp
Series and Nike Regional Camp later in the spring.
IN HIS WORDS:
"I have always been in touch with a lot of coaches, but felt like things really picked up during the season," Manning said. "Today was crazy, I never expected to receive three offers in one day.
"With Texas Tech, I keep in touch with coach (Emmett) Jones a lot on a weekly basis. He coached at South Oak Cliff, so I knew about him already. Coach (Eric) Morris came to the school today and told my coaches about the offer. He wants to keep in touch a lot more moving forward."
Manning is familiar with the Texas Tech offense and actually followed the Red Raiders growing up.
"I know they run the Air-Raid offense," Manning said. "We run an up-tempo spread offense at Lancaster and I think it's a good fit for me. I grew up watching Michael Crabtree at Texas Tech because he was from right down the street."
OUR REACTION:
At 6-foot-4, 205-pounds, Manning will continue to catch the attention of every college coach that visits Lancaster. I was able to watch him compete at the Prime21 camp in Dallas this summer and came away impressed with his length, ability to get separation and compete for the football in the air. Not to mention that the camp was absolutely loaded with nationally ranked defensive backs, so the performance was all the more impressive. Lancaster is still alive in the playoffs, but Manning has already racked up over 600 yards receiving with 11 touchdowns on the season.
-- Matt Clare