Linebacker Miquel Dingle Jr commits to TTU following official visit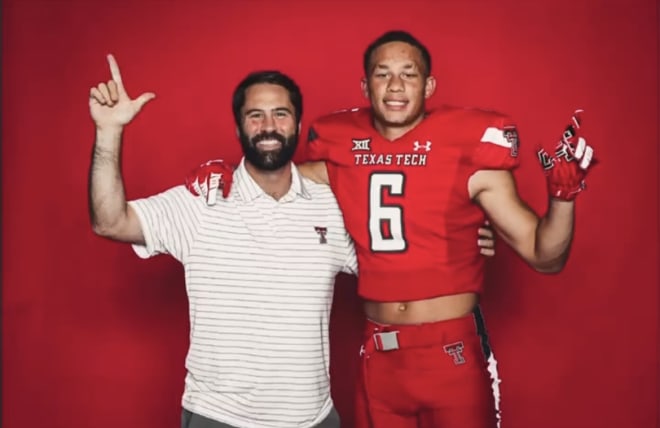 One of the most athletic prospects in the country has committed to Texas Tech following his weekend official visit.
Miquel Dingle Jr, a 6-foot-2, 210 pound linebacker and state championship hurdler from Byrnes HS in South Carolina, wasted no time in making his decision after returning home from the 806.
Dingle Jr. called the Red Raider coaches on Tuesday afternoon to let them know of his decision because, as he puts it, when you know, you know.
"Being on the visit and getting to experience Texas Tech first hand, after that it's just like 'this is where I wanna be' so I just knew that Lubbock is where I'm supposed to be at. I decided to pull the trigger because there's no point in wasting peoples time and money."
Dingle Jr.'s primary recruiter at Texas Tech is linebacker coach Josh Bookbinder, and the two made a great connection over the weekend along with defensive quality control assistant Ryan Conry and the rest of the staff.
"Coach Book (Josh Bookbinder), hands down is such a positive dude. He just kind like of has a good aura around him. He's just really positive, you know what I'm saying? He seems like the type of person to always have his head on straight. I got to meet his family, his kids, and he's just a really good guy. Once I got to know him and talk to him a little bit more, we started building a connection and it was like 'ok, this dude is genuine'.
I got to talk to coach (Ryan) Conry, he's very funny man, he's really cool. He's just very knowledgeable as well. On our tour around the campus he was with us and I got to talk to him and build a little connection as well. It's just like I said, he was just really cool as well and I was like 'ok yeah, for sure this is really cool'.
I got to talk to coach Blanch (James Blanchard), coach Brian (Nance), and like I said, they're just themselves. I can see the way they feed off of each other, I can see the way the players feed off of each other, and it's just like a genuine thing. Let alone the facilities are good, but it wasn't even like 'look at the weight room, look at the indoor facilities', it was just watching them and the players connect and talk to each other. I see the way they interact with each other. They actually have a good bond, they're actually a family and when you have love and passion for one another that's exactly what I want to be a part of when I go to college. That's really what sold me, those coaches.
Every Power 5 school is gonna have the facilities but very few have what Texas Tech has. That's why they have the No. 2 recruiting class and that's why Texas Tech is on the way up for sure. With a coaching staff like that there's no reason why they shouldn't be winning the Big 12 and even more."
As excited as Dingle Jr. was to commit, the Texas Tech staff might've been even more excited to hear the good news and it's easy to see why with Dingle Jr's athletic traits, production and potential at the next level.
"Oh yes, they were excited. Coach Book was in the room with the guys, coach Blanch, coach Brian, I think coach Conry was in there and once I said I was committed everybody started screaming. It was just really funny, you would have thought I got drafted into the NFL or something. It was really funny and I got to talk to coach McGuire, I told him myself on the phone. Basically he just told me he was really fired up, he was really excited and basically just told me he was unbelievably happy.
I'm just really happy with my decision."
Now committed and done with the process, Dingle Jr. says he's coming in to work hard and with the rest of the 2023 class, really get things turned around in Lubbock, TX.
"I'm coming in to work, I'm coming in to be the best I can. Not only to further my education but also be a great football player. Like I said I feel like that's where Texas Tech belongs (winning Big 12 championships), and I feel like the people of Lubbock, the people of Texas in itself will see what real football is once me and my class touch the field."
In his junior season Dingle Jr was credited with 66 tackles, 34 assists and two sacks.
Dingle Jr's dad, Mike Dingle, was a star running back at South Carolina who totaled over 2,100 yards from scrimmage and 21 touchdowns in his college career before being drafted by the Cincinnati Bengals in the 8th round of the 1991 NFL Draft.
Dingle Jr. chose Texas Tech over an offer from Conference USA's Charlotte 49ers and interest from programs such as Wake Forest, South Carolina, North Carolina, Syracuse and others.