Lewandowski inherits leader role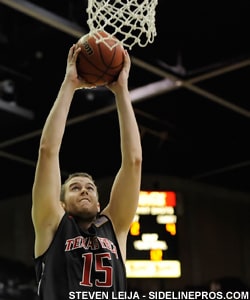 Texas Tech basketball senior center
Robert Lewandowski
will play a big role on the 2011-12 basketball squad both on the court and in the locker room.
Lewandowski headlines a team that will be heavily reliant on freshmen and junior college transfers this upcoming season and the 6-foot-10 center can play a major role in the development of team chemistry.
"If you think about the idea of family as a concept then you're really not getting the idea of family," Lewandowski said. "We're living together in the dorms right now and that's going really well. It's something that's never been done here at Tech in terms of basketball. But I think it's something that's been a real positive change.
"We're also giving rides to everybody and some people are in the same classes and everyone is in study hall together trying to do as many things as we can as a team to build that family chemistry. Some of the games we lost in the last couple of years we were so close and just couldn't get it together and I think those kind of losses will be eliminated this year just simply because of this chemistry stuff."
Then there's that on court stuff too.
Lewandowski said voluntary workouts have been going well and further strengthen the feel of a family that new head coach Billy Gillispie has been adamant about establishing in Lubbock.
It's a 12-hour-a-day job, five days a week at the very least," Lewandowski said. "We lift every morning, get our workout in and then everyone has classes in the mornings and afternoon. On top of that we have two hours of study hall and more as we need it. That pretty much takes care of that.
"We always play and take extra shots so we're going solid from about 6 (a.m.) to 6 (p.m.) every day. It's not anything too hard on us and you can ask any of Tech's student-athletes. They're all doing it. It's what you need to do to be a championship team. It helps us grow as a team."
Lewandowski is the only player on the Red Raider basketball team that has been at Tech his entire career. He's going into his senior season as a true senior.
Forward
Theron Jenkins
is the only other senior on the squad and he is a junior college transfer from Itawamba Community College in Mississippi.
Based on Tech's lack of success at reaching the NCAA Tournament during Lewandowski's career, it wouldn't be surprising to hear him say he wished he would have been redshirted.
There's no complaining from the big man though.
"I wouldn't change a thing," he said. "You want to go through life without living regrets and that's kind of where I'm at right now. That extra year would have been great for development and all that stuff but at the same time I wouldn't be where I'm at without that freshman experience. I think it was a blessing and I've really enjoyed it."
As the most long-tenured player at Tech, Lewandowski believes he can play a large part in replacing the enormous void of senior leadership the Red Raiders would be suffering now that guys like John Roberson and Mike Singletary have graduated the program.
There's no question Lewandowski is a big part of
Billy Gillispie
's vision, both on and off the court.
"The leadership role bumps up a lot," Lewandowski said. "I've never been much of a talker, more of a doer. That's changed a lot. And we do have a lot of freshmen coming in and both on and off the court everything is just kind of different in terms of leadership.
"You've just got to make sure the kids are where they need to be and it's almost like being a parent. It's fun but it really is demanding on all of us. It's not just me Bean (Willis) and Theron Jenkins have really stepped up too so it's not just me. We've got other guys stepping up too and really buying into the program."