Lark may visit Texas Tech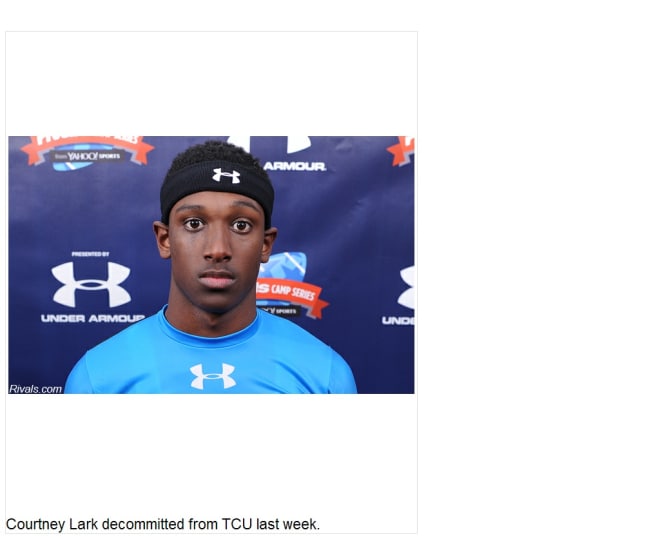 Houston (Texas) Bellaire wide receiver
Courtney Lark
is back on the market following his decommitment from TCU last
week. Since then, Lark has heard from two Texas Tech coaches and has remained in contact with former teammate and current
Lark is ranked as the No. 191 player in the Rivals250 and finished the season with 49 receptions for 950 yards and 11 touchdowns.
WHAT'S NEXT?:
The 6-foot-1, 165-pound receiver already had thoughts about visiting Lubbock back in September
those plans fell through. Lark is again interested in getting out to Lubbock and is looking through his calendar to try and find the best date possible,
but no visit is currently set up at the moment. Texas A&M, Oklahoma State,
Houston, Tulsa and Clemson are also in contention for Lark's services. He has no timetable on when he wants to make a new commitment and will be taking things slow this time around.
IN HIS WORDS:
"They throw the ball all over the field and they are a good team. Both coach (Eric) Morris and
coach (Kevin) Curtis reached out to me following my decommit. They were both just really happy and kept trying to see when I was going to come down. I'm definitely considering it."
OUR REACTION:
The Red Raiders were in the thick of things with Lark until he committed to the Horned Frogs, and with things opening back up, it makes perfect sense for
Texas Tech to be back in the mix. He's a fan of the offense, has relationships with several coaches and players, so a visit in the coming weeks could mean things are getting more serious between the pass catcher and Red Raiders again. -- Will McKay