Kaster feels theres still much work to do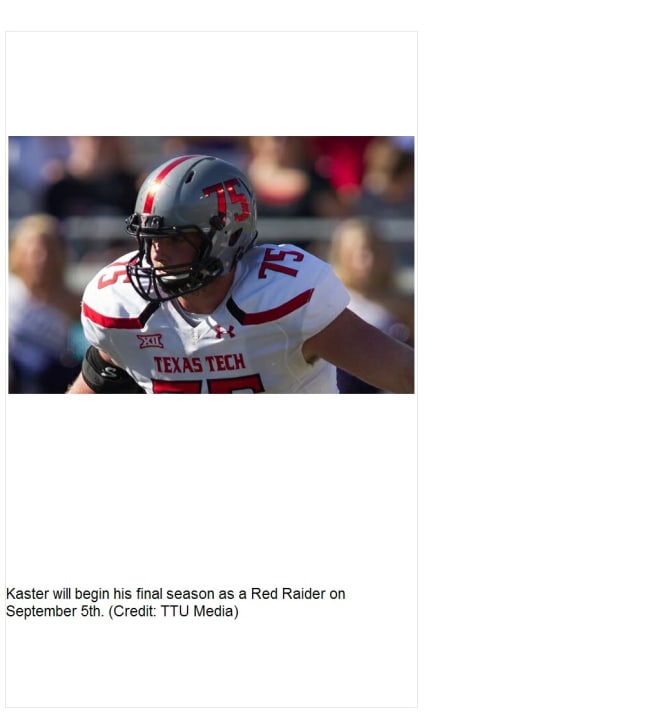 Texas Tech senior center Jared Kaster has seen it all at this point. He's an old bull up front for the Red Raiders, diving head first into his fourth round of fall camp as a veteran senior. There are few surprises left for guys that have been through as many battles as the Altair native.
He understands what needs to be done before the season begins, and that's more work.
"It's good. We've still got a lot of things to work on. The effort's still not where we want it to be. We've still got a couple of weeks to get the tempo where we want it, where our expectations are, and then just playing hard. That's the one thing that we wanted to do, and we've got to keep working on that, finishing people, and working as a unit."
Part of that work is honing in on the right tempo for the offense, which Coach Kingsbury wants to push forward, pedal-to-the-metal as much as he can. As the center, Kaster plays maybe the most vital role of any player on the offense when it comes to setting the pace. Once he's on the ball, everyone else knows it's time to go to work.
So just how fast does the senior want things to roll?
"We want to be as fast as we can be, and we've still got to work on that. We still have to get into game shape, and Coach Kingsbury and Coach Chev have put in a great plan for us to do that in practice. If it takes extra stuff as the O-line, getting in extra gassers after practice as an O-line, we do it. It's a work in progress. You have to stay at it, push and grind, and we're getting there."
That tireless, never-stop mentality has been instilled in Kaster - and the other veteran linemen - by offensive line coach
Lee Hays
. Letting up is the worst thing you can do under the Red Raider assistant's tutelage, and average just won't cut it. That's alright by Kaster, though.
"Well, we've got a lot of stuff to work on. That's the way he's taught us, way he's helped us mature as men. He's taught us that you can't accept average. There's never a point in time you can just settle for being an average guy. You always have to be working, whether that's the beginning of the season or the last game. We're still going to be pushing as hard as we can to be the best that we can be."
And while four of the five starting linemen from last season's team return, a starting role is still up for grabs at right tackle. Redshirt freshman Justin Murphy seems to have grabbed hold for now, and Kaster has been happy with the progress from the youngster.
"Yeah, he's good. He's working, putting in the work. He knows the role where he needs to be, what hole he needs to fill, and you can see it. He still has things he needs to work on just like the rest of us do, but he's doing a good job. He has a lot of things he needs to improve on, but I feel like if he's there the first game, he's going to do a good job for us."
In fact, Kaster has been impressed with many of the greenhorns strapping on the pads for the Red Raiders, particularly a number of the true freshmen linemen and receivers.
"Good grief man, they're all doing good. I really can't put a finger on it. Those freshmen D-linemen that have come in have done a good job. The receivers the skill players, good grief man. The speed, the skill we have at the skill positions, the receivers are just - it's fun to watch man. From the time the ball goes over the O-line's head to seeing those receivers make one hand catches when they came out of high school, it's just really fun stuff. They're all figuring out what practice is like, what college football is like, and it's fun to watch."
But it isn't just the skill that's impressed Kaster. It's the way they work and fight as a group.
"Since I've been here, this is one of the most - how can I say it? They're eager, they're ready to play. It's like they've been here for years. There are still going to be teaching moments for those guys, but it's fun. You wouldn't expect if you came out to practice to see that all those guys are true freshmen."
The many members of the Texas Tech football team have been beating up on each other for a number of weeks at this point, and everything in fall camp can become a bit old hat once the initial buzz wears off. This team is determined to keep on competing and fighting through those doldrums, though admittedly, Kaster should would like to knock on somebody wearing a different colored jersey sooner rather than later.
"I'm ready to get the pads on, man. I'm ready to play in the Jones again. That's the reason why I came here, just the experience of playing out in that stadium with the fans. It's fun, man. It's my last go around here at Tech, and I just want to soak in every bit of experience that this great university has given me."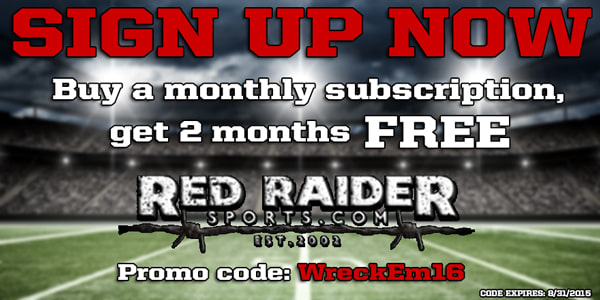 Click
Here
to view this Link.