JUCO LB Tony Jones picks Texas Tech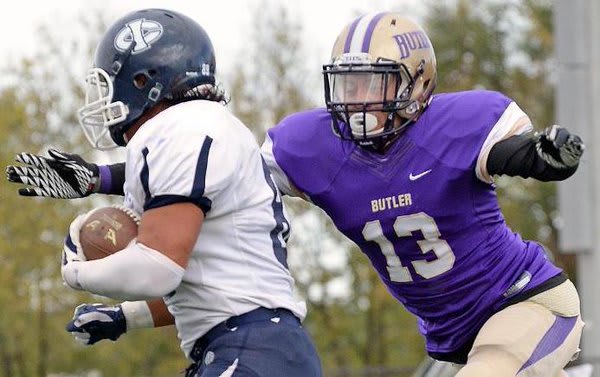 Texas Tech added commit No. 18 this past weekend when Butler C.C. linebacker Tony Jones committed to the Red Raiders following his official visit.
"I loved the city, the campus, the stadium, and most importantly, the coaches. I got good vibes from all the coaches. I had a great time."
The trip to Lubbock was Jones' first official visit this year (and first time on the south plains) and the visit didn't disappoint. Jones loved everything about his visit, but what pushed him over the top for his commitment was the Texas Tech coaching staff and the relationship he has built – a relationship that has been in the works since his offer from the Red Raiders back in May.
"The coaches. I didn't just bond with one or two, the whole coaching staff showed me an excellent time. I felt like this is a place where you come to work, and they genuinely care about you."
"I loved coach Patrick, he brings the energy and is a guy that will make you laugh. Coach Scott is a man that I feel like I can talk about anything with. Then you have coach King, and I just feel like he is a guy who will always have our backs no matter what. Coach Gibbs is my man, too. I like coach Gibbs. We talked, and he knows what I am capable of, I just have to go and get it."
The 6-foot-2, 222-pound linebacker also sat down and spoke one-on-one with coach Spavital while on his visit, too. The two watched film and discussed future position for Jones.
"Coach Spavital, and I sat down and we watched a lot of film. I could say that how they want to use me is very similar to how I was used at Butler, so I feel like I could go in there and pick up the scheme very quick."
"They see me at the WILL and SAM linebacker positions. They mostly want me blitzing off of the edge a lot as well as playing some WILL. Their SAM position is their rush end position, and they really want me to play there. They said they can honestly see me filling in at any of the linebacker positions. I love rushing off of the edge, though, but I will play sideline-to-sideline."
There is a lot of excitement surrounding Jones' commitment to Tech (and for good reason) as Jones played at a violent level when he was dominating the junior college ranks at Butler C.C. Jones is excited to bring that same intensity and energy on every play.
"I'm coming, and I'm bringing it every play. I don't give up. I play sideline-to-sideline, and I am trying to get my head into every tackle that I can even if it is across the field. I just play relentless."
"I watched them play a few times this year. Their offense is very explosive, and I feel like on defense I can come in and make a big impact on that side of the ball. I feel like I can make some big plays off of the edge and in coverage. Whatever they want me to do, I want them to trust me that I can do it."
Jones' attitude will be a welcome addition to a Tech defense that ranked last in the country in total defense last season.
"When I am out there, I bring the hype all the time. I feel like I set the tone, and it carries on throughout the defense. I'm that hype man that they need. I still have to go through practices, and I know it takes some time to earn the other players' trust. I feel like I'll earn their trust because of what I do on-and-off the field."
Jones had a lot of late interest from programs such as Florida State, Tennessee, Kentucky, and Syracuse. Jones knew he wanted to be a Red Raider following his visit, though, and wasn't going to wait around. Now he is ready for spring ball.
"I'm excited. I'm just excited to get to Tech and go to work."
In two seasons at Butler, Jones recorded 176 tackles, 33.5 tackles for loss, 12.5 sacks, and 7 forced fumbles.