Jackson is all in with Tech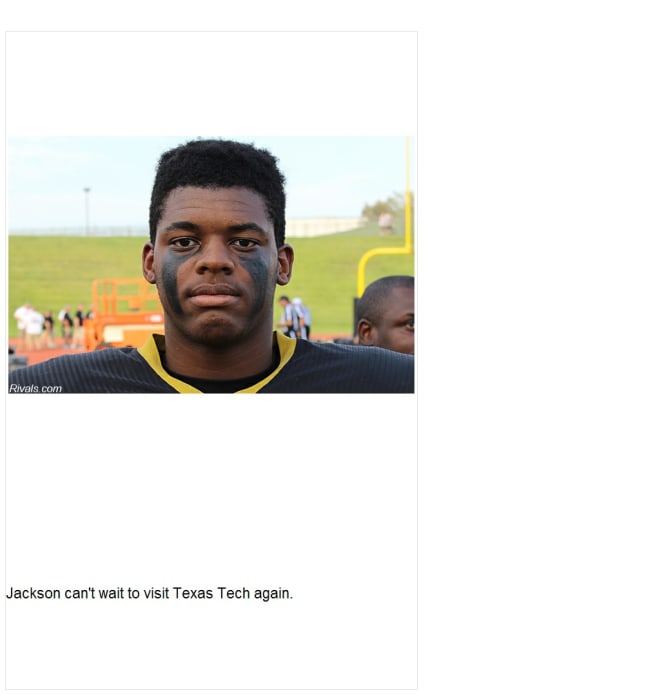 Amarillo (Texas) defensive tackle and Texas Tech commit
Ivory Jackson
made the short trip up to Lubbock last weekend for the TCU game. However, it was more like a homecoming for two-star recruit, who claims he's been a Red Raider most of his life. Jackson enjoyed the electric atmosphere in the Jones and being around the other recruits that came to the game. By all indications, the Red Raiders will be receiving his letter of intent come signing day 2016.
WHAT'S NEXT?:
Jackson only has five more guaranteed games left in his high school campaign. Amarillo's only loss so far has been to Rider, where fellow Texas Tech commit TJ Vasher has been putting on a show at wide receiver. Now, Jackson is hoping to help guide his defense through the tough road of district play.
The 6-foot-4, 275 pound defensive end plans to be in attendance again this weekend when Texas Tech takes on Baylor at AT&T Stadium in Arlington.
IN HIS WORDS:
"The game (against TCU) was awesome, and the atmosphere was crazy, no lie. I loved it all and can't wait to go back. To be honest, I believe we're a better team but they got a little luck" said Jackson. "The class of 2016 is starting a new era. I mean, the era has already started. We're going to bring in a little more excitement, and we're just ready to get out there and perform."
OUR REACTION:
Since he committed to Texas Tech, Jackson has been all about the Red Raiders. He's been to Lubbock multiple times already this fall, and it's saying something that he's going to make the trip all the way to DFW for the Baylor game this weekend. Jackson is as solid as commits come, and he's having a great senior season. -- Will McKay