Jackson being fueled by competition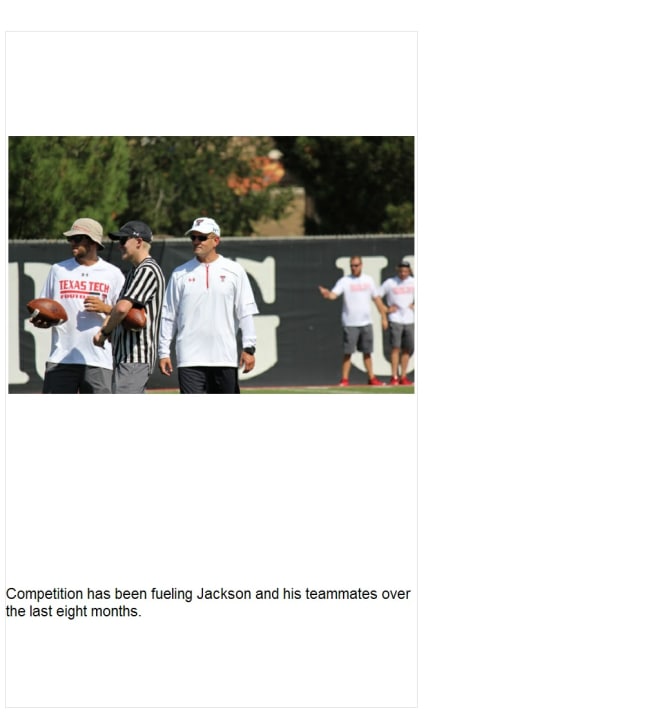 It's been roughly four and a half years since senior defensive end
Branden Jackson
- a Pennsylvania native - surprised many in the recruiting world by deciding to become a Red Raider, signing with Texas Tech on NSD back in 2011. Lubbock's a long way from home for the McKeesport transplant, but he's made his mark out in West Texas, becoming a staple defender as a veteran senior and leader for this 2015 rendition of Tech football.
He, like the rest of the seniors, has just about seen it all with the ups and downs throughout his time on the South Plains, but there's a different feel in the air. There's a quiet fierceness to it, and the substance of the statement comes in the form of competition. The coaches, starting with the head man, began preaching competition back in January, signing a recruiting class that's come in and really prodded the older veterans into a full-steam-ahead, cut-the-brakes mindset.
"Coach Kingsbury started it all," said Jackson. "He brought in some young guys that have really competed, wanted to play, don't want to redshirt, and that's what started it all. He preached that competition brings out the best in people, and the better we compete, the better players we have at positions, the deeper we are, the better we can be. I feel like that's the biggest thing with this team. You have a lot of guys behind you that can be just as good as you, so you've got to grind."
That mindset has helped Tech's defense sharpen iron with iron, even going back to the spring. It's not just the D, however.
"This year, the offense, they're pushing themselves beyond the limits. This year, they're not relying on how good of a unit they were at times last year. The offensive line isn't sitting back talking about how they're one of the best offensive lines in the country. You see these guys out here, and they're on the field getting extra work in. They're in the weight room more than anyone I know. I feel like the best thing about this offense as a whole is that they aren't getting complacent. They want to get better, want to improve, and that's going to make this season really, really good."
It's that bite to the competition that has the players and coaches around the Red Raider football offices buzzing in hushed tones. Even Jackson admits that he's been pushed by one of his backups - sophomore Gary Moore - and the senior end couldn't be happier with the way it's forced him to stay on his toes.
"Gary has pushed me like no other. The guy - he's still young, but he is one of the older guys. He's been around, he's played some games, got his feet wet, so I expect him to make a lot of big plays. I've talked about it before, but there were times in camp where I got bumped down in the depth chart, and he was there in front of me. It's made me better as a player, and I thank him for all of that."
That fire-with-fire competition extends beyond position battles too, as the offense and defense are going at one another on a daily basis. Jackson really likes how his unit coming along so far, and he credits the offense for helping them become much better.
"I'm excited for this year. I've seen some remarkable plays by the offense, some wild plays and things that just light me up. As a defense, it's not like those plays we weren't playing good defense. It's just a player making a big play, and it brings a smile to my face. I was just excited as a defense with how we fought and competed each and every day (in fall camp). We were able to force turnovers, force three and outs and things like that, and if we can do that against a high powered offense like ours, I feel like we can fare pretty well against anyone else."
Much of Jackson's excitment stems from his belief in what David Gibbs is doing as the first year DC for the Red Raiders. The elder statesman for this Tech team respects his new DC, and he's all in for this season.
"The longer you're around someone, the more respect you gain or lose, and I've gained nothing but the upmost respect for Coach Gibbs. He practices what he preaches. Everything I had heard about him, everything he says he is, the type of man he is, the way he coaches the game, he's absolutely that. I mean, that really just warms your heart and makes you want to play for a guy that you know is accountable. It makes it easier for people to hold themselves accountable when you know your coach is doing the same thing."
The responsibilities in Gibbs' defense have been simplified too, and it really comes down to one thing: Do your job, and that's it.
"Coach GIbbs just broke it down. You don't have to be superman. A lot of people think you have to shed a block and make a play, but in reality, when we go back and look at film, if you just stay in your gap, hold your gap, let the linebacker that's supposed to get that gap, then we'll be good. So, the defensive line has been focusing a lot on not popping gaps and trusting our teammates. I feel like this unit has gotten so much better. We trust everybody to be where they're supposed to be at."
Several players - according to Jackson - have emerged through the summer and fall camp because they've been doing just that, too.
"Everyone keeps hearing about Rika (Levi), and Rika has just taken strides like no other. It's really just so impressive. Demetrius Alston is going to play a lot, too. He's coming back from that leg injury, and I'm excited to see what he's going to do. He's been giving the centers and guards some problems lately. Then, the light has kind of popped on for Breiden Fehoko. He's been out there making some plays now, and the game is starting to slow down for him, so I'm excited to see what the young pup can do when he gets in there."
And while many of the young, emerging stars have a bright future in West Texas, Jackon's days are numbered. In fact, he already has a count of the exact days, and he's hoping to cherish each and every one.
"It's flown by. You always hear people tell you it's going to come and go, and you never believe it. But, it's here, it's about to get going, and I've got 93 days. 93 days until the end of my regular season, and that still just blows me away and mind boggles me. But, I just don't think about what's going to go on next. I'm focused on this season, my teammates, and I love being in Lubbock. I love this team we have going into my senior year, and I just really enjoy being in their company. I'm so excited. I'm so eager to get away from Le'Raven and Kaster and those guys, get my hands on some guys that I don't like as much as them. I just can't wait until September 5th comes."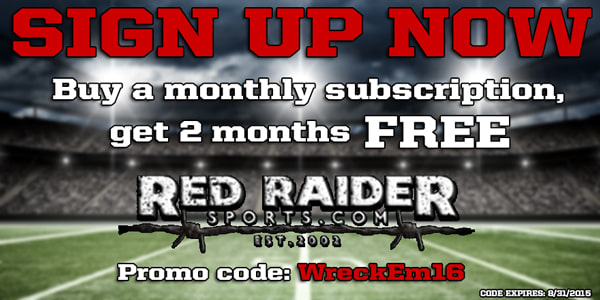 Click
Here
to view this Link.